Team Envy's New HQ Looks Insane
Team Envy's CEO, Mike Rufail, took to Twitter to share details of their new headquarters. The offices, situated in Uptown Dallas will be the new home of the Dallas Fuel, Dallas Empire, and other Team Envy teams.
Mike used Twitter to take fans on a walkthrough of their new state of the art Esports training facility and offices in Dallas Fort Worth. They took over the third floor of a building, and are in the process of turning it into a world-class base for their teams. While still under construction, the offices are spacious and will eventually house the entire Team Envy organization.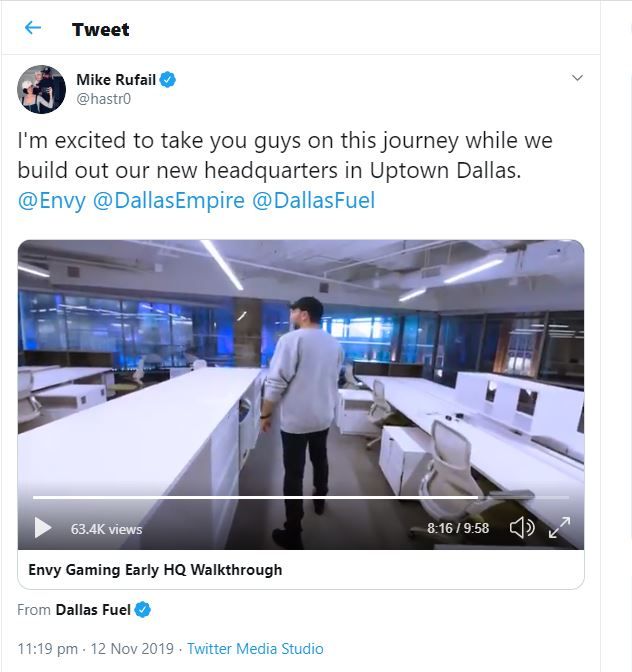 There's a lot more to an esports team, however, than just the players. In the walkthrough, Mike shows off all the different areas of the headquarters including the different training centers for each division, as well as the reception, cafeteria area, business team offices, business conference room, and team operations offices.
Mike is also enthusiastic about engaging with fans. There will be a live podcast room for team members to participate in live scheduled programming. It will allow members of the public to interact with the players and participate in discussions. Another exciting area for fans will be the player lounge, where Mike plans on hosting camps, clinics, and tours for the public to get a glimpse of the team's inner workings.
The location itself is in Victory Park,  overlooking the Victory Plaza, and the American Airlines Center which is home to the Dallas Mavericks and Dallas Stars. It's fitting that both the Dallas sports teams and esports teams get to be in the same location and feed off each other's positive vibes.
A lot of work still has to be done before the construction is complete, and hopefully Mike will be sharing more videos as things take shape. There's no doubt that once it's complete, Team Envy's new home will be spectacular.
Source: Read Full Article