10 Beautiful Places To Fly To In Microsoft Flight Simulator 2020
Few games give you such a breadth of choice in places to explore, like Microsoft Flight Simulator 2020. Asobo Studios quite literally recreated the entire globe using satellite imagery and artificial intelligence. That means that you can quite literally travel anywhere in the world from the comfort of your home.
RELATED: Funniest Sights In Microsoft Flight Simulator 2020
With so many places to visit, it can be hard to choose where to fly to first. From scenic mountains to sprawling metropolises to vast oceans, all are stunningly beautiful in Microsoft Flight Simulator 2020. Prepare for take-off, Pilot, and for goodness sake, do not crash.
10


San Francisco: A Trip Across The Bay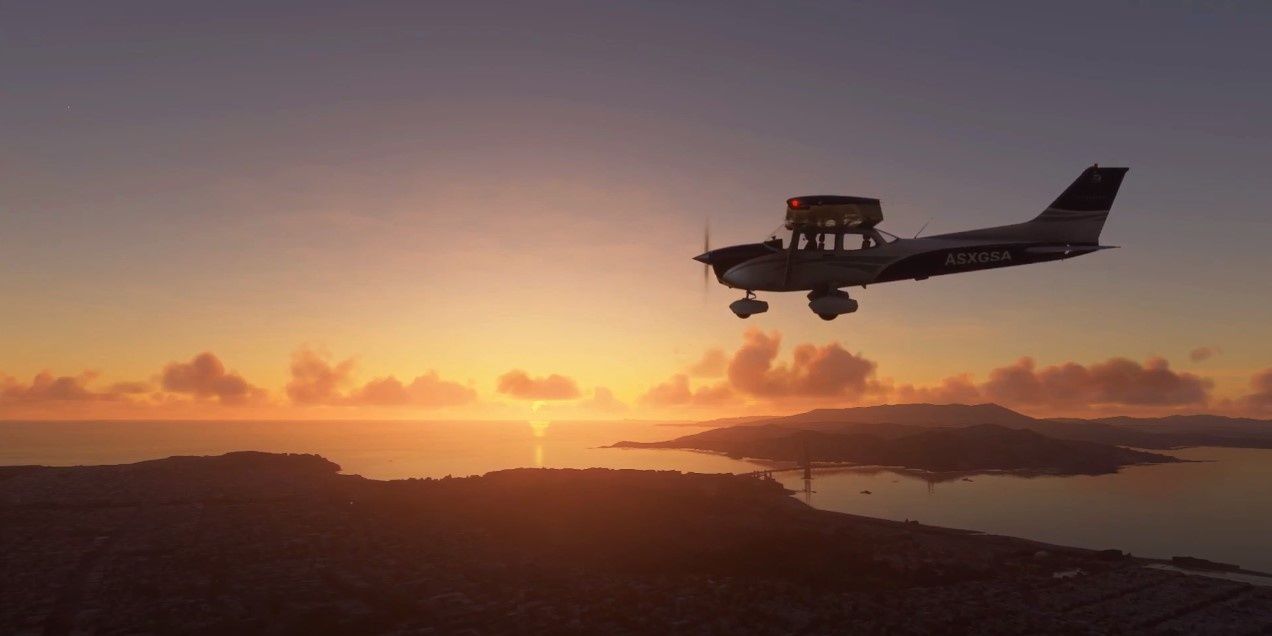 Take flight in the golden state's most beautiful city, San Francisco. The bay area offers plenty of places to explore, including the legendary Golden Gate Bridge. From there, fly over to Alcatraz Island and take in the scenery of the once infamous prison. Even flying over the San Francisco hills is an incredible sight. San Francisco is a truly iconic American City and looks gorgeous from the skies.
9


New Zealand: Lord Of The Scenery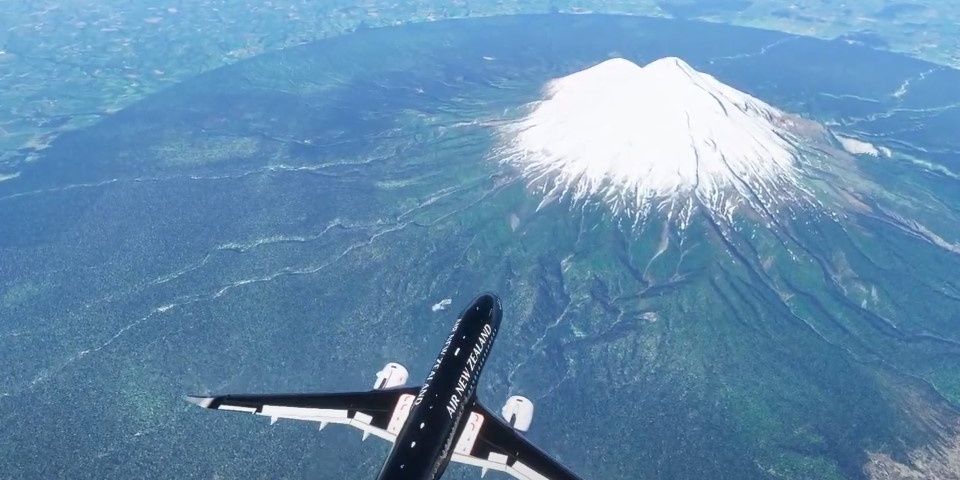 New Zealand is a great country to fly around because of its varied landscapes and pristine countryside. One cool part of flying across the country is checking out all of the volcanoes and mountain ranges. If the inland doesn't interest you, it is just a short flight over to the coastline. For Lord of the Rings fans, this will probably as close as you can get to flying over Middle-earth, so why not plan a flight that takes you to all of the iconic places they used to recreate Tolkien's fantasy world.
8


Paris: The City of Lights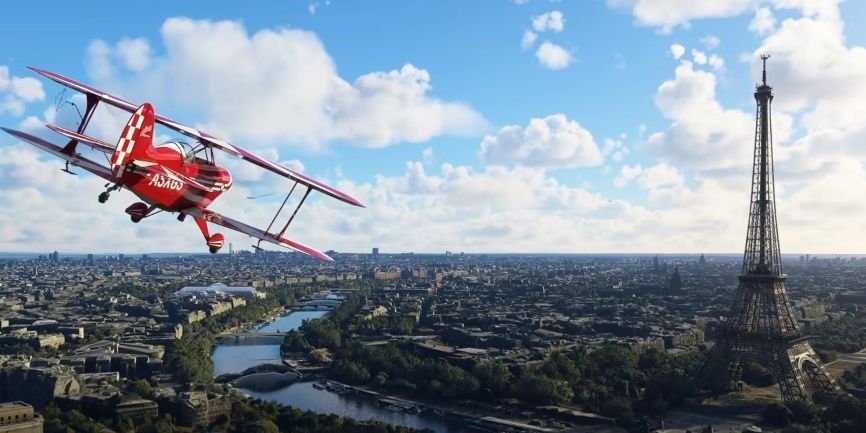 Paris is one of the most beautiful cities in the world, and it looks incredible in Microsoft Flight Simulator. The best part about flying over Paris is that there is no shortage of landmarks to visit. In a matter of minutes, you can fly by the Effiel Tower, Arc de Triomphe, The Louvre, Basilique du Sacré-Cœur, and Versaille.
RELATED: Best PC Games That Support HDR
All of which look stunning during the day or at night. If you want to explore a city, Paris is an excellent first stop.
7


Banff: Soar Over The Canadian Rockies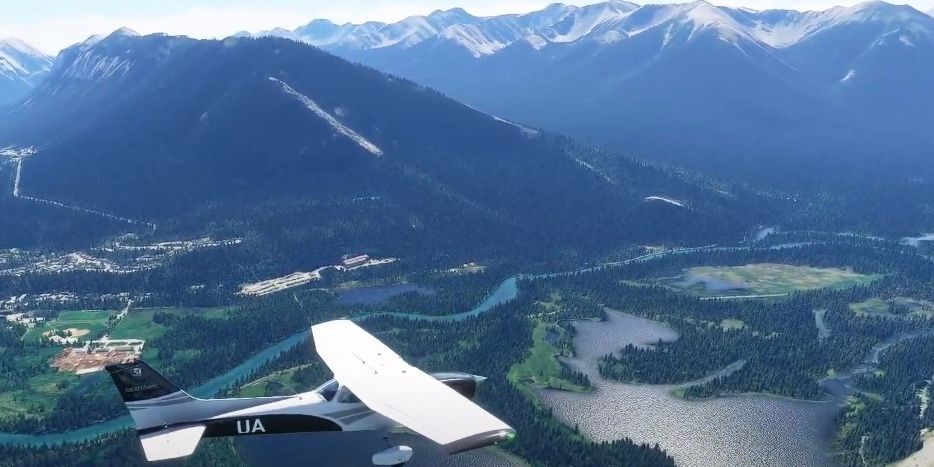 Perhaps the most scenic place in all of Canada, Banff offers expansive forests, snow-capped mountains, and pristine lakes. Flying through the mountains is a perfect mixture of natural beauty and pushing your technical skill level. If you're looking for a fun flight path, try taking off from Calgary in a small single-engine plane and landing on Banff's all grass runway. If you're looking for some points of interest to fly over, visit Lake Louise, Sunshine Ski Resort, or keep flying west till you get to Vancouver.
6


Tokyo/Mount Fuji: From Mega-City To Natural Wonder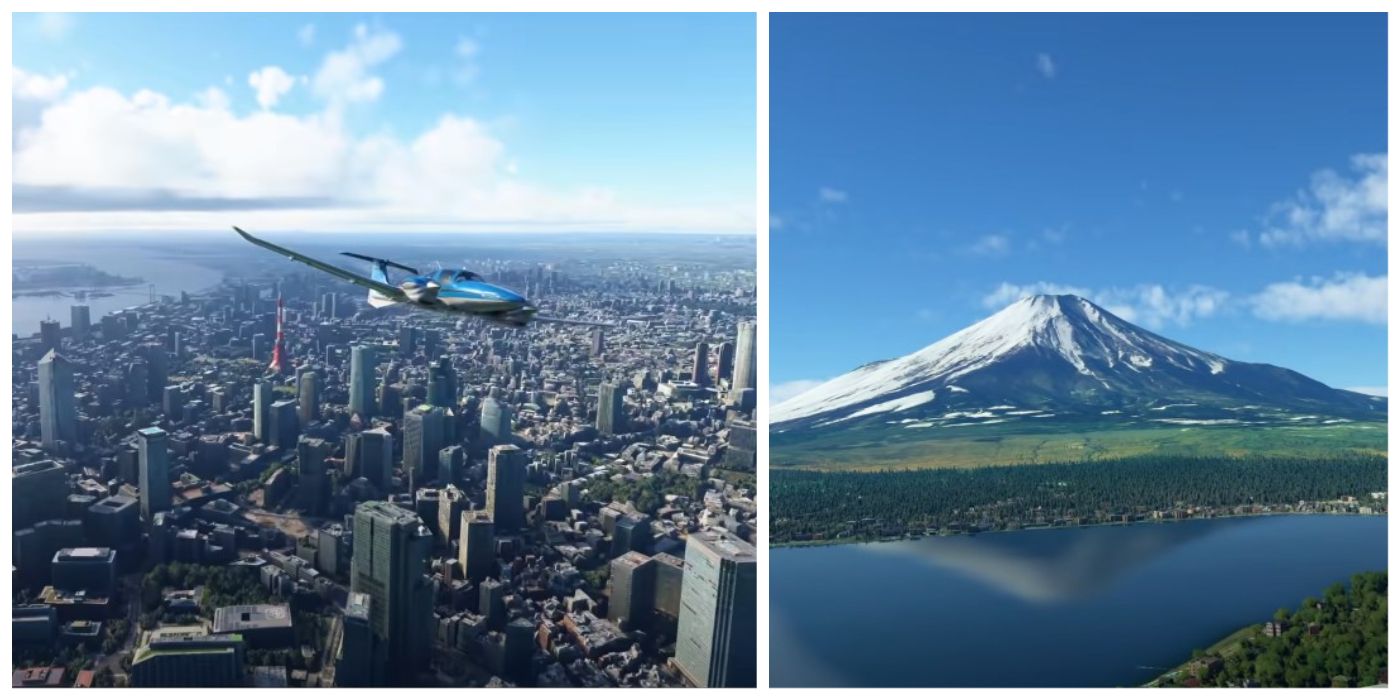 If you're looking for a combination of a metropolis and a natural wonder, then flying from Tokyo to Mount Fuji is worth checking out. Frankly, Tokyo is one of the best cities in the world, and flying over it is equally excellent. With Mount Fuji looming in the distance, it is irresistible not to start flying in that direction. And it is so worth doing because the still-active volcano is as marvelous as it is iconic.
5


Maldives: Finding That Perfect Ocean Blue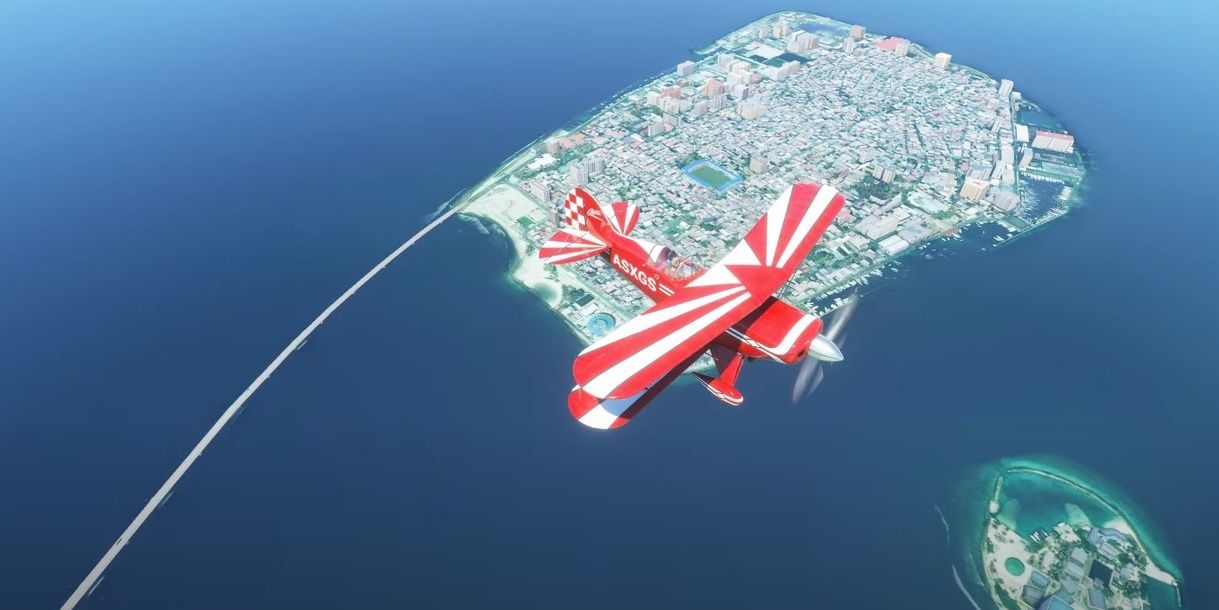 If you're looking for the perfect section of the ocean to fly over, then the Maldives is where you want to go. This archipelagic state is the best combination of tropical ocean water and perfect tropical islands for you to explore. Not to mention, the airports in the Maldives offer a real challenge to players looking for less-than-simplistic landings.
RELATED: Best Farming/Simulation Games (According To Metacritic)
Landing on various islands in the Maldives is beautiful, yes, but, will also earn you your wings landing on intimidating runways.
4


Rio de Janeiro: A World Wonder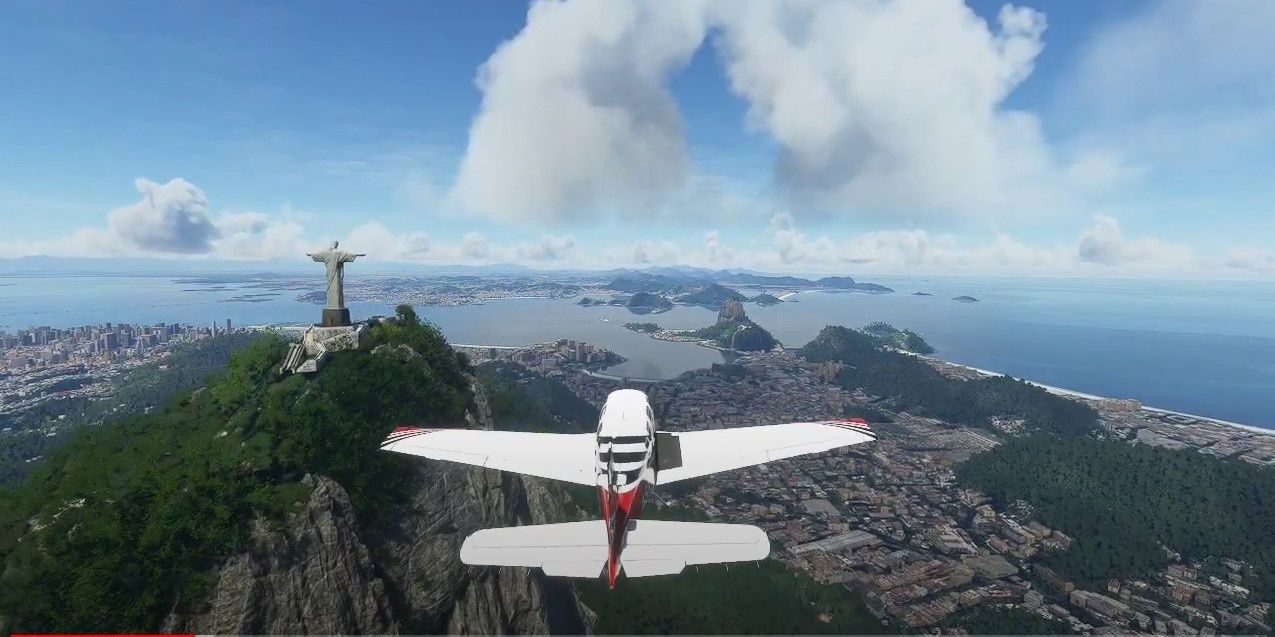 The Harbour of Rio de Janeiro is a natural wonder of the world, and rightfully so. The mix of mountains, the Christ the Redeemer statue, and the sprawling cityscape is astonishing to fly through. Not to mention the incredible beaches, that are quintessentially Rio, are breathtaking to soar over. There are so many details to absorb flying over Rio de Janeiro, and it highlights how impressive the technology in Microsoft Flight Simulator is. The striking beauty of Rio de Janeiro makes it an absolute must-see on your global journey.
3


Iceland: A Flight Of Ice And Fire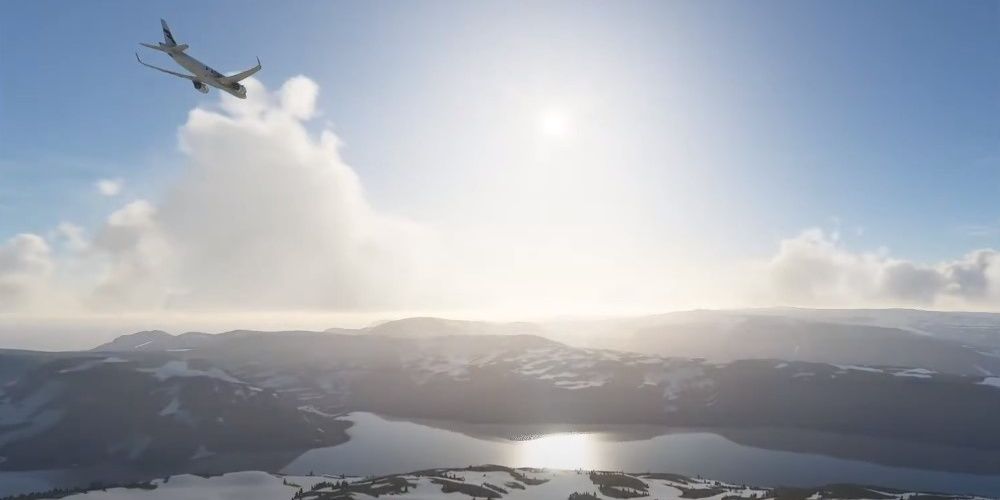 Few countries in the world have such raw natural beauty as Iceland. Iceland's natural contrast between icy terrain and volcanic formations makes it a visual splendor from your plane. Additionally, Iceland's unique location in the Atlantic Ocean makes it a great starting or endpoint for cross-Atlantic flights.
RELATED: Best Simulation Games
The volcanic landscape is a sight to behold from the skies and should be on your shortlist of places to visit in Microsoft Flight Simulator 2020.
2


Mount Kilimanjaro: One Epic Flight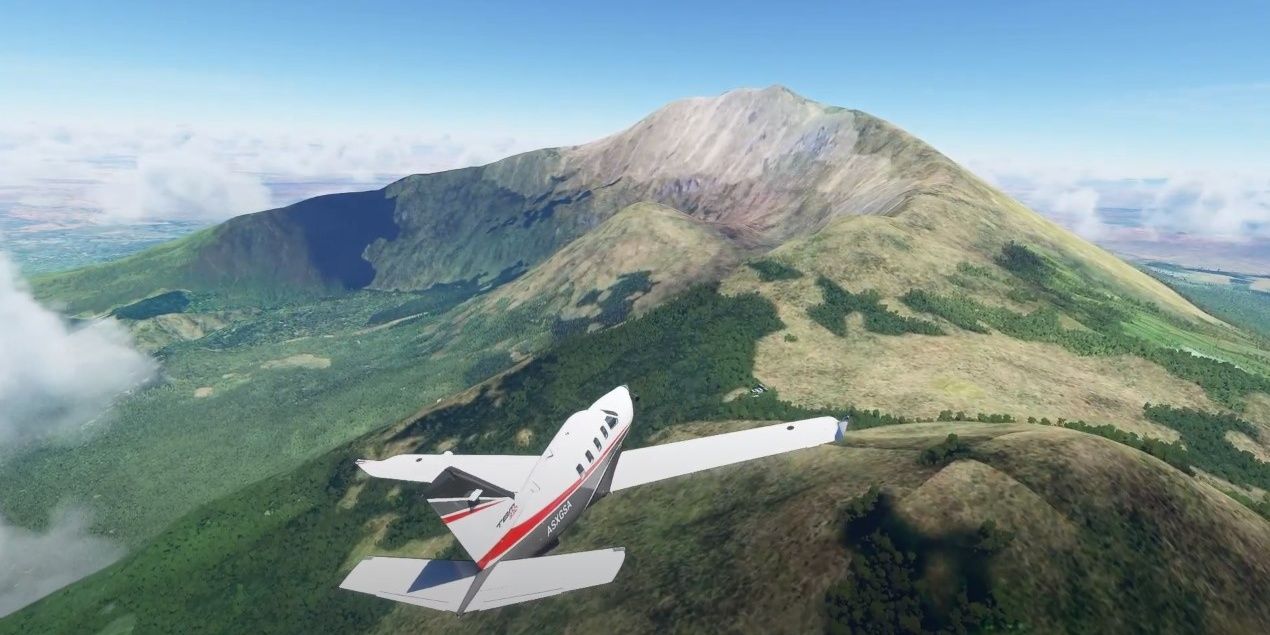 It is tough competition for the most beautiful place to fly to in Africa, but Tanzania takes the cake with Mount Kilimanjaro. Surrounded by extraordinary Savannah, you'll find beautiful herds of wildlife surrounding the enormous Mountain. After flying by some Elephants, try to make the steep ascent to the top of the Mountain to get an unbelievable view of the surrounding landscape. Mount Kilimanjaro is an excellent location to learn how to fly and a must-see in Microsoft Flight Simulator 2020.
1


The Grand Canyon: The Best View Is From The Sky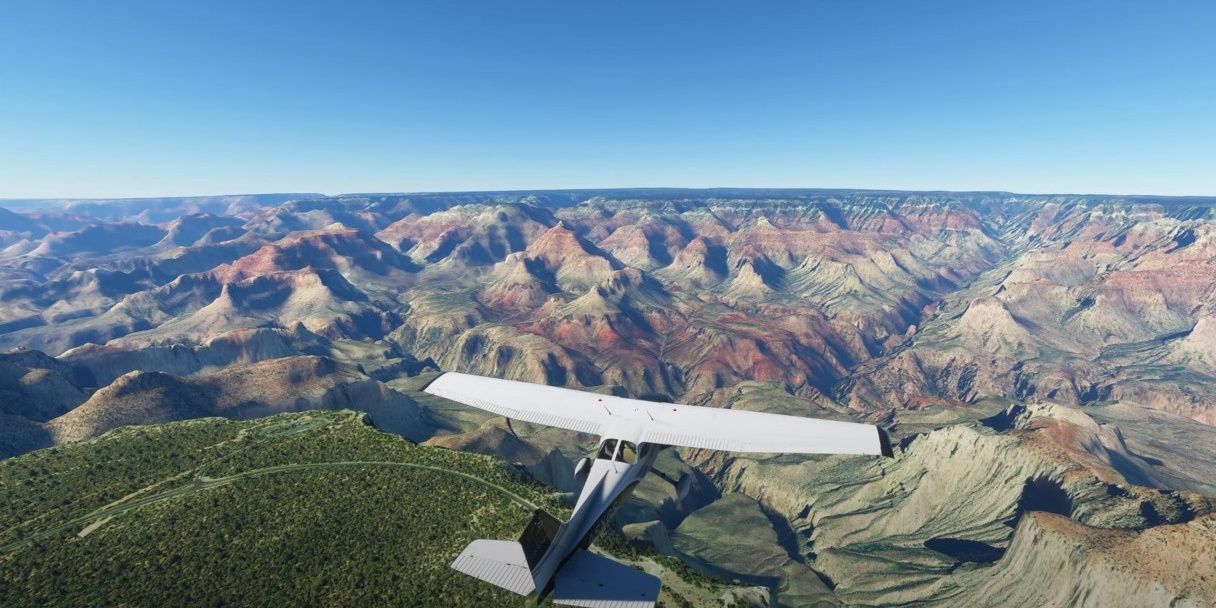 The Grand Canyon is one of the seven natural wonders of the world, and for good reason. The sheer size of the Grand Canyon is truly awe-inspiring, and perhaps it is one of the most beautiful places on earth. The best way to explore the canyon is by flying around it, or for those who are more daring, flying in it. The Grand Canyon should be your first stop in Microsoft Flight Simulator 2020 and will blow your mind.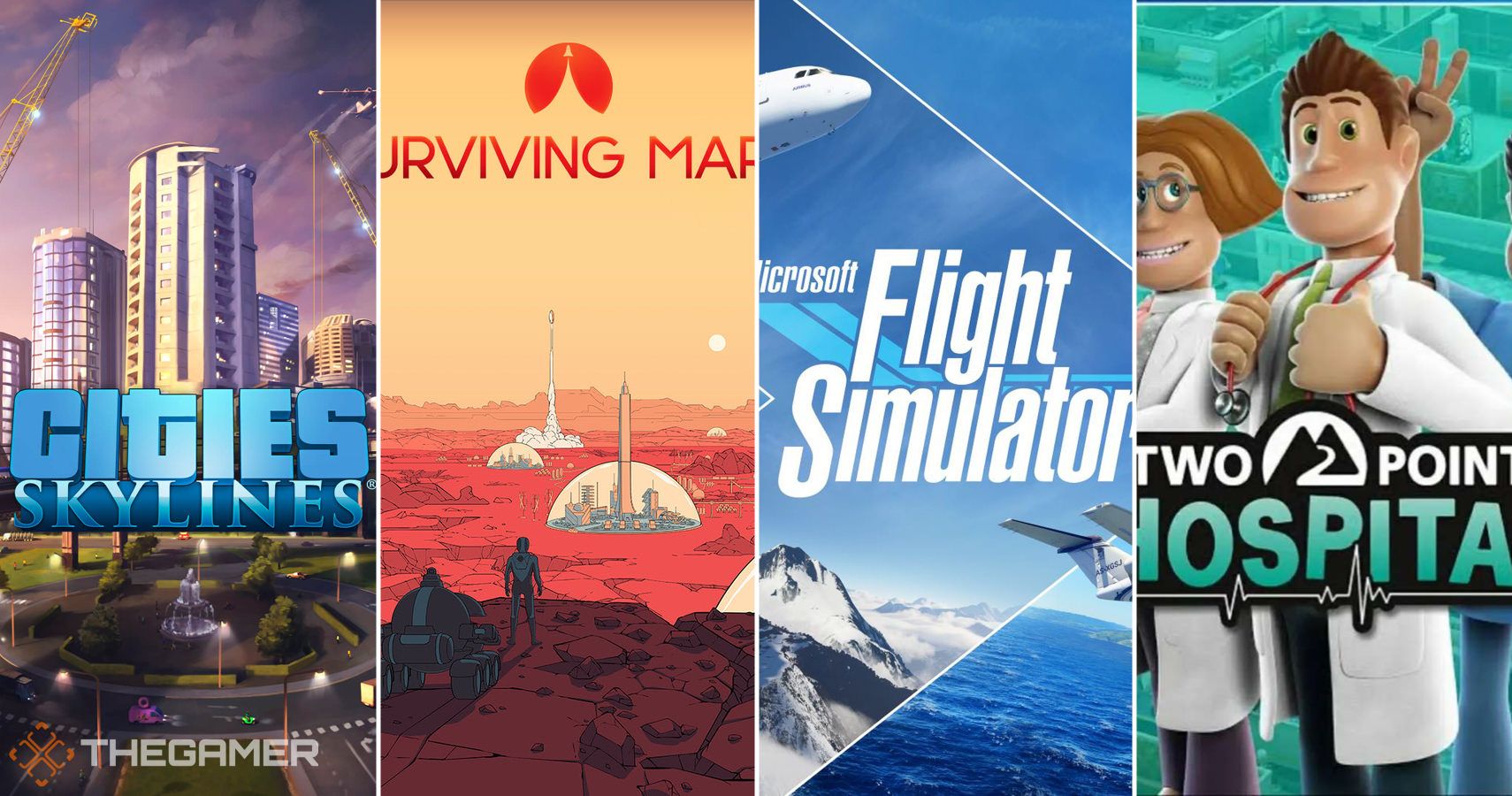 The simulation genre offers a unique experience unlike any other. Xbox Game Pass owners should check out these sim games.
Lists
Microsoft Flight Simulator
Anton Charpentier is a freelance writer based in Calgary, Canada. You can follow him on Twitter @Anton_Yvan and Twitch @aNinjaTurtleGame. He loves playing open-world RPGs and Civilization 6. A graduate of the University of Calgary, Anton received a Bachelor of Arts (Honours) in Film Studies. When he's not at home gaming or watching movies, you'll find him hiking in the Canadian Rockies.
Source: Read Full Article