Best Buy Canada Leaks Returnal Release Date Ahead Of The Game Awards
Anticipation is mounting for The Game Awards, but it seems like Best Buy Canada jumped the gun on one of the announcements from the show. Returnal has been listed with a new release date on the retailer's website.
Gematsu found on Best Buy Canada's website that Returnal will likely come out on March 19, 2021, which would fit right in line with the PS5's release window period. You can now pre-order the game with the retailer giant if you live in that country. Other stores like GameStop and Walmart in the United States have no listing for Returnal currently.
We've also found out from this Best Buy Canada leak that, unlike most of Housemarque's other titles, this will be a fully-priced AAA experience at $89.99 Canadian ($69.99 for the U.S.), and from the footage we've witnessed so far, it shows.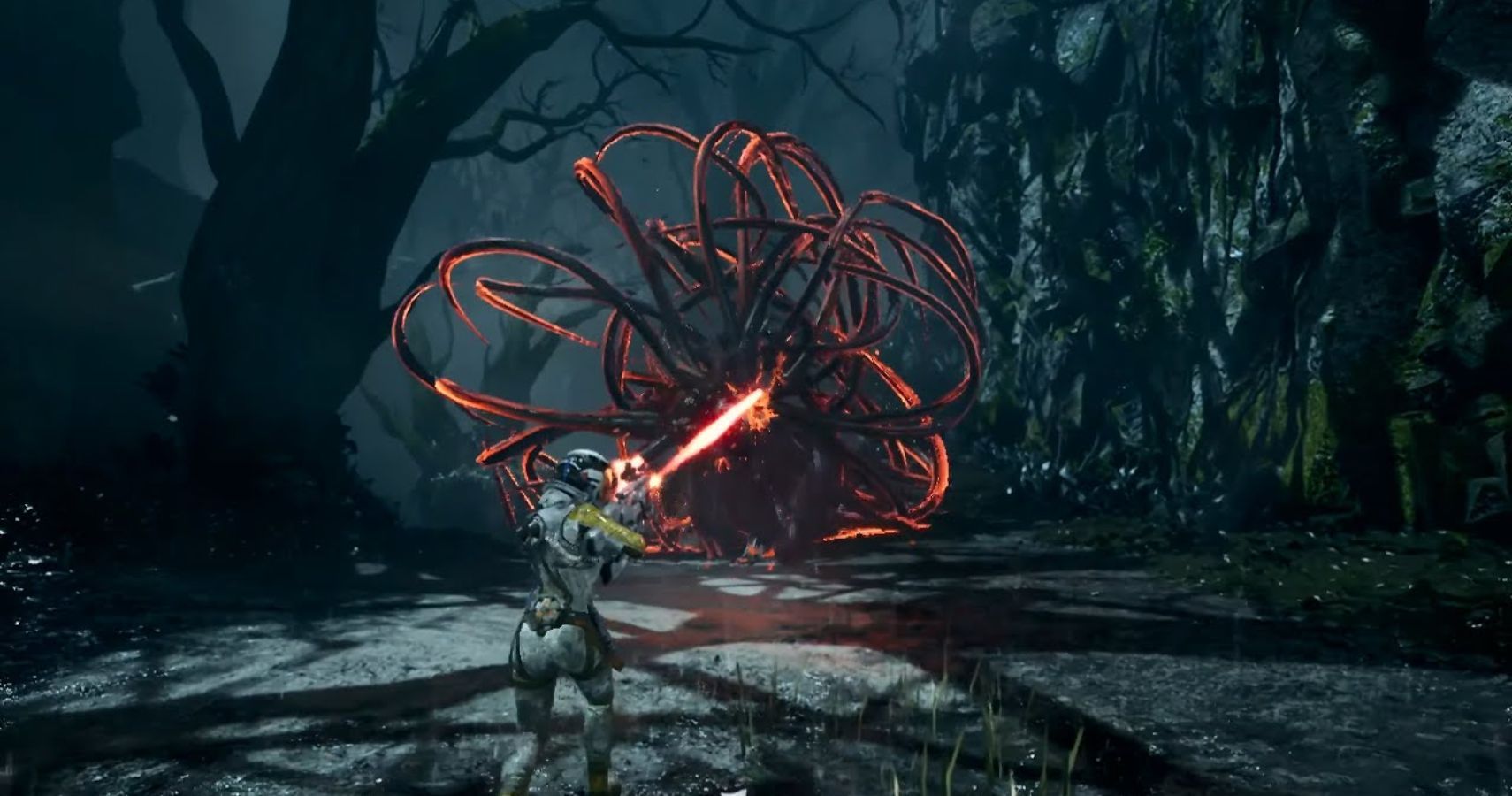 Sporting some gorgeous visuals, Returnal has you explore a shape-shifting world that constantly changes with each playthrough. The dark, moody atmosphere is complemented with alien beasts that will test your bullet-hell third person shooter limits. Here's the twist though: every time you die, your character goes back in time and faces this uninhabitable planet once more.
At full price, it seems like a high ask for a roguelike, but it may be delving into more of a cinematic experience than its predecessors in the competitive genre. If Hades can bring an amazing story within a roguelike, we think Returnal has a good chance of providing a rewarding story-driven experience too. According to the description of the Best Buy listing, the game is "designed for extreme replayability," so hopefully, it lives up to that promise.
Returnal is a fitting game to reveal at The Game Awards. The Finnish game developer Housemarque is known for its quality output with exceptional titles like Resogun and Nex Machina in its library. There's a prestige to the company, so it would be fitting for the game to show up during Geoff Keighley's big event. The game's publisher PlayStation Studios is also a common partner of Keighley with trailer premieres of Death Stranding and Ghost of Tsushima in the past. There was even an in-depth conversation between Death Stranding's director Hideo Kojima and Keighley for Summer Games Fest about the development of the game and how he was coping with world events.
It was once known as a studio for quality arcade-inspired releases, but it has taken a turn towards new genres as they aren't as popular as they once were. Fans know what Housemarque can do and have expressed frustration at the lack of hype Returnal has been getting. Maybe after tonight, the gaming community will change their tune.
Source: Read Full Article