Best M4 Loadouts In Call Of Duty: Modern Warfare 2
Quick Links
Jack Of All Trades M4 Build
Call of Duty: Modern Warfare 2 is now available, which means pretty much everyone has fired an M4 already. This is your starter Assault Rifle and also the gun that you are given the most attachments for in the form of the Vault Edition Cinder blueprint. It may be the first gun you start out with, but it's also one of the most powerful in the game.
These builds are tried-and-tested and provide good cover for different playstyles – the all-rounder, the fast-paced, and the slow and steady. We also go into how to tune your attachments and our recommended perks, field upgrades, and other accessories.
Jack Of All Trades M4 Build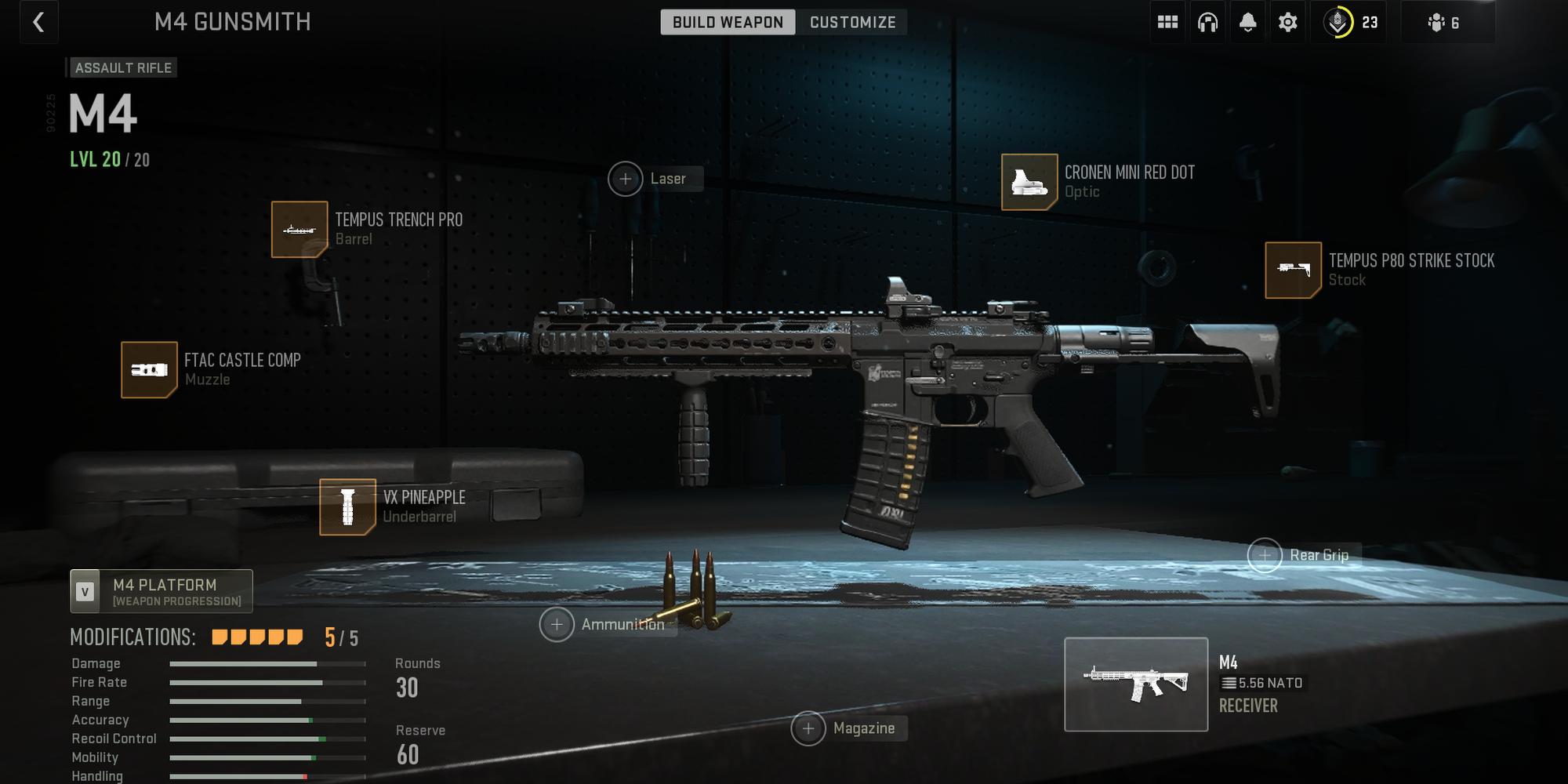 M4 Gunsmith Build
Sight
Cronen Mini Red Dot
Cleans up your ADS view, up to preference
Barrel
Tempus Trench Pro
Improves ADS speed at the cost of recoil
Muzzle
FTAC Castle Comp
Improves recoil while slightly lowering ADS speed
Underbarrel
VX Pineapple
Drastically improves recoil and general consistency
Stock
Tempus P80 Strike
Improves mobility at the cost of recoil
Loadout
Secondary
.50 GS
Lethal
Drill Charge
Tactical
Preference
Field Upgrade
Preference
Base Perks
Double Time, Bomb Squad
Bonus Perk
Fast Hands
Ultimate Perk
Ghost
This build focuses on improving the M4's neutral game without compromising on any stat. We stack multiple recoil-reducing attachments to remove the gun's horizontal and vertical recoil, then we throw on a scope for easy tracking during hectic gunfights. It's a strong weapon for mid-range dueling, but this weapon does have slightly worse handling than the base M4; don't expect to win against SMGs or shotguns in close quarters.
We recommend using this loadout for most 6v6 modes. It's a jack of all trades, master of none. Pair this weapon with a shotgun or auto pistol in your secondary to cover your weaknesses.
Quick Handling M4 Build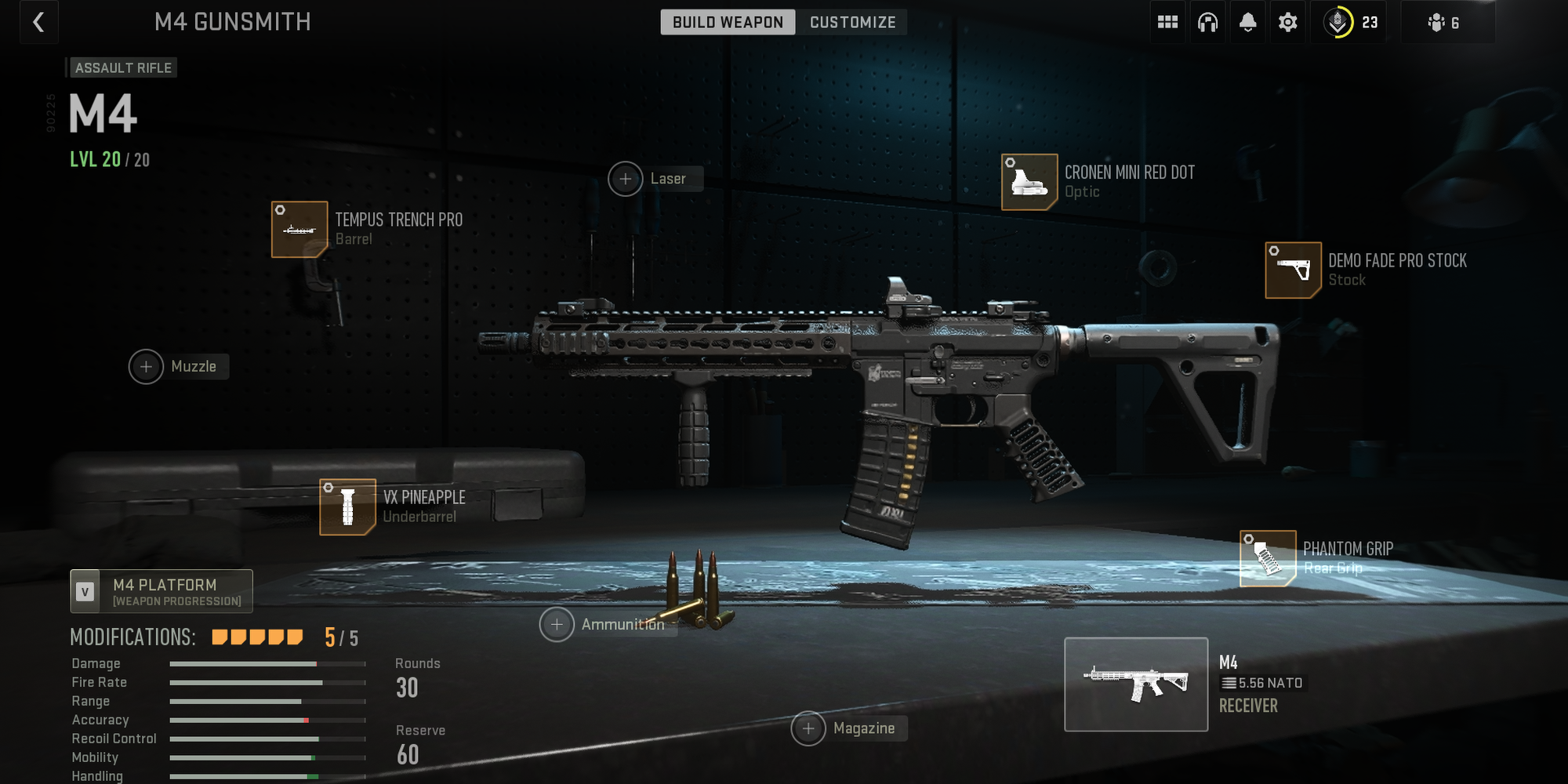 M4 Gunsmith Build
Sight
Cronen Mini Red Dot
Tune for ADS speed
Barrel
Tempus Trench Pro
Tune for recoil steadiness and ADS speed
Grip
VX Pineapple
Tune for ADS speed and walk speed
Stock
Demo Fade Pro Stock
Tune for ADS speed and walk speed
Grip
Phantom Grip
Tune for recoil steadiness and sprint to fire speed
Loadout
Secondary
X13 Auto
Lethal
Drill Charge
Tactical
Stim
Field Upgrade
Dead Silence
Base Perks
Double Time, Bomb Squad
Bonus Perk
Focus
Ultimate Perk
Ghost or Bird's Eye
Aggressive players will appreciate this M4 loadout. We focus on reducing the M4's sprint to fire delay and ADS speed without affecting its recoil. Common recoil attachments—the VX Pineapple grip, Tempus Trench Pro barrel, and our sight of choice—have been installed to keep the weapon under control. For the handling, we opt for the Phantom Grip and Demo Fade Pro Stock. The grip reduces your sprint to fire drastically, and the stock makes your ADS strafe speed absurdly fast. Tune your attachments to bias ADS speed and strafe speed.
We recommend this loadout for fast-paced 6v6 modes and T1 variants. Your M4 can compete with SMGs at close range without compromising on its mid-range capabilities. The gun will struggle against flinch and long-range duels. Use the Focus perk to counter incoming flinch, and mount your weapon whenever you're fighting someone from a lengthy distance.
Take It Slow M4 Build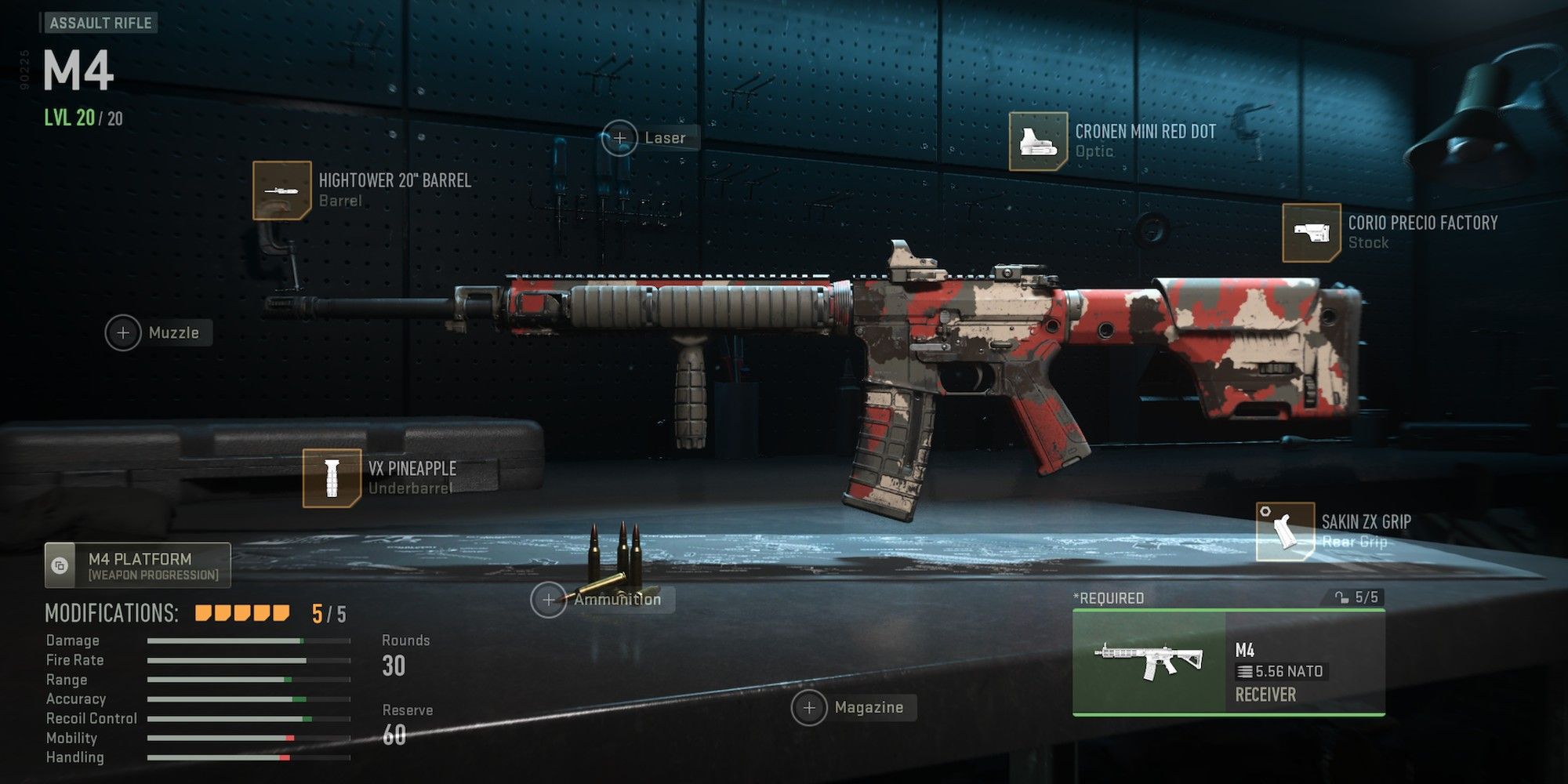 | | | |
| --- | --- | --- |
| Sight | Cronen Mini Red Dot | Tune for Flinch Resistance |
| Barrel | Hightower 20 Inch Barrel | Tune for Damage Range, Recoil Steadiness |
| Grip | Sakin ZX Grip | Tune for Recoil Steadiness |
| Stock | Corio Precio Factory | Tune for Idle Stability |
| Underbarrel | VX Pineapple | Tune for Aim Down Sight |
This build is designed for slower, long ranged play in bigger game modes like Ground War. We won't be sticking a massive sight on the gun, but using attachments like the Hightower 20 Inch Barrel for its increased Bullet Velocity, Damage Range, and Recoil Control. Pair that with VX Pineapple for Recoil control. Stick a Sakin ZX Grip on the back, and a Corio Precia Factory, to add to that stability and recoil control. Sight of your choosing.
Mounting is also a good idea for this sort of build, particularly around corners. This reduces your profile and makes you harder to hit. The tuning for each of the attachments is geared towards stability, recoil control, and damage range. You can of course tweak these values to your liking.
Source: Read Full Article