Bungie Is Adding Armor Auras With The Arrival Of Guardian Games 2021 In Destiny 2
Armor Auras have been a part of Destiny 2 for quite some time now. In Year 2, Bungie introduced Gambit Prime auras for all four armor sets that were added with the Season of the Drifter. Along with that, we've also got the 100,000 Nightfall score completion aura as well. However, since then, it seems like Bungie almost forgot about these auras in the game… until now. With Guardian Games 2021, armor auras are making a return in Destiny 2.
Earlier this week, a number of details about the Season of the Chosen's Guardian Games event were leaked ahead of the official reveal. In one of the leaked images, Bungie has confirmed that there will be three auras – gold, silver, and bronze – that players can earn according to their class ranks during the Guardian Games event. With each weekend ceremony, players would receive one of these auras that would last the rest of the week.
"Each weekly podium ceremony will grant Guardians with distinctive gold, silver, or bronze auras, which will last the rest of the week. The winning class will be recognized at the Guardian Games Closing Ceremonies (May 7-9), complete with resplendent fireworks and a trophy displayed in the Tower all year long."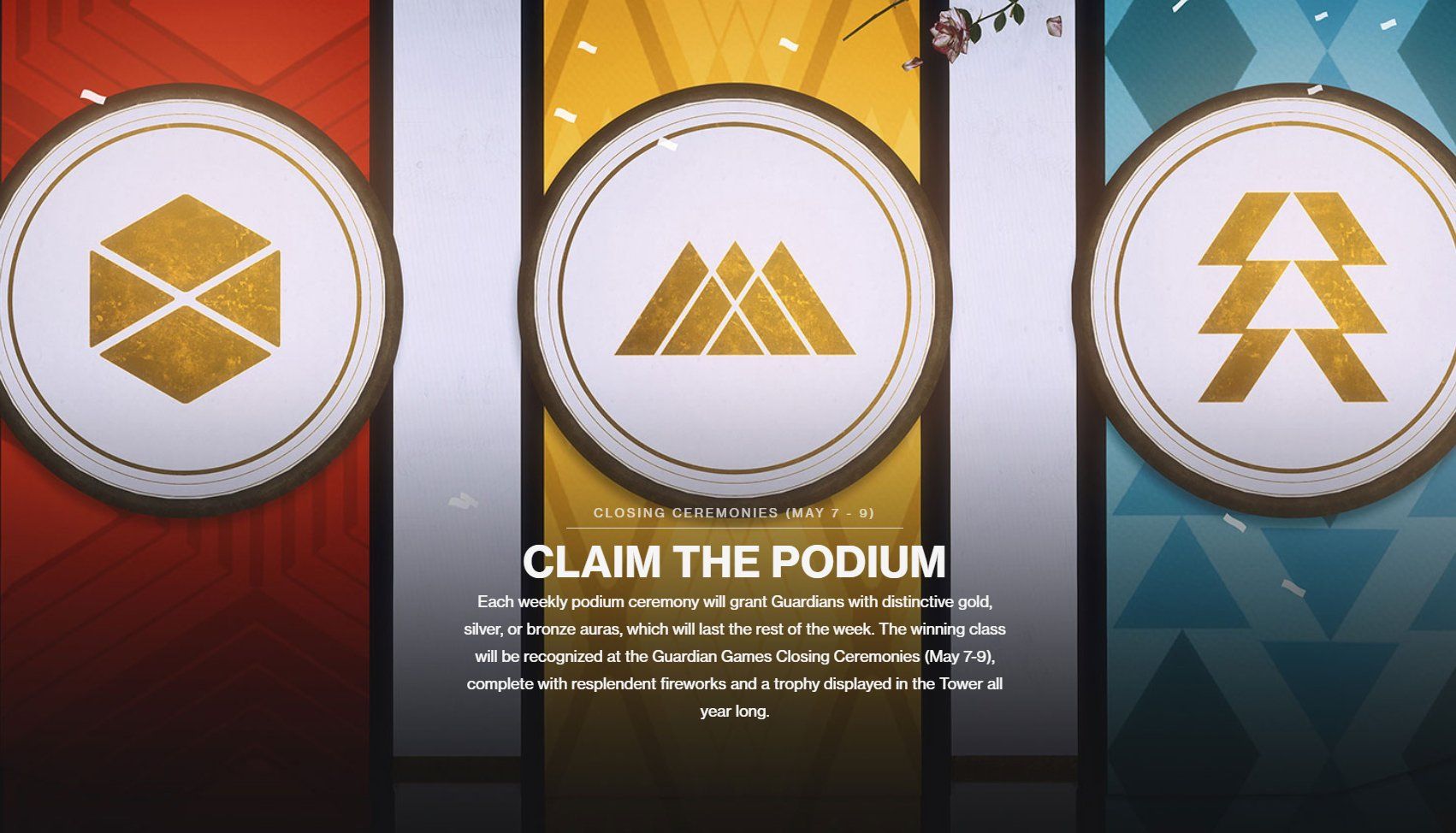 The Guardian Games event will be going live next week with the weekly reset on Tuesday, April 20, 2021. This event will add new ways for players to participate and champion their class. Last year, the winning class (Titan) received a trophy right beside Commander Zavala. However, it looks like this year, this trophy will be placed in the middle of the catwalk between Lord Shaxx and Commander Zavala, according to new datamined info.
Guardian Games is the last piece of content for Season of the Chosen. This event is completely free for all players in Destiny 2 meaning players can participate in this event without owning the Season of the Chosen season pass or Beyond Light expansion. Here's everything we know about Guardian Games 2021 so far.
Next: Resident Evil Village Gameplay Demo Added To PlayStation Database, Remote Play Controls Revealed
Source: Read Full Article