Call of Duty: Modern Warfare 2 – How The Battle Pass Works
Quick Links
How Does MW2's Battle Pass Work?
Battle Pass Progression Explained
How To Earn Battle Pass Tokens
Season 1 Battle Pass Rewards
Call of Duty: Modern Warfare 2 has overhauled the Battle Pass system from previous titles. The linear progression system of old has been replaced with a more player-driven system that allows you to choose which rewards you want.
Unlocking all 100 Battle Pass tiers can seem intimidating at first glance, but this new system makes it far easier to get what you want out of each pass without having to earn all 100 tiers. This guide will showcase how the new Battle Pass system works, how to progress through Battle Pass Sectors, and we'll showcase every reward available in MW2's first season.
How Does MW2's Battle Pass Work?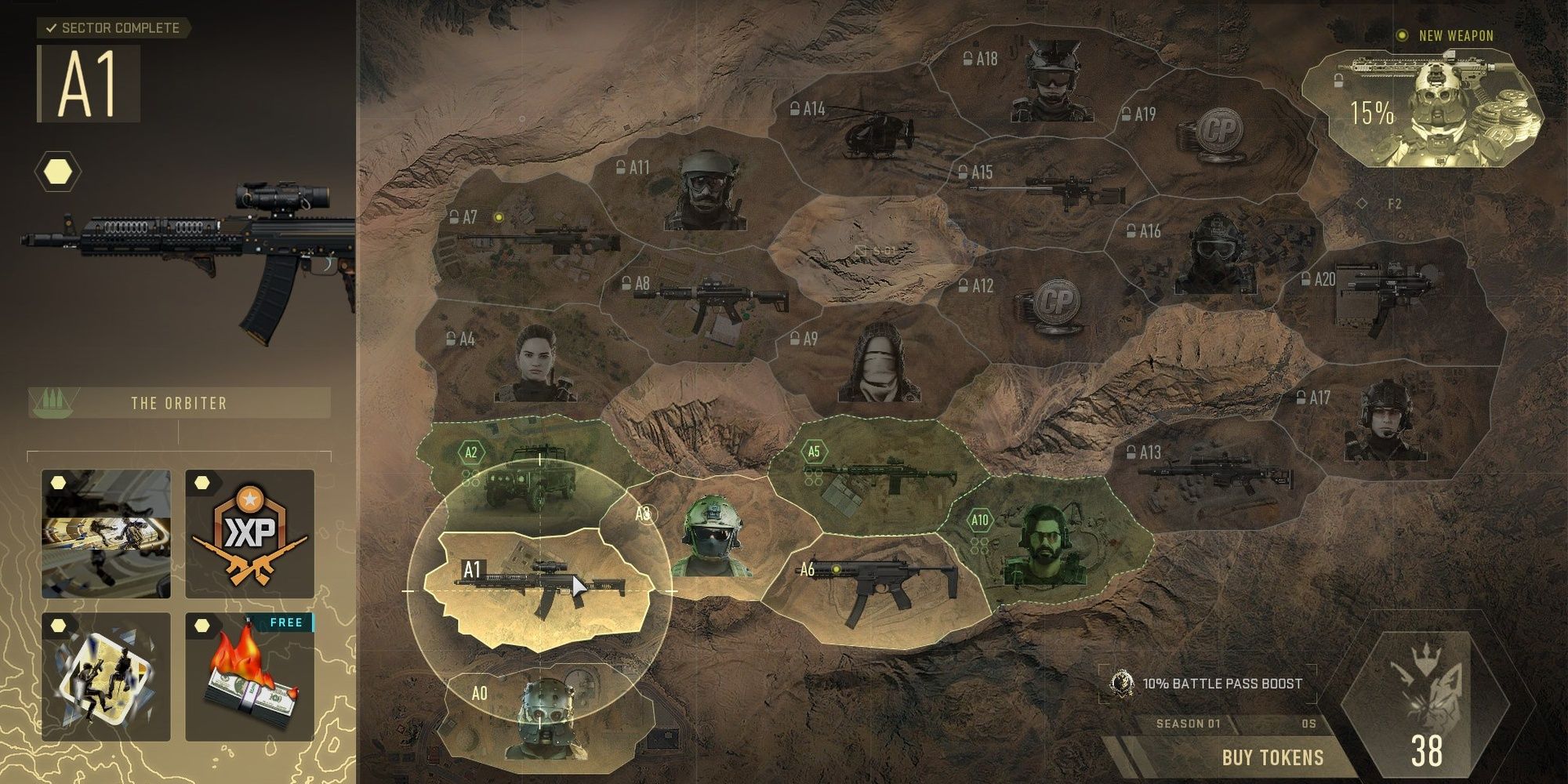 Modern Warfare 2's Battle Pass uses a non-linear progression system that differs from previous titles. Instead of progressing through 100 levels with a linear set of rewards, you'll be presented a map with rewards nested in each region, referred to in-game as "Sectors."
When you open your Battle Pass, you'll see a map divided into 20 Sectors. Each Sector consists of five rewards, totaling 100 rewards as you'd expect from a CoD Battle Pass. Hovering over a Sector will reveal five rewards on offer, showcased on the left-hand side of your screen. The bottom four rewards must be redeemed first before you can claim the fifth reward. Each reward costs one Battle Pass Token, earned by playing matches and earning XP. Once you've claimed all five Sector rewards, you'll unlock all adjacent Sectors, allowing you to spend your Battle Pass Tokens on rewards you're interested in.
That's a lot to take in, so here's a concise breakdown of how the new Battle Pass system works:
Play matches to earn Battle Pass Tokens.
Visit the Battle Pass map to unlock rewards in available Sectors.
Purchase all five rewards in a Sector to unlock adjacent Sectors.

Each season has 100 rewards to grab, divided evenly among 20 Sectors.

Return to Quick Links

Battle Pass Progression Explained

When you start leveling your Battle Pass, you'll be restricted to one Sector on the map. For Season 1, this is Sector A1—the only Sector highlighted in green. Select the Sector to view all five of its rewards.

We can see that we can unlock the following rewards:

Aerial Entrance – Calling Card
Hired Sniper – Emblem
x1 Double Weapon XP Token – 15 Minutes
Paying Rent – Weapon Charm

Unlocking all four of these rewards will grant access to the fifth reward. For Sector A1, this is The Orbiter weapon blueprint for the Kastov 545. As with the four previous unlocks, the fifth unlock in a Sector costs one Battle Pass Token.

Free To Play Battle Pass

Most rewards in the Battle Pass are locked behind seasonal ownership. Each Sector has one reward that free-to-play users can use. As with the premium Battle Pass, all five rewards must be unlocked in each Sector to unlock adjacent Sectors. These premium rewards are unusable to F2P players until they purchase the Battle Pass. As with past CoD titles, any new weapons introduced in the Battle Pass are obtainable by all players.

Clearing the Sector of rewards will unlock all adjacent Sectors. In this instance, you'll unlock Sectors A2 and A3. Pick which Sector has the more appealing rewards to you. Clearing Sector A2 will unlock Sector A4, and clearing Sector A3 will unlock Sectors A5 and A6.





Your goal is to path toward rewards you care about the most. For example, if you only care about unlocking new weapons from the Battle Pass, you should focus on pathing toward Sectors A6 and A7. If you care more about skins, you might want to focus on unlocking Sectors with Operator skins as their fifth reward (Sectors A9, A16, etc.).

Return to Quick Links

How To Earn Battle Pass Tokens

Battle Pass Boost

Owners of the Battle Pass will earn Battle Pass Tokens 10% faster for the given season. This is currently the only Battle Pass booster available in Modern Warfare 2.

Battle Pass Tokens are unlocked by completing matches and earning XP in Modern Warfare 2, DMZ, and Warzone 2.0. In general, you'll earn a Battle Pass Token whenever your account levels up. The two aren't correlated at all, but it gives you a rough idea of how often you'll be receiving Tokens. XP Tokens do not affect how quickly you earn Battle Pass Tokens.

For earning Battle Pass Tokens quickly, your typical XP-farming culprits will work well. Some quick recommendations:

Kill Confirmed: Focus on grabbing tags for some easy XP.
Invasion: Kill as many AI bots as you can.
DMZ: Defeating AI, completing faction missions, and successfully extracting provide excellent XP.

If you're short on time, you can also purchase Battle Pass Tokens for 150 CoD Points each.

Return to Quick Links

Season 1 Battle Pass Rewards

Modern Warfare 2's first season contains 100 Battle Pass rewards, evenly divided between 20 Sectors. As with previous CoD Battle Passes, this season has two new weapons tied to the Battle Pass: the BAS-P SMG and Victus XMR sniper rifle. Both of these weapons are available for all players, not just Battle Pass owners. Exact rewards are listed below, broken down per Sector on the Battle Pass map. Owners of the Battle Pass receive ten extra items—five upon purchasing the Battle Pass, and the other five upon completing the Battle Pass.

Free Rewards






















Free Rewards
Sector
Reward
Sector A1
Paying Rent – Weapon Charm
Sector A2
Let's Ride – War Track
Sector A3
100 CP
Sector A4
Damysus – Weapon BP (X13 Auto)
Sector A5
Endless Black – Gun Screen
Sector A6
BAS-P – Submachine Gun
Sector A7
Victus XMR – Sniper Rifle
Sector A8
Down The Barrel – Loading Screen
Sector A9
Double XP Token – 15 Minutes
Sector A10
Offsite – Vehicle Skin (LTV)
Sector A11
Vigilant – Weapon BP (Expedite 12)
Sector A12
Double XP Token – 30 Minutes
Sector A13
Double Weapon XP Token – 45 Minutes
Sector A14
Homefront – War Track
Sector A15
Basileus– Weapon BP (Victus XMR)
Sector A16
Chiron – Weapon BP (Kastov-74u)
Sector A17
100 CP
Sector A18
Closer – Weapon BP (Minibak)
Sector A19
100 CP
Sector A20
Dark Horse – Vehicle Skin (UTV)

Premium Rewards

Battle Pass Completion Rewards
HVT Reward
Olympus King – Operator Skin (Zeus)
Reward #1
Mortal's Bane – Weapon BP (M4)
Reward #2
100 CP
Reward #3
100 CP
Reward #4
100 CP

Sector A0 (Instantly Unlocked)
HVT Reward
Zeus – Operator (Kortac)
Reward #1
Battle Pass Boost – 10%
Reward #2
Articulate Response – Weapon BP (.50 GS)
Reward #3
Myth Maker – Weapon BP (Vel 46)
Reward #4
Chronophobia – Weapon Screen

Sector A1
HVT Reward
The Orbiter – Weapon BP (Kastov 545)
Reward #1
Aerial Entrance – Calling Card
Reward #2
Hired Sniper – Emblem
Reward #3
Double Weapon XP Token – 1 Hour
Reward #4
Paying Rent – Weapon Charm

Sector A2
HVT Reward
Dark Chariot – Vehicle Skin (Chop Top)
Reward #1
Letter Opener – Weapon BP (Combat Knife)
Reward #2
Gathered Gents – Calling Card
Reward #3
Scaling Assassin – Emblem
Reward #4
Let's Ride – War Track

Sector A3
HVT Reward
Barrage – Operator Skin (Rangers I)
Reward #1
Double XP Token– 1 Hour
Reward #2
Tactical AF – Large Decal
Reward #3
Bellicose – Weapon BP (Bryson 890)
Reward #4
100 CP

Sector A4
HVT Reward
Deluge – Operator Skin (Calisto)
Reward #1
100 CP
Reward #2
Damysus – Weapon BP (X13 Auto)
Reward #3
Double XP Token – 30 Minutes
Reward #4
Wavemaker – Vehicle Skin (Armored Patrol Boat)

Sector A5
HVT Reward
Hostile Takeover – Weapon Skin (EBR-14)
Reward #1
Back To Back – Emblem
Reward #2
Ignition – Weapon BP (Basilisk)
Reward #3
Hired Sniper – Calling Card
Reward #4
Endless Black – Gun Screen

Sector A6
HVT Reward
BAS-P – Submachine Gun
Reward #1
Scorpion – Weapon Sticker
Reward #2
World's Best Merc – Weapon Charm
Reward #3
Double Weapon XP Token – 30 Minutes
Reward #4
King's Skull – Large Decal

Sector A7
HVT Reward
Victus XMR – Sniper Rifle
Reward #1
Gunfighter Coffee Company – Weapon Sticker
Reward #2
Shooting Target – Weapon Charm
Reward #3
Double Weapon XP Token – 30 Minutes
Reward #4
XTEN – Large Decal

Sector A8
HVT Reward
Espionage – Weapon BP (Lachmann Sub)
Reward #1
Time To Strike – Emblem
Reward #2
Jack Of All – Weapon BP (P890)
Reward #3
Scaling Assassin – Calling Card
Reward #4
Down The Barrel – Loading Screen

Sector A9
HVT Reward
The Unseen – Operator Skin (Kortac I)
Reward #1
Double Weapon XP Token – 15 Minutes
Reward #2
Send It – Weapon BP (LM-S)
Reward #3
Double XP Token – 15 Minutes
Reward #4
Obsidian Rider – Vehicle Skin (ATV)

Sector A10
HVT Reward
Low Drag – Operator Skin (Reyes)
Reward #1
100 CP
Reward #2
Hacksaw – Weapon BP (Fennec 45)
Reward #3
Double XP Token – 30 Minutes
Reward #4
Offsite – Vehicle Skin (LTV)

Sector A11
HVT Reward
Zero – Operator Skin (Zero)
Reward #1
100 CP
Reward #2
Vigilant – Weapon BP (Expedite 12)
Reward #3
Double XP Token – 45 Minutes
Reward #4
Company Lease – Vehicle Skin (Hatchback)

Sector A12
HVT Reward
100 CP
Reward #1
100 CP
Reward #2
Terminal Velocity – Weapon BP (Vaznev-9K)
Reward #3
Double XP Token – 30 Minutes
Reward #4
Hostile Takeover – Vehicle Skin (APC)

Sector A13
HVT Reward
Body Count – Weapon BP (MCPR-300)
Reward #1
Nice Nods – Weapon Sticker
Reward #2
Double Weapon XP Token – 45 Minutes
Reward #3
.50 Cal – Weapon Charm
Reward #4
Warfighter – Large Decal

Sector A14
HVT Reward
Executive Whp – Vehicle Skin (Light Helo)
Reward #1
Plane Sight – Calling Card
Reward #2
100 CP
Reward #3
Sole Survivor – Emblem
Reward #4
Homefront – War Track

Sector A15
HVT Reward
Basileus – Weapon BP (Victus XMR)
Reward #1
Leg Day – Loading Screen
Reward #2
Sold! – Weapon Charm
Reward #3
Corinthian Helmet – Weapon Sticker
Reward #4
River Shadow – Vehicle Skin (RHIB)

Sector A16
HVT Reward
War Bull – Operator Skin (Gus)
Reward #1
Fractured – Large Decal
Reward #2
Chiron – Weapon BP (Kastov-74u)
Reward #3
Double XP Token – 1 Hour
Reward #4
War Haul – Vehicle Skin (Cargo Truck)

Sector A17
HVT Reward
Payload – Operator Skin (Stiletto)
Reward #1
Double XP Token – 45 Minutes
Reward #2
100 CP
Reward #3
Corner Cover – Calling Card
Reward #4
100 CP

Sector A18
HVT Reward
Blackout – Operator Skin (Roze)
Reward #1
Sole Survivor – Calling Card
Reward #2
Closer – Weapon BP (Minibak)
Reward #3
Gathered Gents – Emblem
Reward #4
Sweet Dreams – Finishing Move

Sector A19
HVT Reward
100 CP
Reward #1
Weapons Up – Loading Screen
Reward #2
Double XP Token – 1 Hour
Reward #3
Tactique Verte – Large Decal
Reward #4
100 CP

Sector A20
HVT Reward
Tokoloshe – Weapon BP (BAS-P)
Reward #1
Catching Air – Loading Screen
Reward #2
ETO – Weapon Charm
Reward #3
Best Merc Ever – Weapon Sticker
Reward #4
Dark Horse – Vehicle Skin (UTV)

Return to Quick Links

Source: Read Full Article