Critical Role's Matthew Mercer Displays His Beautifully Terrifying Hand-Painted Miniatures
Critical Role's Dungeon Master, Matthew Mercer, recently wowed and terrified Critters and miniature painters when he displayed a few of his own newly painted miniatures on Twitter. The minis he showcased featured those from Kingdom Death, and included some amazing and gruesome minis brought to life by Mercer's excellent painting skill.
[SPOILER ALERT: This article contains details on Critical Role Campaign 2, Episode 119!]
The Twitter thread where Mercer exhibited his miniature artworks was sparked by the Gorm 'baby' mini that The Mighty Nein battled in Critical Role Campaign 2, Episode 119. Mercer received numerous comments asking about the mini, and he answered in full, and then some. Along with the Gorm mini, he posted pics of over 30 minis he's painted, as well as a stock of huts and terrain scatter minis.
Mercer's first posted mini pic is that of an array of about 20 mini "survivors", as he called them. Aside from the requests about the Gorm mini, he stated the therapeutic benefits of mini-painting as another reason he returned to the art. With 2020 being the year it has been, he said he's needed to feel and stay centered, and painting minis has long been a hobby and activity that has fostered those feelings for him. He added, "the challenges of bringing these amazing sculpts to life has given me a renewed inspiration to pick up the brush and release the tensions and anxiety that plague me."

More pics present Mercer's mini-painting nat 20 skill checks, including The Watcher, "a great mini that I practiced some lighting technique on", and The Gold Smoke Knight, "my first successful dive into flame/smoke effects that I didn't totally mess up", he wrote. Another mini shown is named the Slenderman, "or as we call it, @AlexWard777", he said, giving a loving shout out to actor and friend Alex Ward (LA By Night, Westworld).
Perhaps the two centerpieces in this exhibit are the Gorm (below) and the Spidicules minis (feature photo). The close-up shot of the Gorm mini is full of nope, and shows off the full details of the creature that nearly devoured both Beauregard and Veth. Mercer called the Spidicules mini an "intimidating project due to the shape", throwing in a jokingly "happy nightmares" jab at Critical Role player Travis Willingham at the end of the post.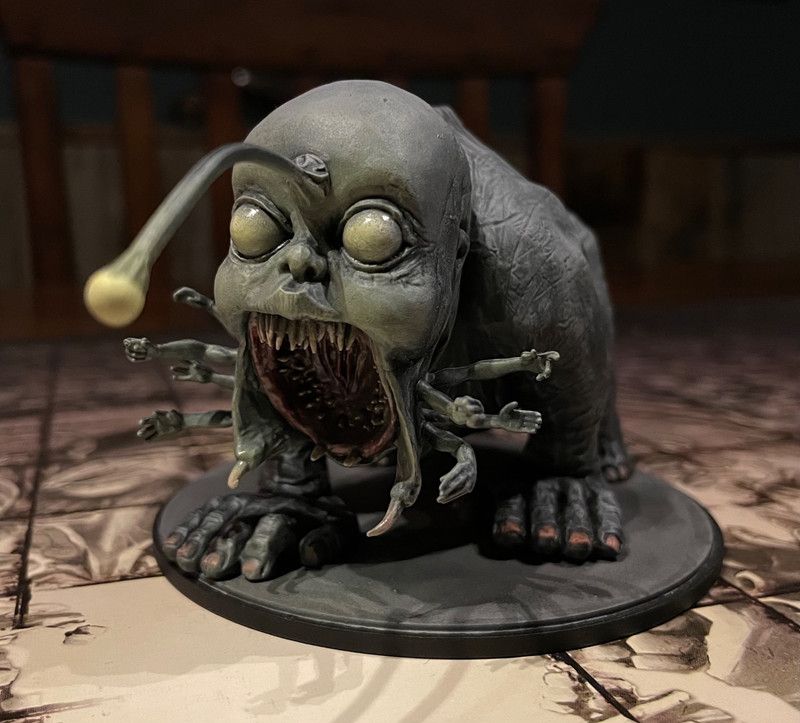 Many other miniature painters extended the thread by showing off their own fantastically-painted minis, as well as 'thanking' Mercer for the many nightmares his artwork will surely give. If, like him, you could use something therapeutic to help deal with the nightmare that this year is, perhaps try out mini painting and see if it works for you. To help get you started, check out these handy guides courtesy of TheGamer:
Five Essential Tools Beginner Miniature Painters Need
Five Essential Intermediate Tools Miniature Painters Need
Five Essential Advanced Tools That Every Miniature Painter Needs
Source: Read Full Article