Fallout 76: Mole Miner Location And Loot Drops
You may have come from the underground, but the Mole Miners in Fallout 76 have made the old mineshafts of Appalachia their domain. While it might have saved them from the initial nuclear destruction that befell the world, over time they have become aggressive mutant versions of their former selves, and a target for your daily challenges. Unlike other types of mutants and creatures in Fallout 76, these foes have some form of societal structure, with groups lead around by leaders and supervisors. If you're on the hunt for some Mole Miners, here's their location and loot drops to check this mission off with ease.
Mole Miner Location And Loot Drops In Fallout 76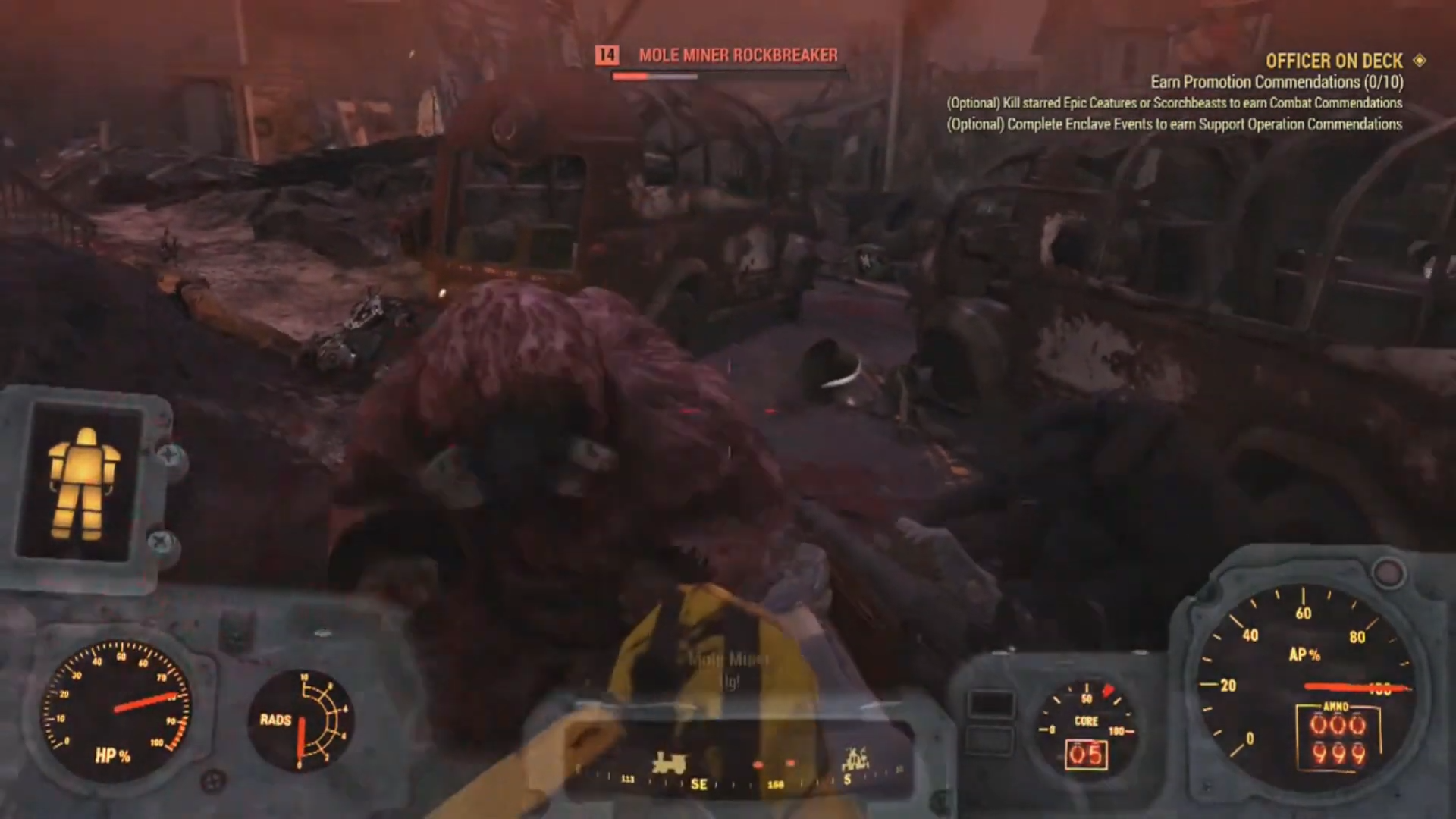 Despite sounding like a difficult to pin down enemy, Mole Miners are actually found in quite a few locations around the map of Fallout 76. In fact, there are around 16 total locations where they spawn. Also, if you're looking for an easy kill, don't bother heading to The Rust Pick and trying to kill the Mole Miner merchant there. That one doesn't count.
The places you do want to search for Mole Miners are:
The Burning Mine
Uncanny Caverns
Welch
Hornwright Industrial headquarters (sublevel)
South Cutthroat camp
Pleasant Valley Ski Resort
Mount Blair
Monongah power plant
Monongah
Mount Blair trainyard
Blackwater mine
Brim Quarry
Hornwright testing site 2
Hornwright testing site 3
Hornwright testing site 4
Lucky Hole mine
As mentioned, Mole Miners tend to travel in groups, which is good if you're looking to wipe out a bunch in one trip but could also be dangerous depending on what types you run into. Obviously, most of these areas are, or at least are near, underground sections. This is where you'll want to go hunting.
Mole Miner Types And Loot
Mole Miners have one of the most varieties of enemy types in all of Fallout 76, with nine different variations you can run into. Here are all nine you can encounter in rough a rough difficulty ranging from easiest to hardest to kill, along with what they might drop for you.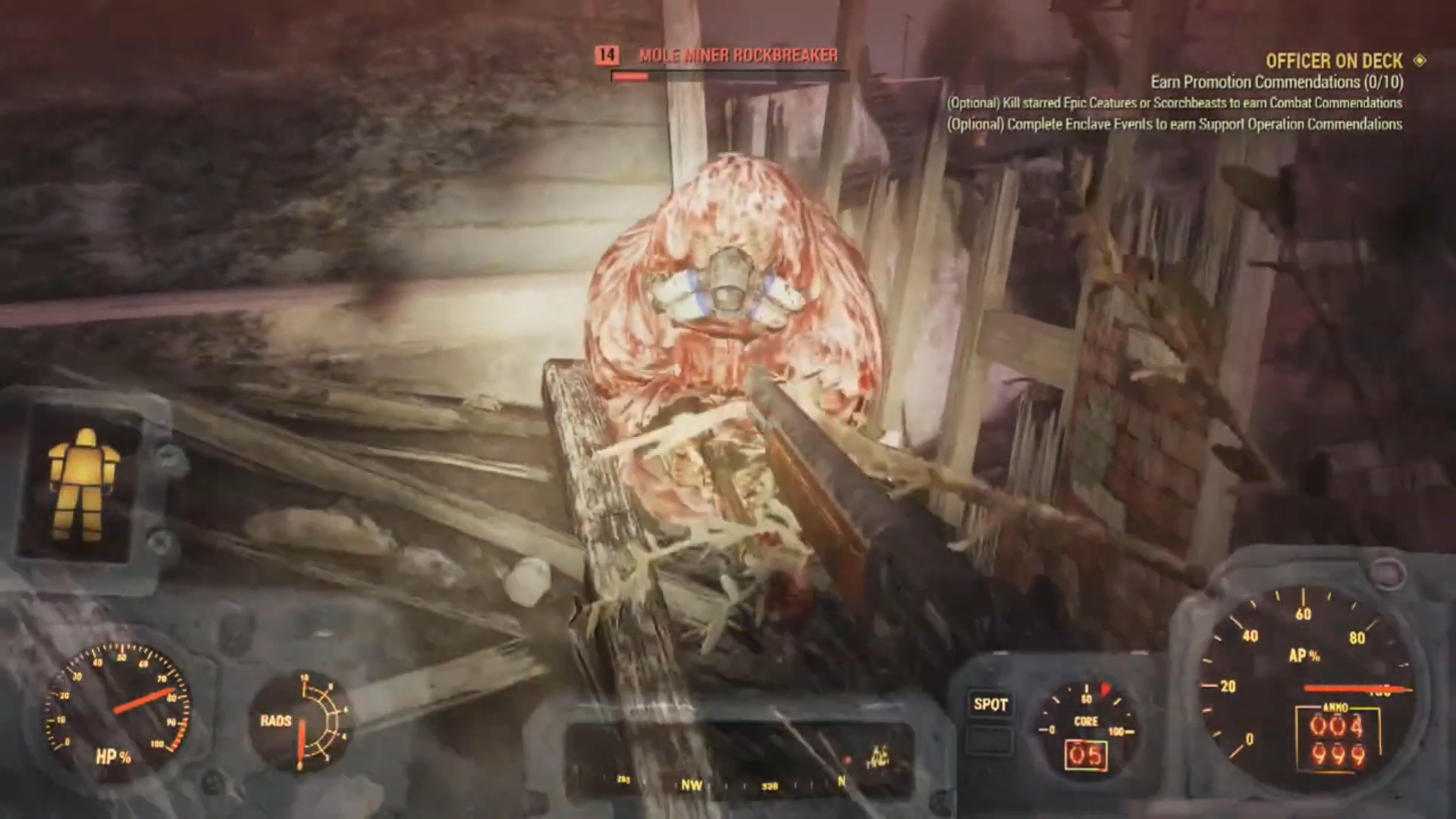 Treasure Hunter –

Dusty mole miner pail
Mole miner pail
Ornate mole miner pail
Glowing blood
Glowing meat
Nuclear waste

Mole Miner –

Pump-action shotgun
Double-barrel shotgun
Short double-barrel shotgun
Shotgun shell
Miner suit scrap
Mine suit filter
Mine suit breather

Pump-action shotgun
Double-barrel shotgun
Short double-barrel shotgun
Shotgun shell
Miner suit scrap
Mine suit filter
Mine suit breather

Pump-action shotgun
Double-barrel shotgun
Short double-barrel shotgun
Shotgun shell
Miner suit scrap
Mine suit filter
Mine suit breather

Pump-action shotgun
Double-barrel shotgun
Combat Shotgun
Short double-barrel shotgun
Shotgun shell
Miner suit scrap
Mine suit filter
Mine suit breather

Pump-action shotgun
Double-barrel shotgun
Short double-barrel shotgun
Shotgun shell
Miner suit scrap
Mine suit filter
Mine suit breather

Glowing blood
Glowing meat
Nuclear waste
Pump-action shotgun
Double-barrel shotgun
Short double-barrel shotgun
Shotgun shell
Miner suit scrap
Mine suit filter
Mine suit breather
Missile Launcher
Missile Ammo

Pump-action shotgun
Double-barrel shotgun
Short double-barrel shotgun
Shotgun shell
Miner suit scrap
Mine suit filter
Mine suit breather
Missile Launcher
Missile Ammo

Mole miner gauntlet
Pump-action shotgun
Double-barrel shotgun
Short double-barrel shotgun
Shotgun shell
Miner suit scrap
Mine suit filter
Mine suit breather
Missile Launcher
Missile Ammo

Source: Read Full Article