FaZe ZooMaa Deletes Sexist Tweet After Immediate Backlash
FaZe streamer Thomas 'ZooMaa' Paparatto came under fire for a now-deleted tweet he made in response to Twitch banning unlicensed gambling sites from being streamed on the platform.
News of ZooMaa's tweets was shared to ResetEra. Twitch recently released a statement on its intention to ban streams featuring unlicensed gambling sites on October 18. ZooMaa's tweet appears to be a response to streamers calling for a ban on gambling but not what he deems to be the real problem with the platform.
His tweet reads, "Sooooo what about all the whores on Twitch showing their body to young kids? Are none of these big twitch creators gunna talk about that?"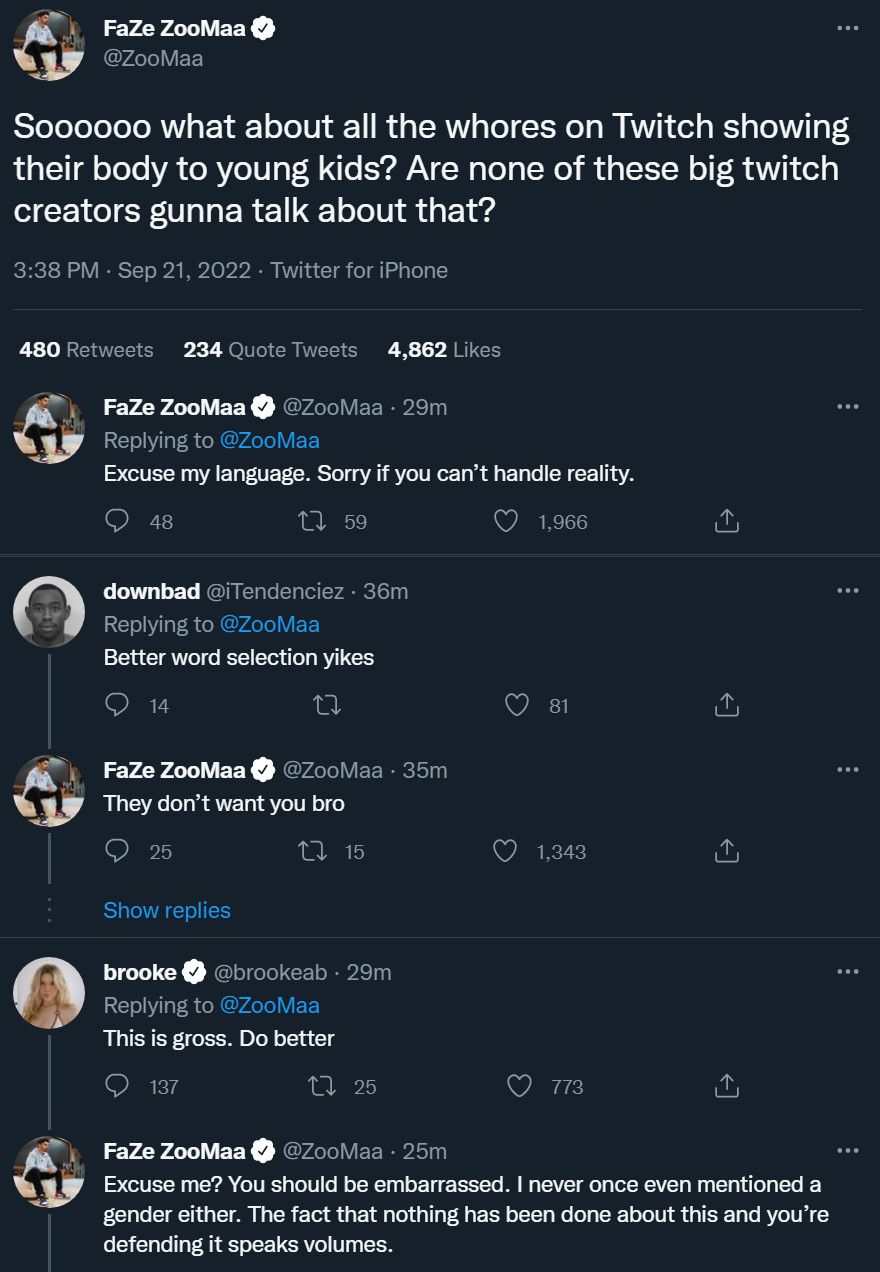 Naturally, people took issue with his sexist language. 100 Thieves Twitch streamer Brooke responded, "This is gross. Do better." ZooMaa then retired that she should be embarrassed as he never mentioned gender, despite the fact she never did either. "Man, woman, I don't care – promoting to your audience calling people "whores" is an issue," she replied.
While ZooMaa can pretend his tweet wasn't directed at women on Twitch, female streamers frequently get harassed for showing any skin at all. They are accused of stealing views from hard-working male streamers despite the fact the only woman to break into the 20 most followed on the platform is Pokimane.
ZooMaa tweeted, "Having sex on stream and shoving microphones up your ass is not a bikini," likely in reference to fart streams and a streamer accidentally leaving her stream on while having sex.
ZooMaa later offered a hollow apology, but also retweeted OpTic Dashy who wrote, "Social media ain't the same anymore," likely referencing the times when being bigoted online wasn't called out as much as it is today.
FaZe Clan recently dropped member Cented for saying the N-word, and faced backlash after its Atlanta team make a misogynistic tweet. It has also recently been revealed that Twitch could have a huge child predator problem.
Source: Read Full Article