Final Fantasy 14: Endwalker – The Excitatron 6000 Guide
Quick Links
How To Access The Excitatron 6000
The Excitatron 6000 Rewards
Final Fantasy 14: Endwalker is already here, narrating the climax of the story arc that began in A Realm Reborn, more than eight years ago. The latest chapter in the adventures of the Warrior of Light will take you through numerous Dungeons, Trials, and all kinds of activities throughout Eorzea as you try to prevent the impending Final Days.
The latest update, Patch 6.05, introduces a new instanced Dungeon called "The Excitatron 6000", a particularly colorful activity where you can get various rewards, such as Gil, Materia, and Crafting Materials to forge new armor and fashion pieces for yourself.
How To Access The Excitatron 6000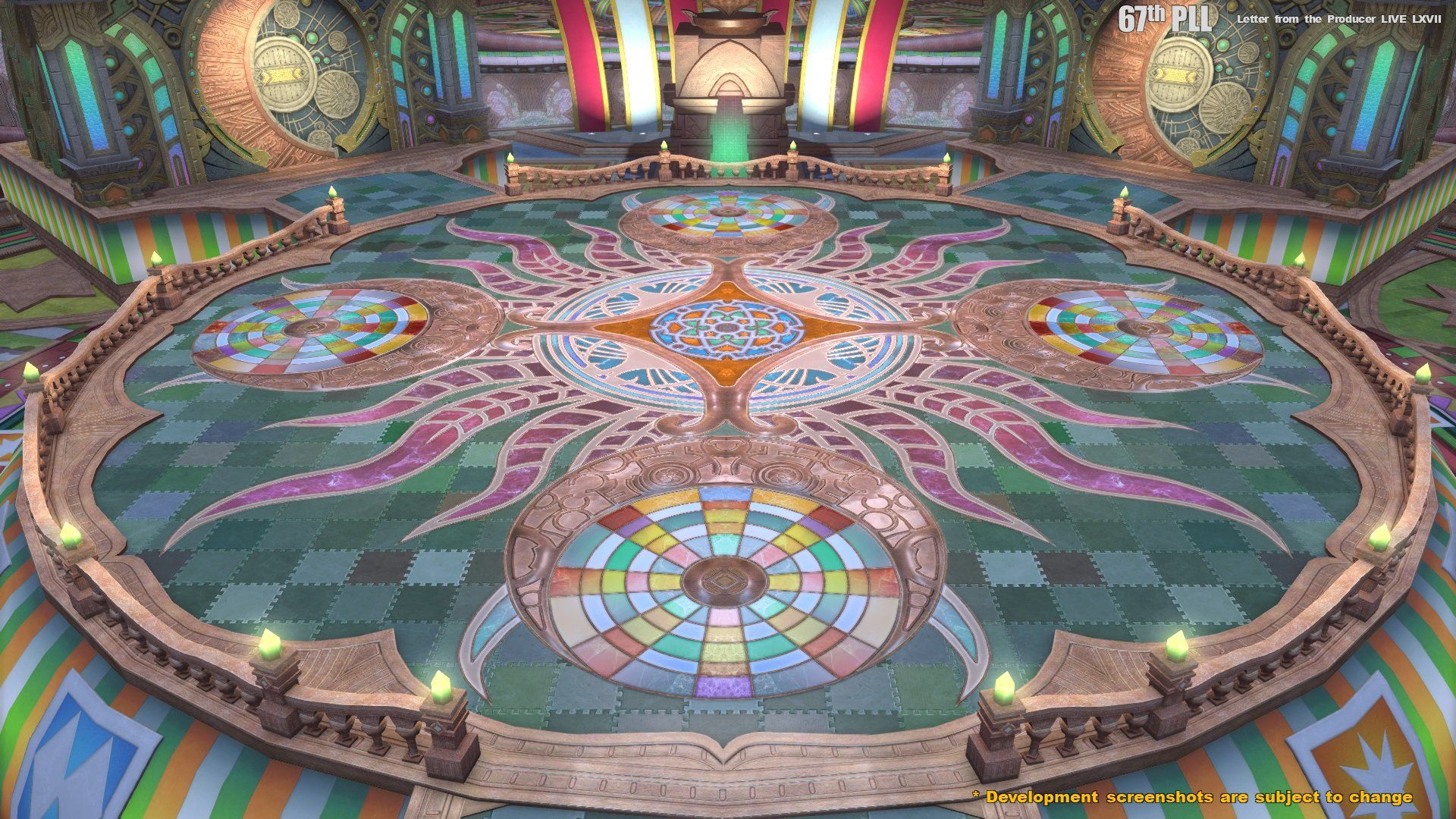 You don't need any pre-requisite to unlock this dungeon, but to gain access to it you must Decipher a Timeworn Khumbiraskin Map. Once you reach your destination and dig out the hidden treasure chest, you will be challenged by one or various groups of enemies, after which you will be able to open the chest. If luck is on your side, a teleportation portal will spawn, taking you to The Excitatron 6000.
The Excitatron 6000 Overview
Level Requirement: Disciple of War or Magic level 90
Item Level Requirement: None
Party Size: One to eight Players (it's recommended to have a full party)
Time Limit: 60 minutes
This dungeon has five separate chambers, each one with a treasure chest that, once you open it, will trigger a fight against several groups of monsters, and you can only progress to the next chamber by defeating all of them and choosing one of two doors. If you pick the right door, you will advance to the next chamber, and if you don't, you will get kicked out. You have also the chance to get spawns of special enemies, which may award extra chests after being defeated, or card challenges that may duplicate the rewards in your chest several times if you win.
The Excitatron 6000 Rewards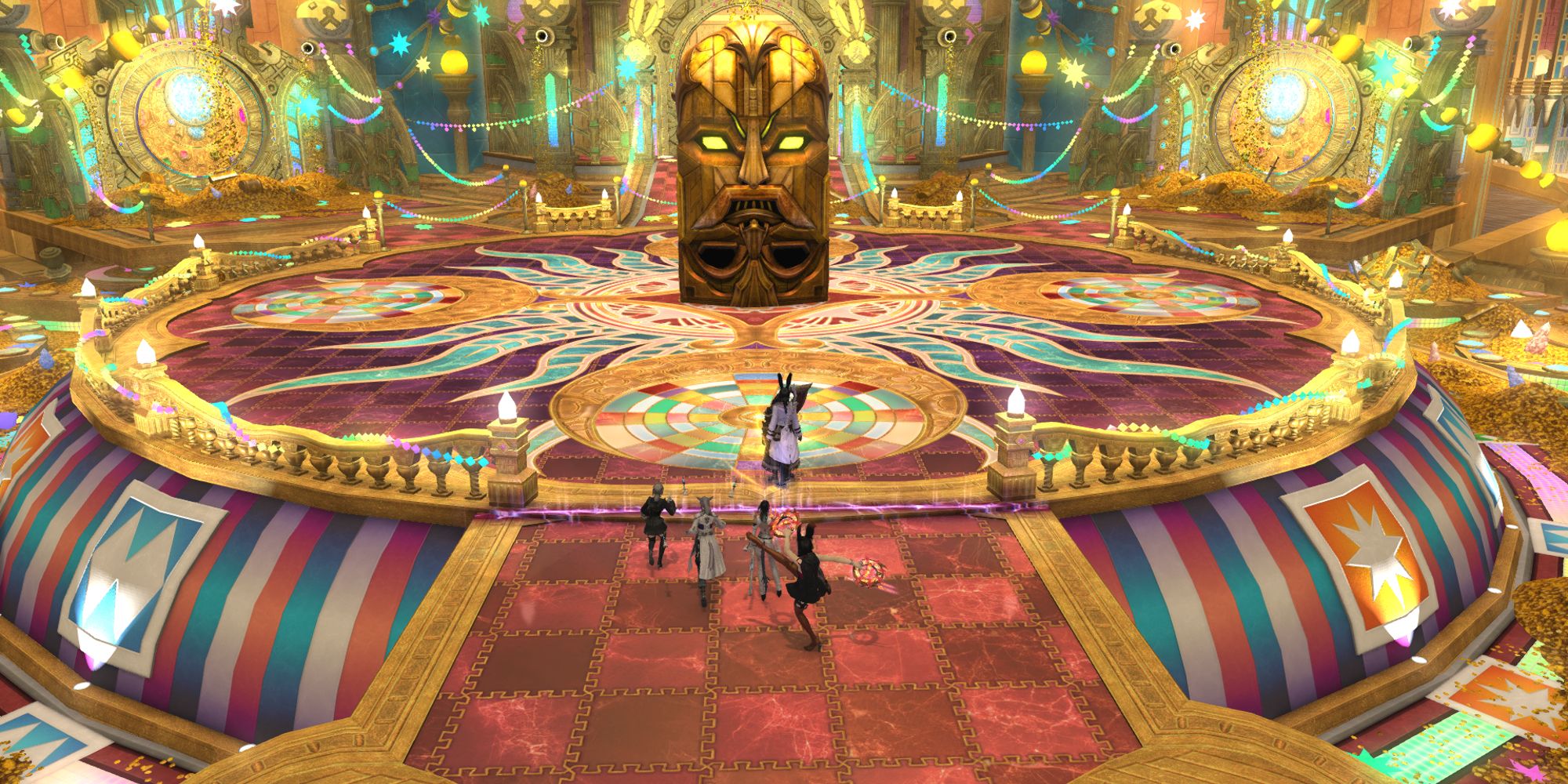 The Excitatron 6000 has several possible prizes for you to obtain. If fortune smiles to you, you will be able to get Gil, Crafting Materials, Fashion Items, or even Minions after opening each chamber's treasure chest. The list of rare rewards goes as follows:
Archangel Wings Fashion Accessory – Pair of golden archangel wings. You can equip them from the Fashion Accessories menu.
Pixie Wings Fashion Accessory – Pair of pink pixie wings. You can equip them from the Fashion Accessories menu.
Excite-I-Mask Headpiece – All Classes Item Level: 1
Royal Lunatender Minion – Golden version of the Lunatender minion.
Cloth Of Happiness Crafting Material – Necessary component to craft the Cape, Wristlet, Hose, and Shoes of Happiness.
For completing the Excitatron, you can also unlock the following achievements:
My Way Or The Hyperway I Raid The Excitatron 6000 for the first time. Awards the title "The Excruciatingly Excited".
My Way Or The Hyperway II Raid The Excitatron 6000 five times.
My Way Or The Hyperway III Raid The Excitatron 6000 ten times.
My Way Or The Hyperway IV Raid The Excitatron 6000 20 times. Awards the title "On The Hype Tron"
Milk Those Ways I Reach the last chamber of The Excitatron 6000 for the first time.
Milk Those Ways II Reach the last chamber of The Excitatron 6000 five times.
Milk Those Ways III Reach the last chamber of The Excitatron 6000 ten times.
Milk Those Ways IV Reach the last chamber of The Excitatron 6000 20 times. Awards the title "Lunaire Riche"
Source: Read Full Article