Gerard Pique's Kings League Is Basically IRL Mario Strikers
It feels like sports executives are always arguing about how to keep the Kids These Days engaged in football, cricket, or whatever game they're in charge of. With all their phones and Fortnites, the kids just don't care about traditional, 90-minute matches any more, let alone the good old five-day cricket affairs. Is it the fact that you have to pay for at least three subscriptions just to watch your team in the Premier League, and even then none of them show the 3pm kick-offs? No, it's the children who are wrong.
Despite not seeing the clear symptoms (we've got no money!), these sporting bodies are constantly trying to think of ways to reinvigorate sports. Should football matches be cut down to 60 minutes? Should we reinvent T20 for a third time? Should we bring Ryan Reynolds on board? Wait, Wrexham already did that… None of the ideas ever offer an interesting change, however, and that's why none will come into effect. FC Barcelona legend Gerard Pique, on the other hand, has decided to make Mario Strikers in real life.
To be clear, Pique hasn't attempted to literally recreate Mario Strikers. There are no Mushrooms or overalls, and definitely no fire-breathing turtles. But he's created a football league with rules so fun and eccentric that the result is closer to a video game than the real sport. Let me explain.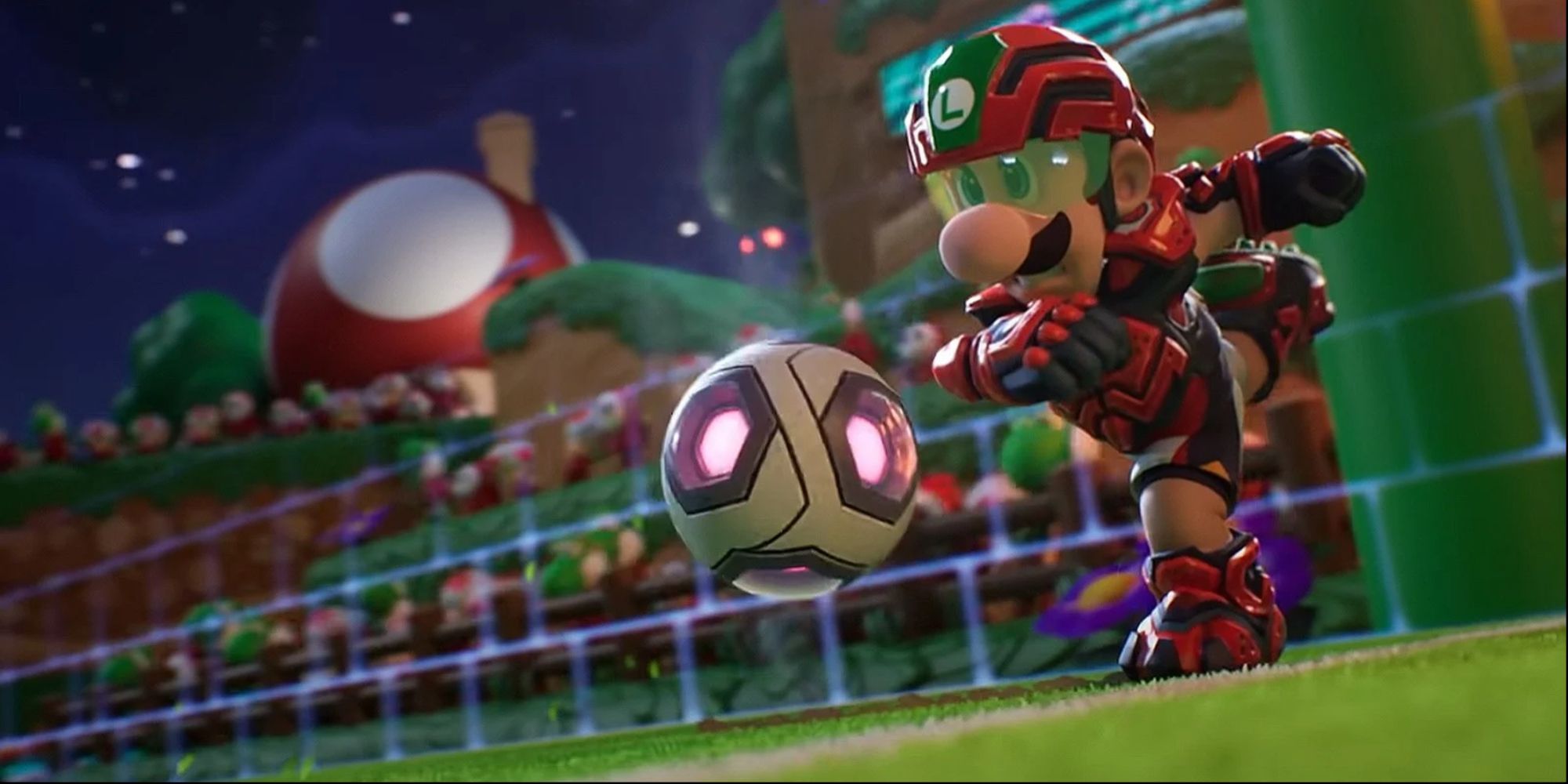 The man who created the first ever Balloon World Cup (yes, that game where you volley a balloon to each other and try to keep it from hitting the floor had an actual competition), has turned his hand to fast, fun football. He's brought in some legends of the game to run teams – Iker Casillas and Sergio Aguero are the biggest names – and the likes of LA Galaxy's Chicharito and World Cup winner Joan Capdevila are hitting the pitch.
Rules-wise, Pique's shaken up traditional seven-a-side. Kick-offs take inspiration from water polo, with teams starting on their goal lines and racing to the centre. VAR is used similarly to Tennis' Hawkeye, where teams get one use each, which replenishes if they're proven right. Cards come with sin bin punishments (two minutes for a yellow, five for a red). Penalties are like those in ice hockey, where players start on the halfway line and have five seconds to beat the keeper. Thankfully, there's no extra time.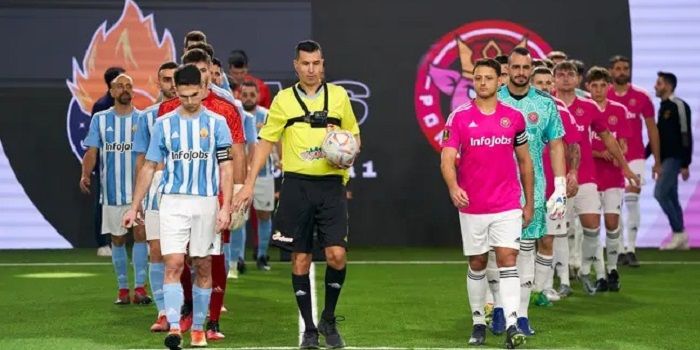 These rules make the forty-minute matches chaotic and exciting, but it's the golden cards that feel really video gamey. Before the match, team captains pick one of the five golden cards at random, and can play it throughout the game for a bonus. Whether it's an instant penalty, stealing your opponent's card, removing an opposition player for two minutes, or counting any goal scored in the next two minutes as double, these feel straight out of FIFA's House Rules or Mario Strikers' Ultimate abilities. There's also the joker card, which allows you to choose one of the other abilities.
The golden cards showcased their power this weekend, when Casillas' 1K faced Aguero's Kunisports. 1K were losing 3-2, so played their joker, picking a penalty in the hopes of evening things out. Kunisports was ready, however, and played their golden card to steal the penalty, converting it to win 4-2. If you can't picture Aguero yelling, "you activated my trap card!" across the arena, there's no hope for you.
Pique's not just added excitement to the rules, however. A key Kings League collaborator is Spanish streamer and esports personality Ibai Llanos, who is ensuring that the matches are available online. While Pique seems more plugged into social media and digital trends than some executives, it's hard not to believe that Llanos is behind the Twitch streams and YouTube channel that broadcast matches live and post highlights after every weekend.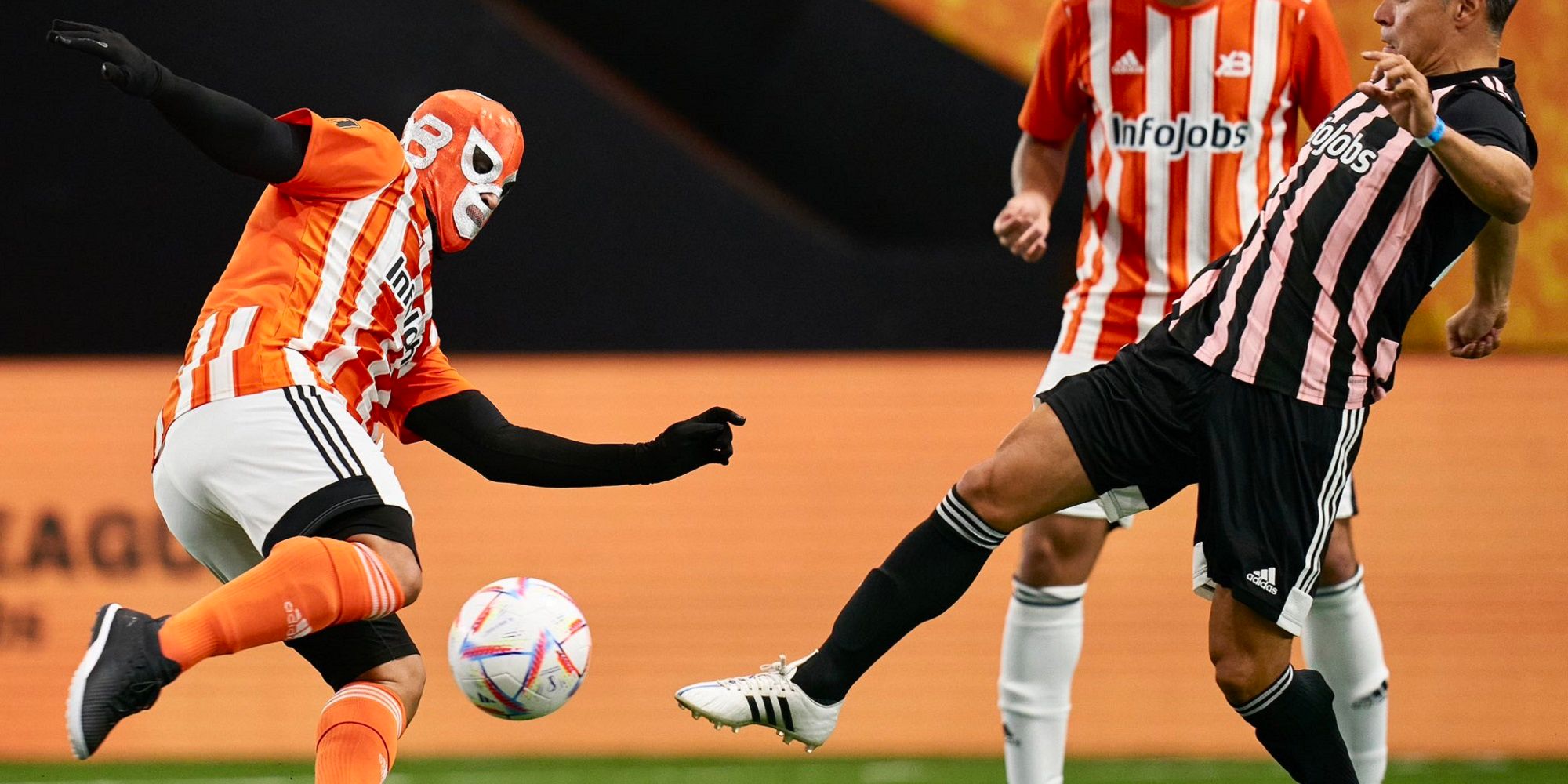 Kings League is not only fun, but it's accessible, too, and people are watching. There's the added bonus of a mysterious masked player, who reportedly was not allowed to play in the competition by his La Liga club, so appears as a luchador instead. A disguised player trying to have fun despite his corporate overlords banning it? That's a video game story right there. The player goes by the name 'Enigma' and wears number 69 too, further showing the effortless youth appeal and video game silliness the league has.
There's more to come, too. Fans can vote on rules, and may soon be able to attend matches in-person at the industrial port near Barcelona's airport where the action takes place. Star player Chicharito hopes to tour the world with the competition. There are also plans for a Queens League in May, where women will be able to get involved. Gerard Pique understands what makes sports fun, but ultimately it's the fact that he's turned on to the streaming landscape that will make Kings League a success. The fact he's basically created a video game in real life may not have been intentional, but it certainly adds to the appeal.
Source: Read Full Article