MLB The Show 21: 10 Overall Best Players
The sweet smell of freshly cut grass and hot dogs grilling in the air means one thing: baseball is back. This also means MLB The Show is back. The acclaimed baseball sim from San Diego Studios has arrived and is available on Xbox Series and Game Pass for the first time.
Critics and fans alike praise MLB The Show for its eye-popping graphics, solid game mechanics, and realistic player ratings. While there are some players whose ratings don't make any sense at all, there's a consensus agreement on who the best players are. These superstars are the faces of their franchises and the top performers in the sport. Regardless of their position, these players are the crème de la crème in MLB The Show 21.
10

Shane Bieber, Indians SP: 95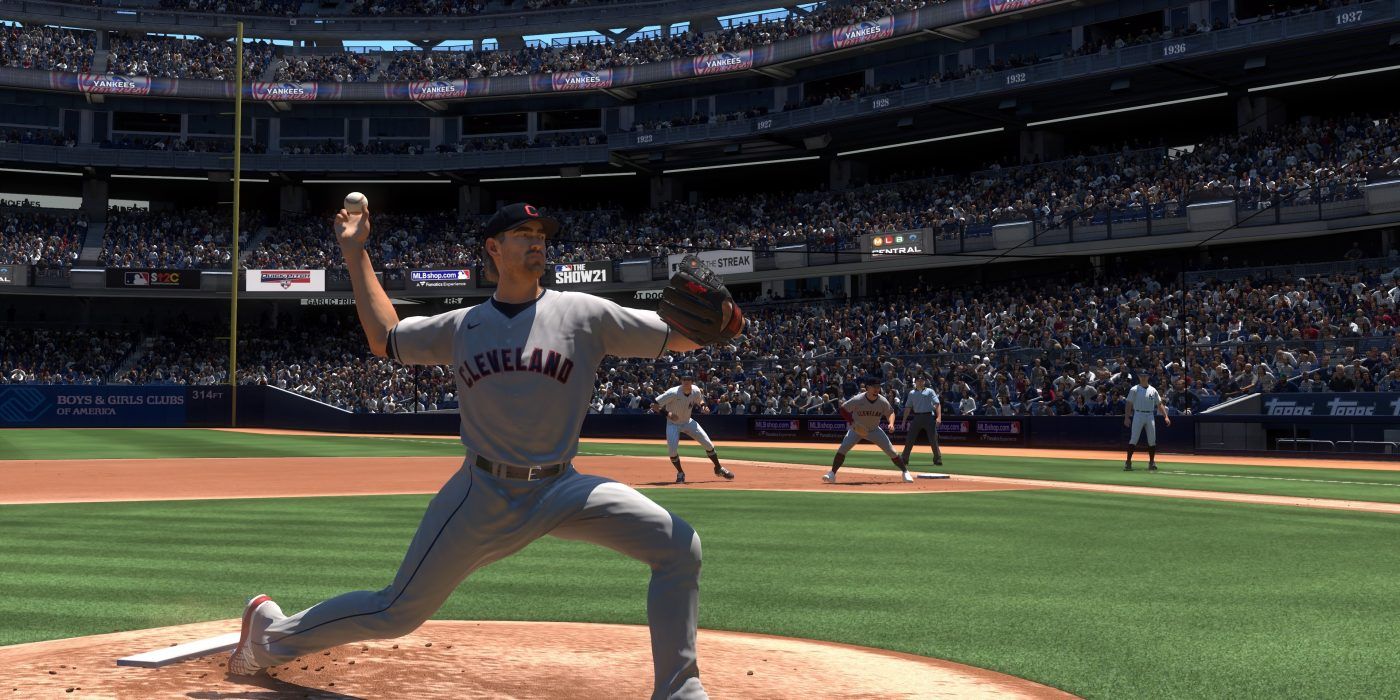 Reigning Cy Young winner, Shane Bieber is arguably the second-best pitcher in the game. Bieber's 95 rating is tied for the second-highest among pitchers (Clayton Kershaw). At 25-years-old, Bieber is on the brink of stardom. During his Cy Young-winning season last year, Bieber had an 8-1 record with a 1.63 ERA.
Looking at his individual pitching categories, he rates high in stamina (92) and breaking ball (95), and above-average in strikeouts through nine innings (85), hits allowed through nine innings (83), and durability (85). Also, Bieber is only owed $531,000 in 2021, which is a tremendous value for a pitcher of his caliber.
9

Fernando Tatis Jr., Padres SS: 95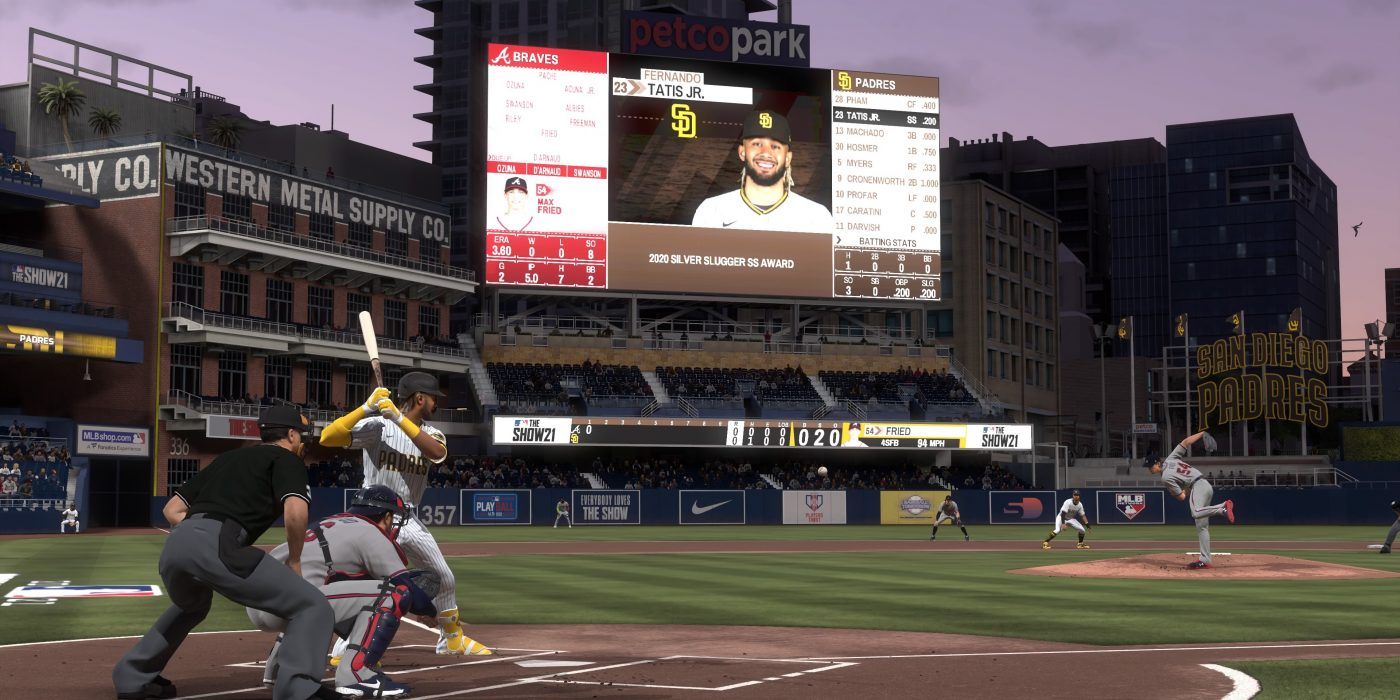 The cover athlete himself, Fernando Tatis Jr. is among the most electrifying young talents in the game. With a 95 overall rating, Tatis Jr. is the highest-rated shortstop in MLB The Show 21. The 22-year-old made his major league debut in 2019, finishing third in Rookie of the Year voting. He hit an amazing .317 average with 22 home runs and 53 RBI. He followed that season up with another high-RBI year with 45 in the shortened season.
Tatis Jr. is an effective contact hitter against left-handers (88) and has a perfect clutch rating (99). And if Tatis Jr. does get a hit, he's relentless on the base path. He has blistering speed (94) and is always a threat to steal a base (90). In the field, Tatis Jr. is a skilled defender (85) with a cannon for an arm (99) and solid reflexes (85).
8

Juan Soto, Nationals LF 95: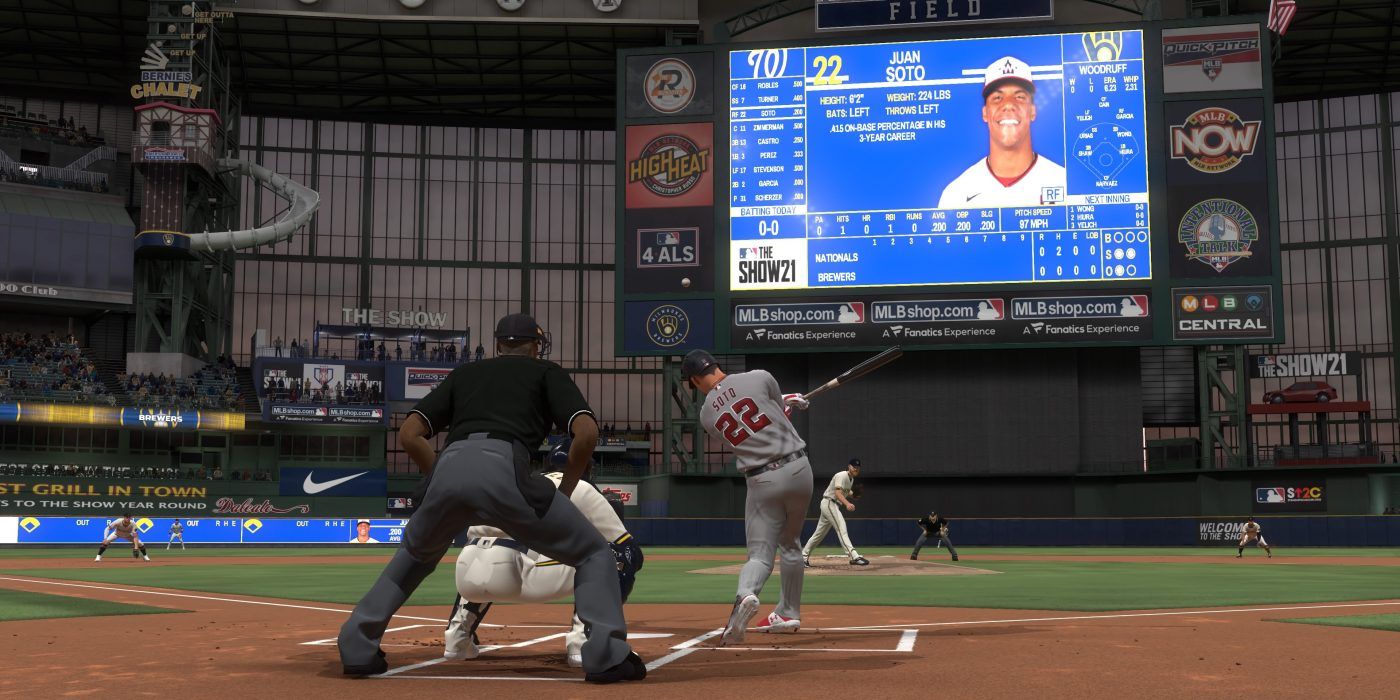 The highest-rated player on the Washington Nationals, Juan Soto is on the fast track toward baseball immortality. Only 22-years-old, Soto is an exceptional hitter. Last season, he won his first career Silver Slugger award behind a .351 batting average and finished fifth in MVP voting. Soto is the perfect combination of colossal power and high contact, with extremely high marks in contact against right-handers (92), contact against left-handers (91), and power against right-handers (99).
Soto's one area of weakness is his fielding. Only a 57 in fielding, Soto is one of the worst players defensively, but at the very least avoids committing errors. In his four-year career, Soto has five errors to his name. If he's able to improve those defensive ratings, Soto could be the highest-rated player in no time.
7

Freddie Freeman, Braves 1B: 95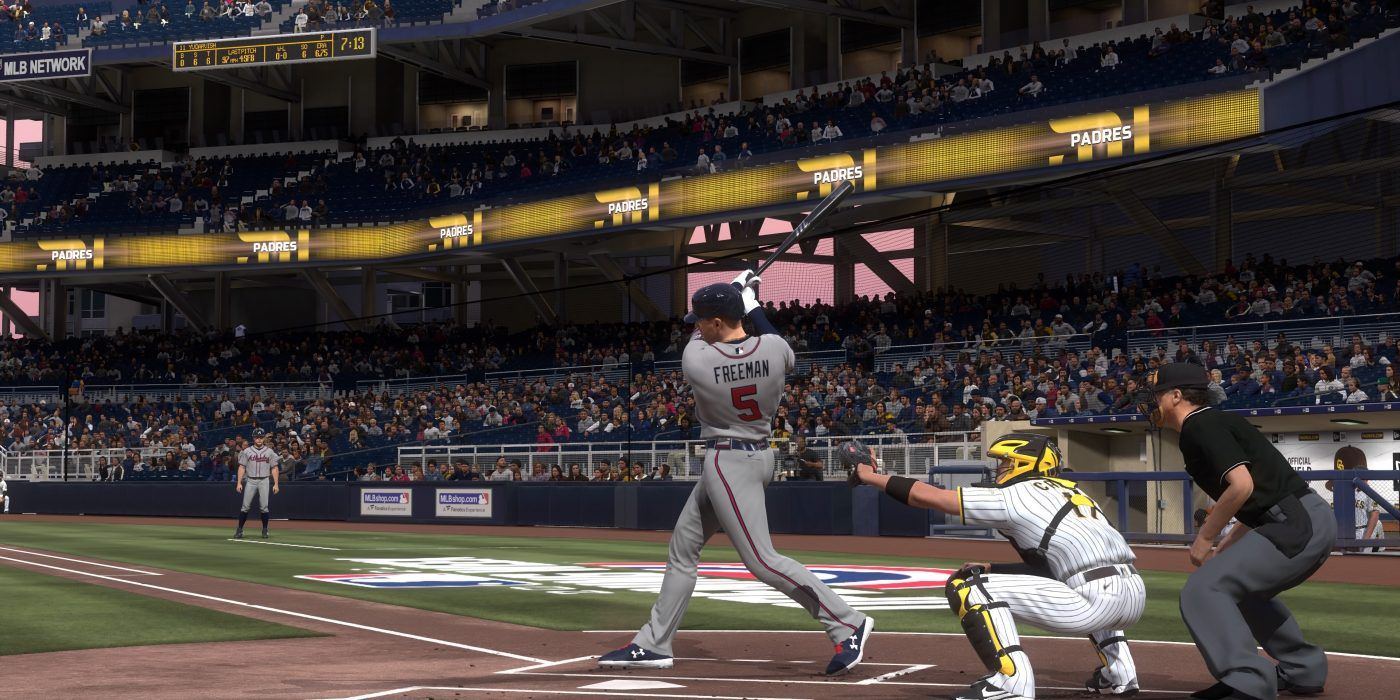 The top-rated first baseman in the game, Freddie Freeman is one of the best players in Atlanta Braves team history. Since finishing second for Rookie of the Year in 2011, Freeman has won a Gold Glove award, two Silver Sluggers, and was named an All-Star four times. The 31-year-old is also the reigning National League MVP behind a .341 batting average, 13 home runs, 53 RBI, and a league-leading 23 doubles (60-game shortened season).
Freeman excels offensively against right-handed pitching with high ratings in contact (94) and power (80). Freeman relishes in stressful, intense situations with a perfect 99 clutch rating. In the field, he's a decent fielder (76) with a good enough arm (76) and reaction time (81).
6

Christian Yelich, Brewers LF: 96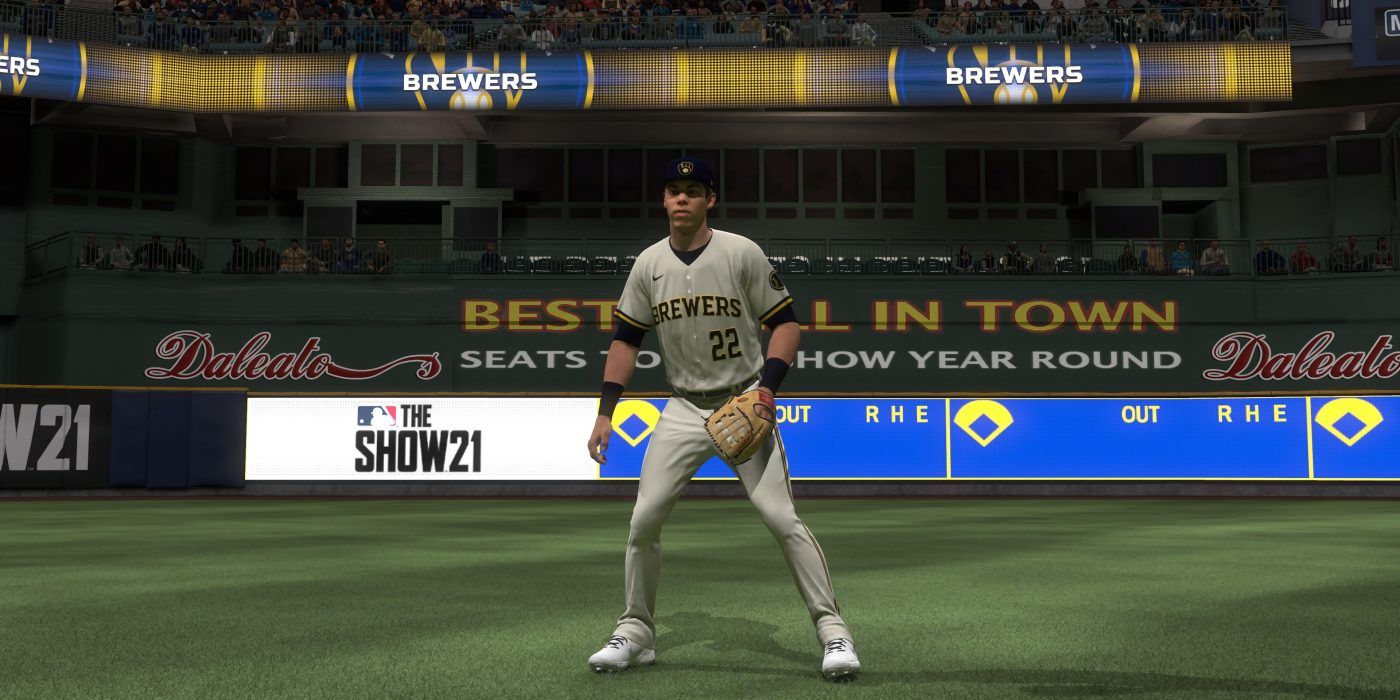 Christian Yelich debuted for the Miami Marlins in 2013, before his breakout season in 2018. In his first season with the Milwaukee Brewers, Yelich hit .326 with 36 home runs, and 110 RBI en route to his first career MVP award. Then in 2019, Yelich finished in second place for MVP with an even better batting average of .329 with more home runs (44) and nearly as many RBI (97).
Although Yelich won a Gold Glove award in 2014, he's a below-average fielder (60) with a noodle for an arm (46). His durability (79) is the worst among the top-tier players, so unfortunately he is injury-prone. But if Yelich can stay healthy, he's one of the best offensive players out there.
5

Aaron Judge, Yankees RF: 97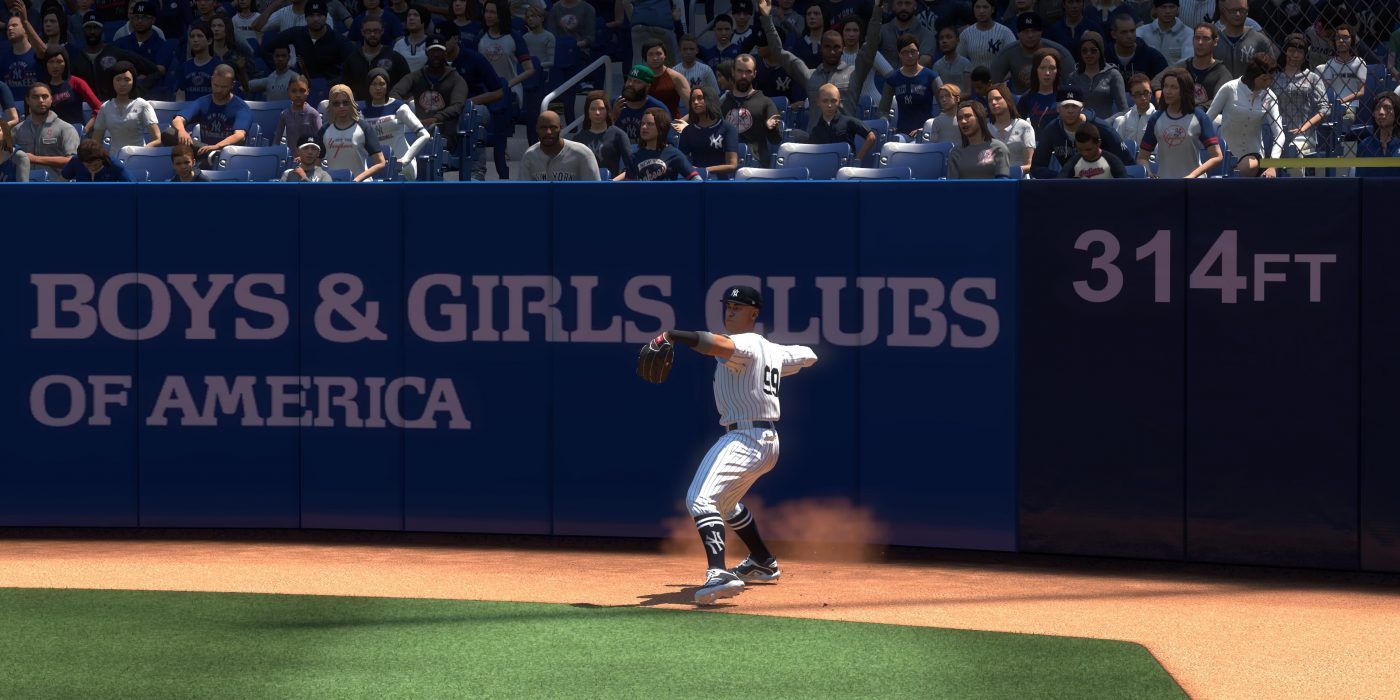 Despite the ratings, if healthy, Aaron Judge can certainly claim to be the best player in baseball. Arguably the best power-hitter in the league, Judge is perfect against right-handers (99) and nearly perfect against left-handed (97). In 2017, Judge won Rookie of the Year after hitting a career-high 52 home runs, 114 RBI, and 127 walks. The Yankees right-fielder finished second in MVP voting that season.
While Judge is a generational talent in the batter's box, he's equally as valuable out in the field. The 28-year-old is the second-best defensively right-fielder in MLB The Show 21 with three perfect 99 ratings in fielding, throw accuracy and reaction time. He also has an above-average rating in arm strength (85).
4

Nolan Arenado, Cardinals 3B: 98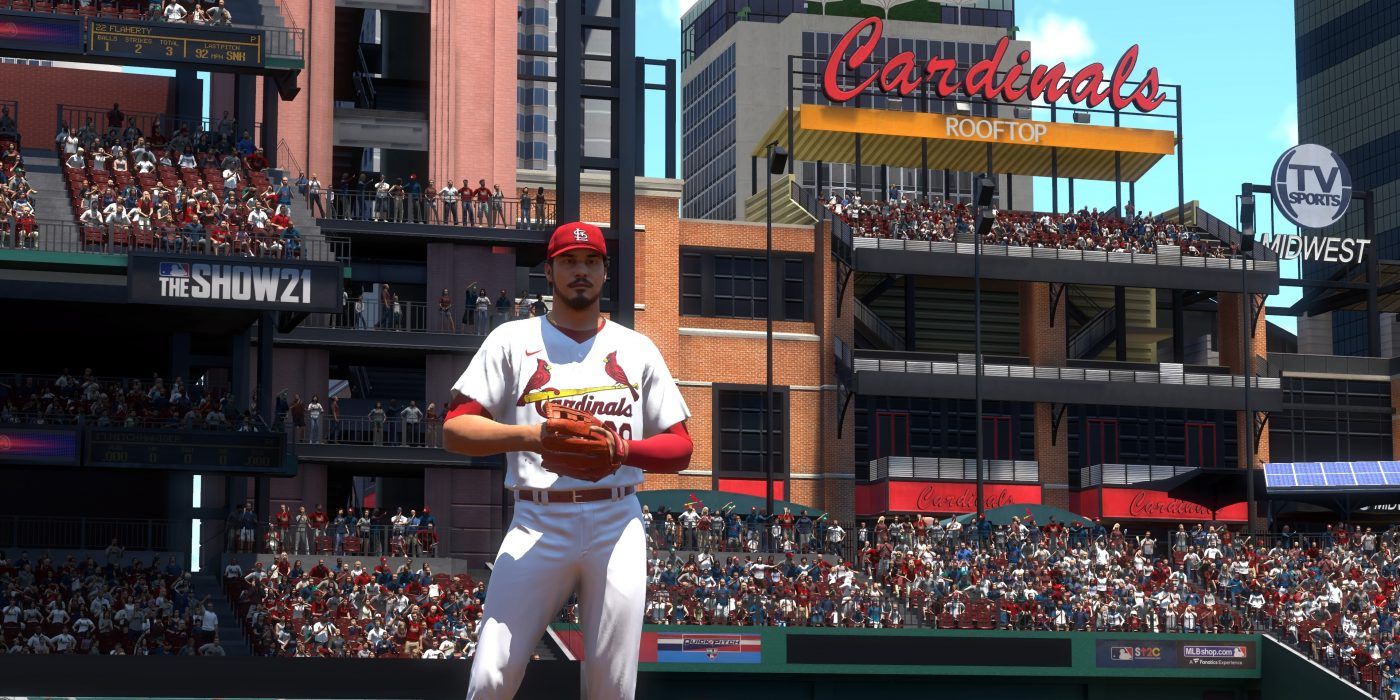 Spending the first nine years of his career with the Colorado Rockies, Nolan Arenado established himself as one of the best hitters and defenders in baseball. Throughout his time in Colorado, Arenado won eight Gold Glove awards, four Silver Sluggers, and was named an All-Star five times. Arenado has led the league in home runs three times in his career and had back-to-back seasons of more than 40 bombs.
Out on the hot corner, Arenado is an iron wall defensively. His perfect 99 fielding rating makes him the highest-rated defensive infielder in the game, along with a perfect 99 reaction time. The only thing left for Arenado to achieve in his baseball career would be a World Series ring.
3

Mookie Betts, Dodgers RF: 98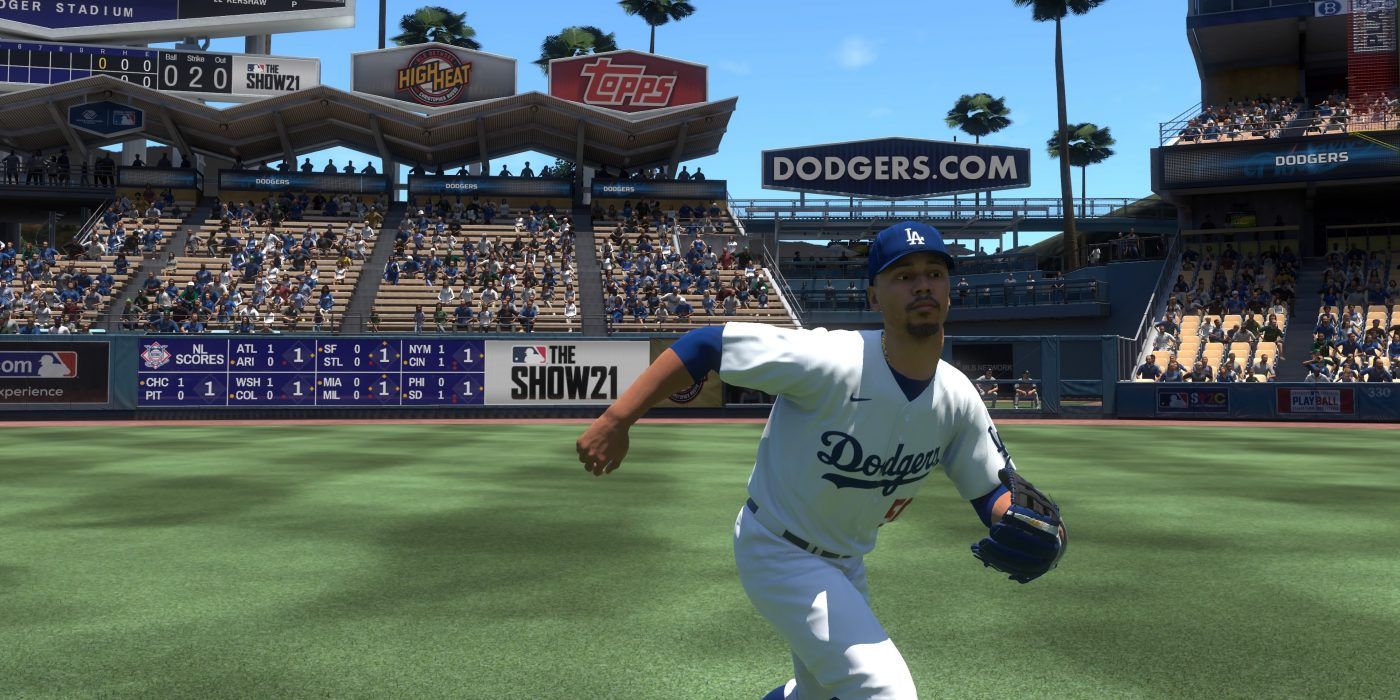 In his first season with the Los Angeles Dodgers, Mookie Betts was a key factor in winning the team's first World Series title since 1988. Acquired in a trade with the Boston Red Sox, Betts finished second in MVP voting last season. Throughout his career, Betts has won an MVP award, five Gold Gloves, four Silver Sluggers, and two World Series titles (Boston 2018).
At the plate, Betts is a solid contact hitter (84 against right-handers and 78 against left-handers) with average power (77 against right-handers and 65 against left-handers). The right-fielder excels in high-intense moments with a perfect 99 clutch rating. Out in the field, Betts is the third-highest defensive outfielder with a perfect fielding (99) and reaction time (99) rating and high marks in arm strength (85) and accuracy (96). It's still a mystery as to why the Red Sox traded him away.
2

Jacob deGrom, Mets SP: 99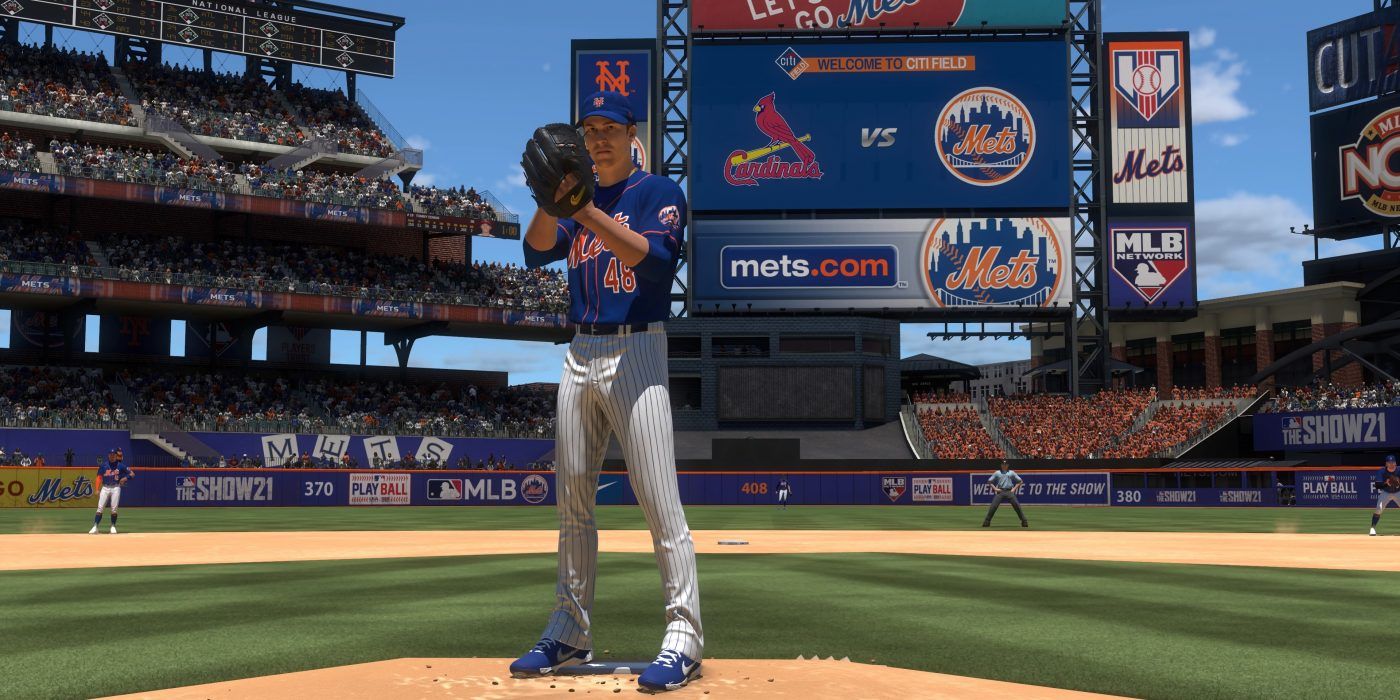 The only pitcher with a perfect overall rating, Jacob deGrom (99) is the best in MLB The Show 21. Making his debut in 2014, deGrom won Rookie of the Year behind a 9-6 record and 2.69 ERA. Since then, deGrom has won two Cy Young awards and was named an All-Star three times. In 2018, deGrom was nearly unhittable, posting a career-high and league-best 1.70 ERA. The Mets pitcher finished fifth in MVP voting that season.
The 32-year-old has an arsenal of pitches to get batters out, but his knockout pitch is his fastball. His perfect velocity (99) has batters swinging when the catcher's already caught the ball. Other high marks for deGrom are hits allowed per nine innings (91), strikeouts per nine innings (90), and stamina (89).
1

Mike Trout, Angels CF: 99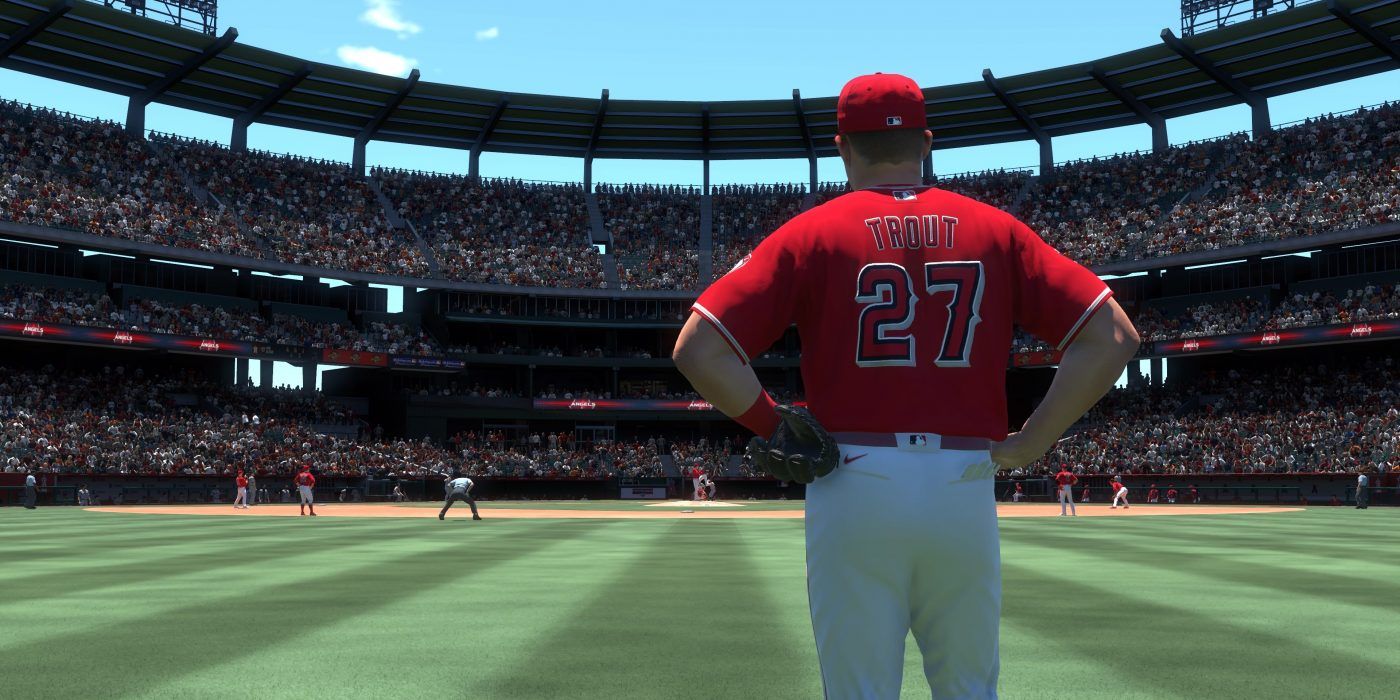 At the age of 29, not only is Mike Trout already the best player in baseball, but he might also be the greatest to ever play the sport. In 11 years, Trout has won Rookie of the Year, three MVPs, eight Silver Sluggers, and named an All-Star eight times. He's had four second-place MVP finishes with one being his full rookie season in 2012.
The Los Angeles Angels centerfielder is a monster at the plate. Other than his call-up year in 2011 and the shortened season last year, Trout has hit at least 27 home runs each season. With a near-perfect contact rating against right-handers (98), Trout does have a perfect power-hitting rating against right-handers (99). Defensively, Trout is an adequate fielder (81) with good arm strength (80), reaction time (81), and speed (83). Mixing his high octane offensive skills with his above-average defensive abilities, it's without a doubt that the Angels right-fielder is the best player in the game.
NEXT: MLB The Show 21: The 10 Worst Teams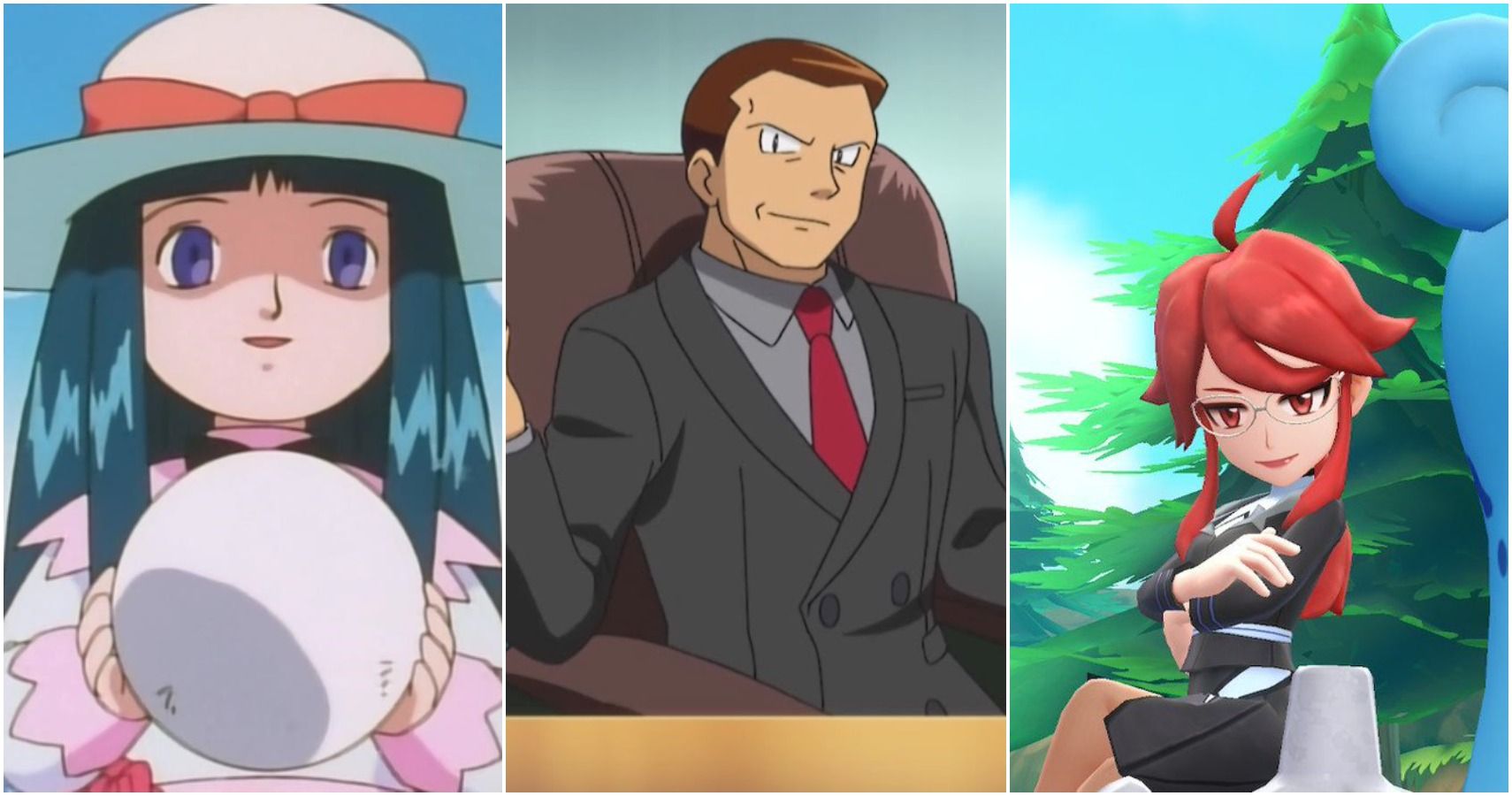 Upon graduating from the Walter Cronkite School of Journalism and Mass Communication, Avery Feyrer experienced working as a Web Content Editor at the local sports radio station in Arizona. After realizing his true passions were in games, Avery began writing game reviews for his personal website (coffeescorner.com) before becoming a regular contributor to MP1st. Avery specializes in creating all kinds of lists, which prompted him to apply as a List Article Writer for The Gamer. You can find Avery on Twitter @CoffeeBlack_910.
Source: Read Full Article