Monster Hunter Rise 3.0 Info Breakdown And Patch Notes
The Monster Hunter Digital Event has finally debuted, showing us everything we've been begging to know about the upcoming Monster Hunter Rise update, including what new creatures we can expect hunt, the future of Event Quests, and much more.
In addition to the Monster Hunter Digital Event, which detailed all of the big things we can expect to see in the update tomorrow, Capcom has also released a dedicated site detailing the patch notes for this new update, so players know exactly what they can expect when they download the new content.
In this guide we're going to break down everything we know about MHR 3.0. Although we have plenty of information to go on already, update 2.0 also included a fair number of additions, including a whole new monster, that we weren't aware of until we downloaded it and started playing for ourselves, so please don't get mad at us when the update drops, thanks.
MH Rise 3.0 Release Date
Monster Hunter Rise 3.0 will finally be available on May 27 – yes, that's tomorrow, as of the time of writing. The update should be available for all Nintendo Switch owners at 1am BST, which means European players will get almost a full day to play with it – lovely.
MH Rise 3.0 Update Size
MH Rise 3.0 will require 1.4GB of storage space available on your Nintendo Switch console or SD card. This only includes this update – in total, MHR will take up 2.9GB on your Nintendo Switch when you factor in all prior updates, but not the game itself.
MH Rise 3.0 Story Continuation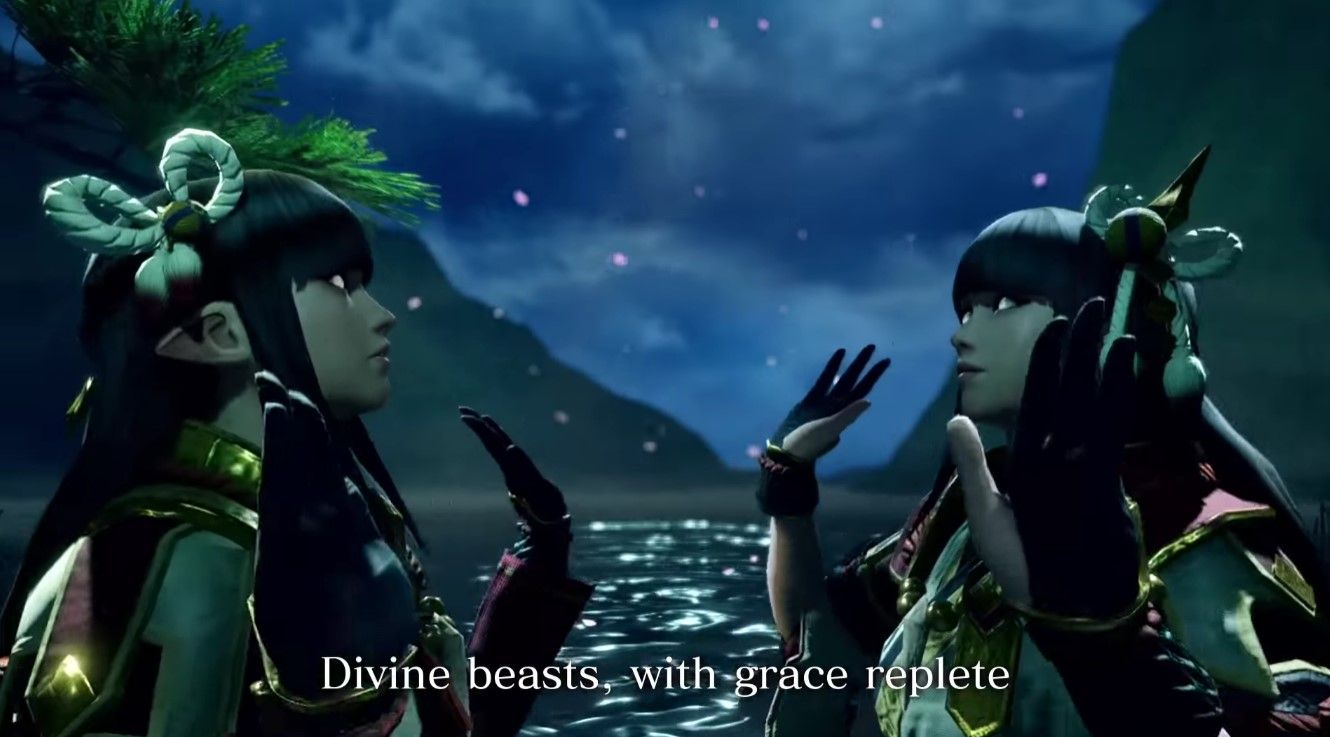 Mild spoiler alert here, but MH Rise's story mode ended on a bit of a cliffhanger. The story was intended to be finished in future updates, and that update is finally upon us. Based on the trailer we saw, we should see a conclusion to the story of Hinoa and Hinata, the shrine maidens which seem to be linked to the Elder Dragons Gods, Narwa and Ibushi. It seems likely that the two Elder Dragons will merge into a single powerful monster, which should make for an excellent climactic battle.
There will be a bunch of new Hub quests and Rampage quests added to the game to help continue the story and facilitate the hunting of new monsters, but there will also be an all-new "hunting locale," though we don't know if this will be an entirely new area, or a smaller arena.
MH Rise 3.0 New Monsters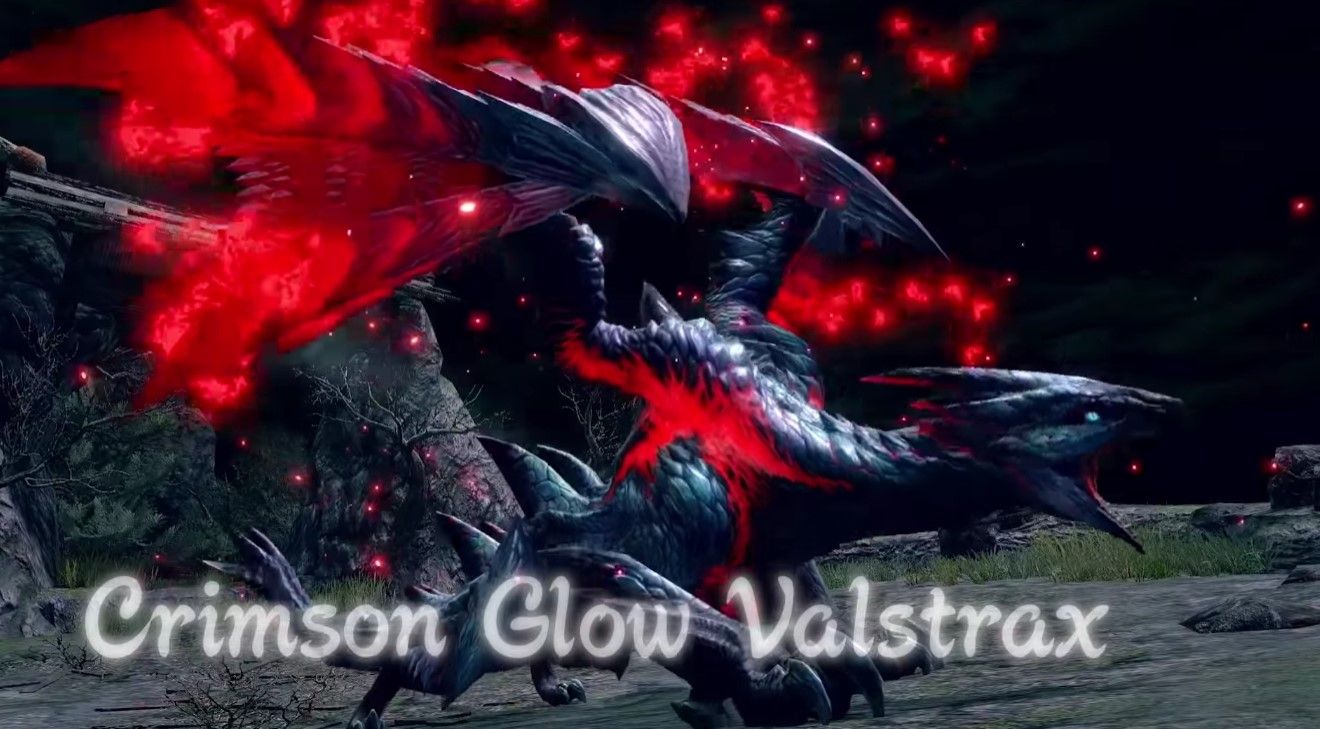 The first big monster to mention, and arguably the main one, is the Crimson Glow Valstrax, and this creature was the flagship monster for Monster Hunter Generations Ultimate. This Elder Dragon changes the shape of its wings to attack, and flies high into the air before attempting to dive bomb on you. MHGU players are probably prepared for most of what it has to offer, but it does have an entirely new form for Monster Hunter Rise.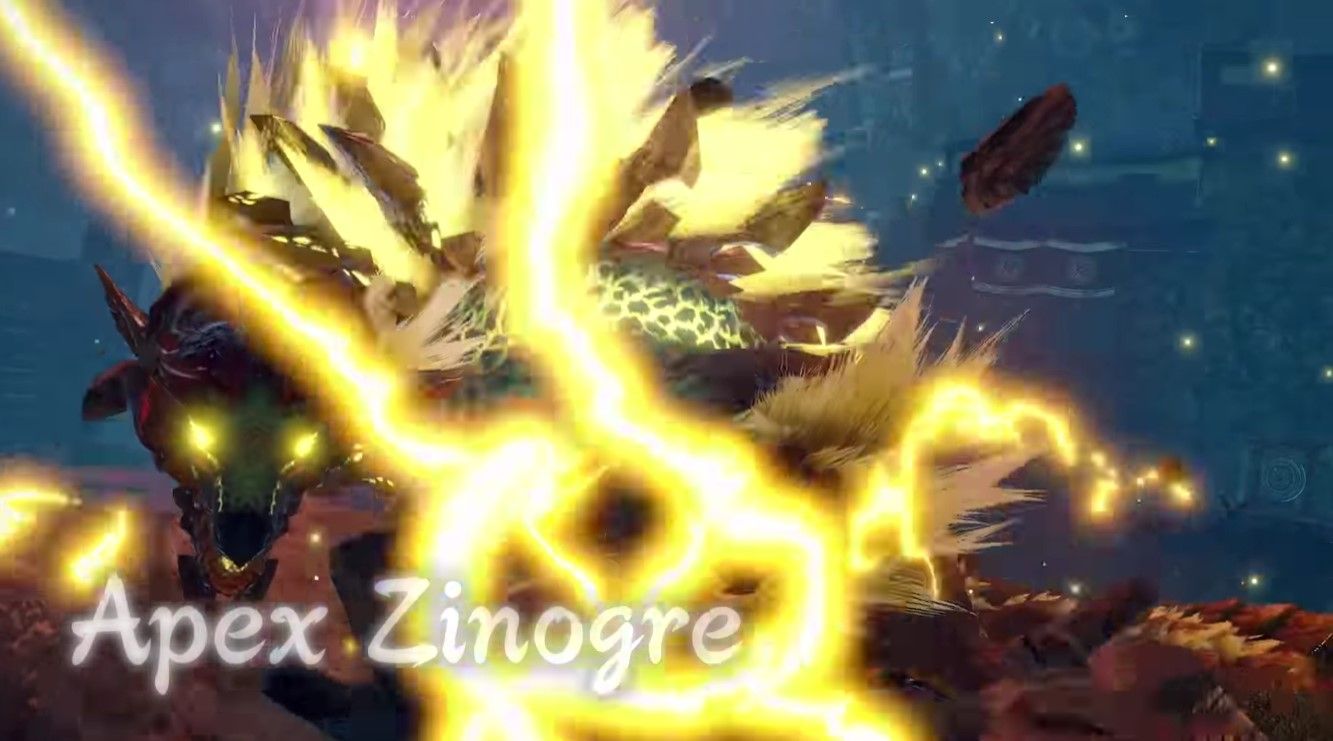 Another new monster is Apex Zinogre. Apex Zinogre is available in both Rampage and standard quests, and takes on a different form, with a bunch of new attacks – though admittedly, it's not as exciting as an all-new monster.
The only other new monster we have reason to believe will show up is the fusion of Ibushi and Narwa, which we mentioned above – though this is just an educated guess.
MH Rise 3.0 New Paid DLC Content
There is a whole suite of brand new DLC to download, and all of it is bundled up into DLC Pack 3. This is a fun way to supplement your MHR experience if you're into buying cosmetics. All of this DLC will go live at the same time as the 3.0 update.
Hunter Cosmetics
Iori – Hunter Voice
Yomogi – Hunter Voice
Noble Short – Hairstyle
Delicate Beauty – Hairstyle
Cheek Tusk – Face paint
Stitches – Face paint
Felyne Ears – Layered Armor
Felyne Tail – Layered Armor
Canyne Mask – Layered Armor
Canyne Tail -Layered Armor
Stickers, Pose Sets, BGM
Special Stickers 2 – Sticker set
Hide – Pose Set
Using the Wall – Pose Set
Monster Hunter Series Bases – BGM
Monster Music: Dance Vedrsion – BGM
Buddy Cosmetics
Felyne Mask – Palamute Layered Armor
Canyne Mask – Palico Layered Armor
Out on the Hunt – Cohoot Outfit
Li'l Wingdrake – Cohoot Outfit
MH Rise Future Roadmap And Event Quests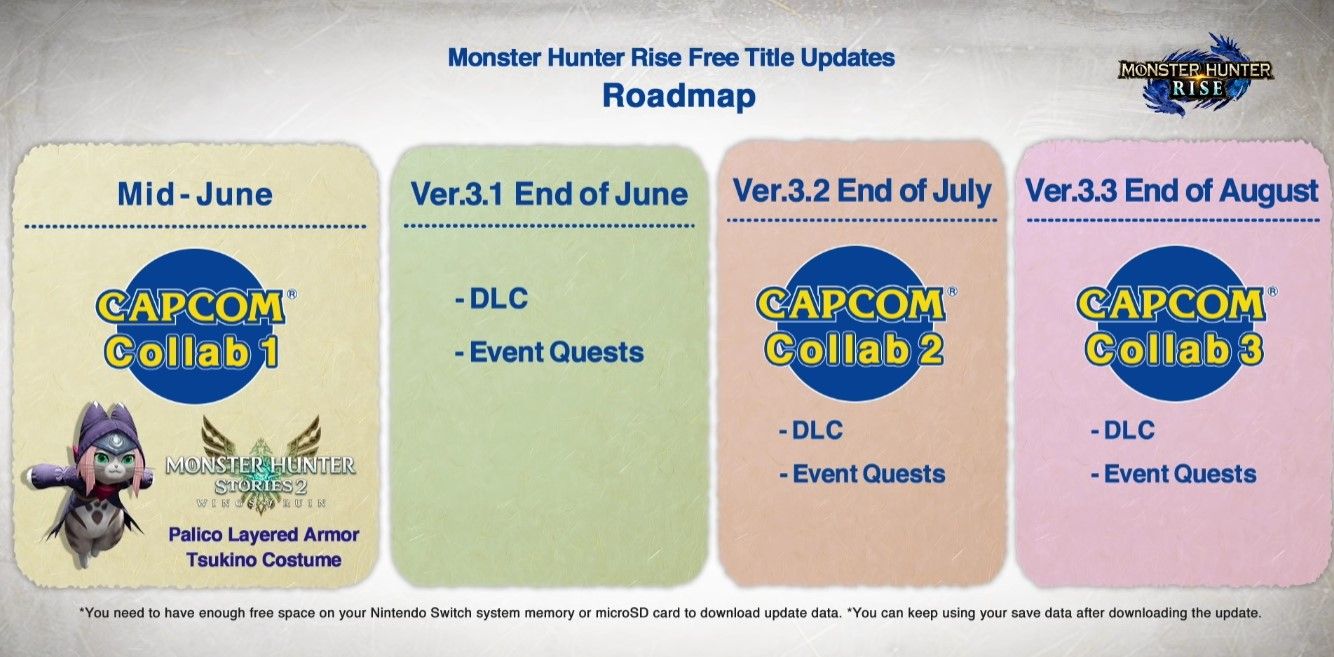 Finally, we have more information on what to expect from the future of Monster Hunter Rise after the 3.0 update. No, we don't know when we might see MHR 4.0 yet, but we do have an idea of what the Event Quests will look like.
Mid-June
In Mid-June you'll be able to access a brand new Event Quest which will give you access to the Tsukino Palico Layered Armor. This outfit is based on the lead Felyne from the upcoming Monster Hunter Stories 2. This is the first of three confirmed Capcom Collab Event Quests, which will each offer you cosmetics based on other Capcom games.
End Of June – Ver 3.1
MHR 3.1 will launch about a month from now, which will again bring more DLC content, and more Event Quests.
End Of July – Ver 3.2
There will be another update at the end of July, bringing with it the second Capcom Collab Event Quest, more DLC, and other Event Quests.
End Of August – Ver 3.3
MHR 3.3 will launch at the end of August, offering yet another Capcom Collab Event Quest, more DLC, and other Event Quests. Deja vu.
MH Rise 3.0 Patch Notes
There are a number of bug fixes being introduced in the new patch – too many to summarise here – and you can find them all on Capcom's official site.
Source: Read Full Article