Overwatch 2: Ranking Every Brigitte Skin
Brigitte is Overwatch's 27th hero; a feisty, stubborn-minded mechanical engineer who wears her Swedish roots and family pride on her chest. A former squire for mainstay tank Reinhardt and daughter to DPS giant Torbjorn, Brigitte is one of the most lore-connected characters within the main Overwatch cast, and a great offensive healer to boot.
As a spear and shield type character, Brigitte has some excellent skins that make the most of her weapons, and with her armor/cape combo she has a lot of opportunity in her base design for interesting themed skins. Here we round up some of the best of them.
Updated 18 November 2022 by Jacob Whaling: Overwatch 2 is here, and every Hero now has a new optional default skin. Additionally, Brigitte has had a few skins released since this list was originally published, so we're here to rank these new skins against Brigitte's old (but still amazing) ones.
16/16

Overwatch 2 Skin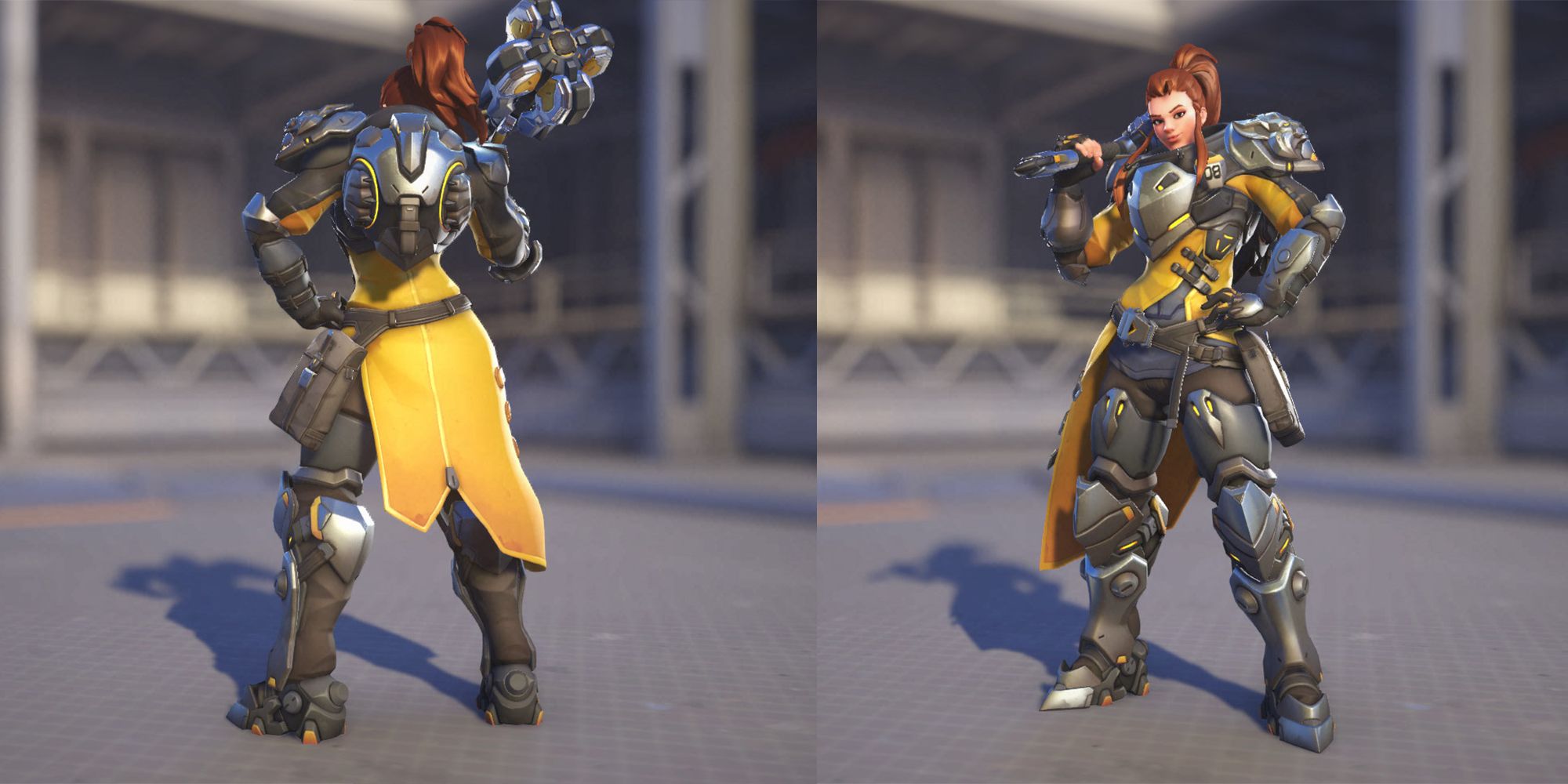 Overwatch 2 gave every hero a new and updated default skin. Brigitte's new default skin upgrades her armor, updating the thrown-together look of her original skin to a sleeker and hero-worthy set of armor. Her homemade armor has been traded for top-of-the-line equipment, with shiny metal, intricate detailing, and a fashionable satchel.
While this updated default skin is better than the original, it doesn't quite match up against Brigitte's other, more intricate skins. For these reasons, we can't rank it very high on the list, even if it is an improvement on Brigitte's original default skin.
15/16

Carbon Fiber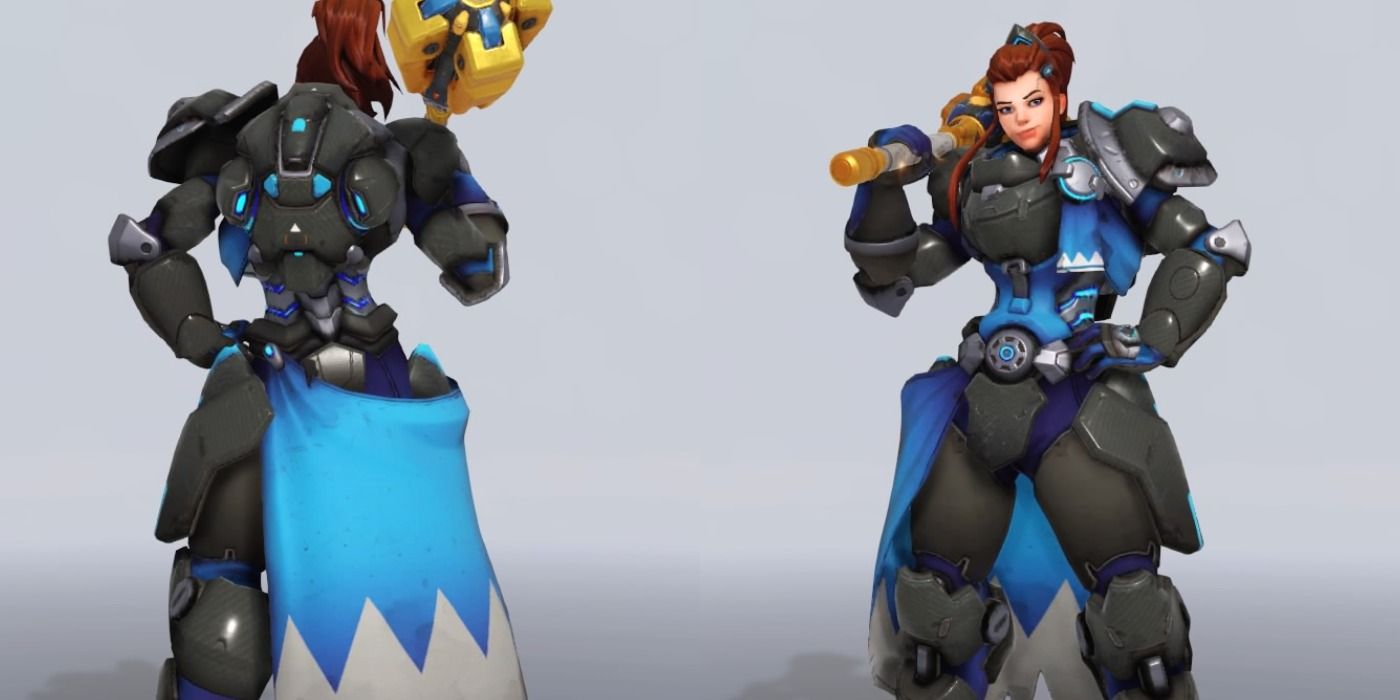 Price: 250 Legacy Credits or 300 Overwatch Coins
There's not a lot to say about Carbon Fiber, which is perhaps a bit of a hint as to why it's placed so low on this ranking. Although a step up from the simple base single-shade skins with its light gradients and light blue details, in battle this skin may be harder to notice.
Carbon Fiber is part of a much larger set of skins (all featuring similar designs under the Carbon Fiber name) across playable characters in Overwatch. Other characters who have matching skins include Sigma, Orisa, Genji & Zenyatta.
14/16

Mani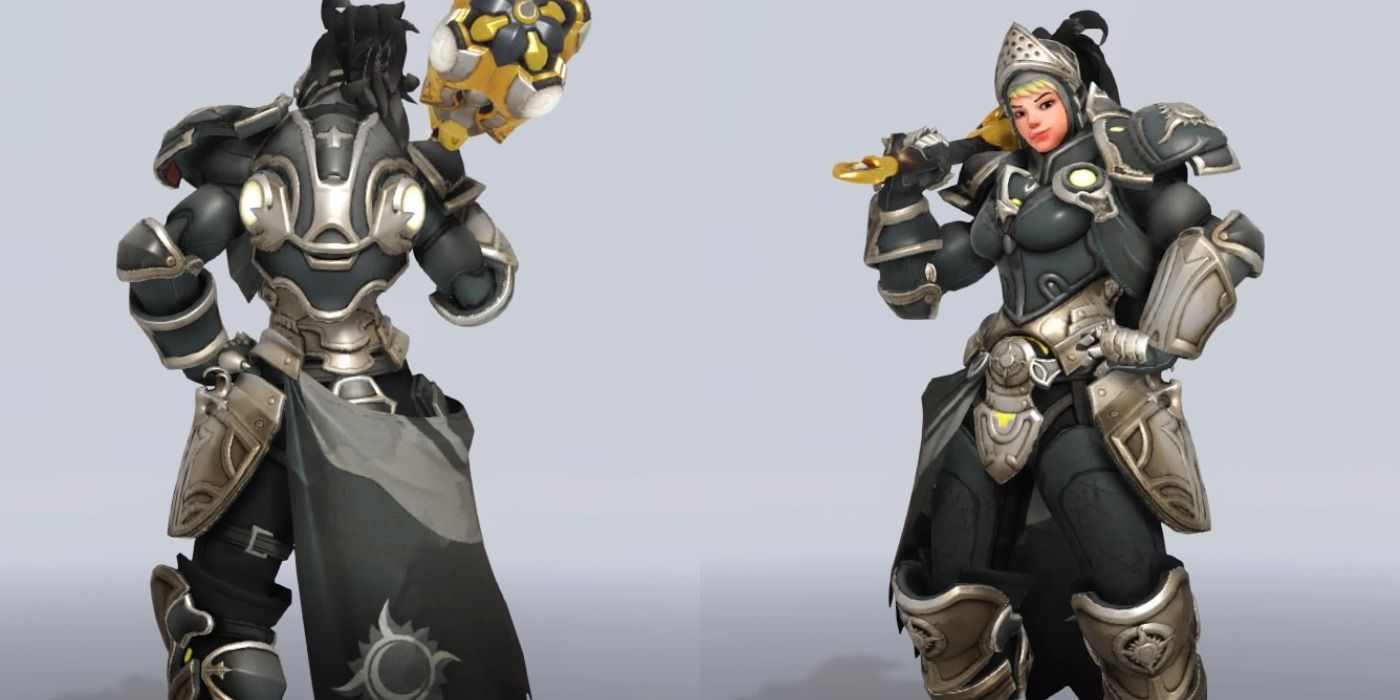 Price: 1000 Legacy Credits or 1900 Overwatch Coins
Mani is the first of two fantasy-styled Legendary skins that were available for Brigitte at the time of her release. Unlike its flashier counterpart, Mani is rendered in a subtle grey, almost monochromatic style, making it a very muted skin.
In both Mani and Sol Brigitte appears as a knight in shining armor, and it makes for a great choice for her set weapons — a mace and a shield. There's lovely detailing here, but sadly the dulled design of this skin means it ranks a little lower than most.
13/16

Riot Police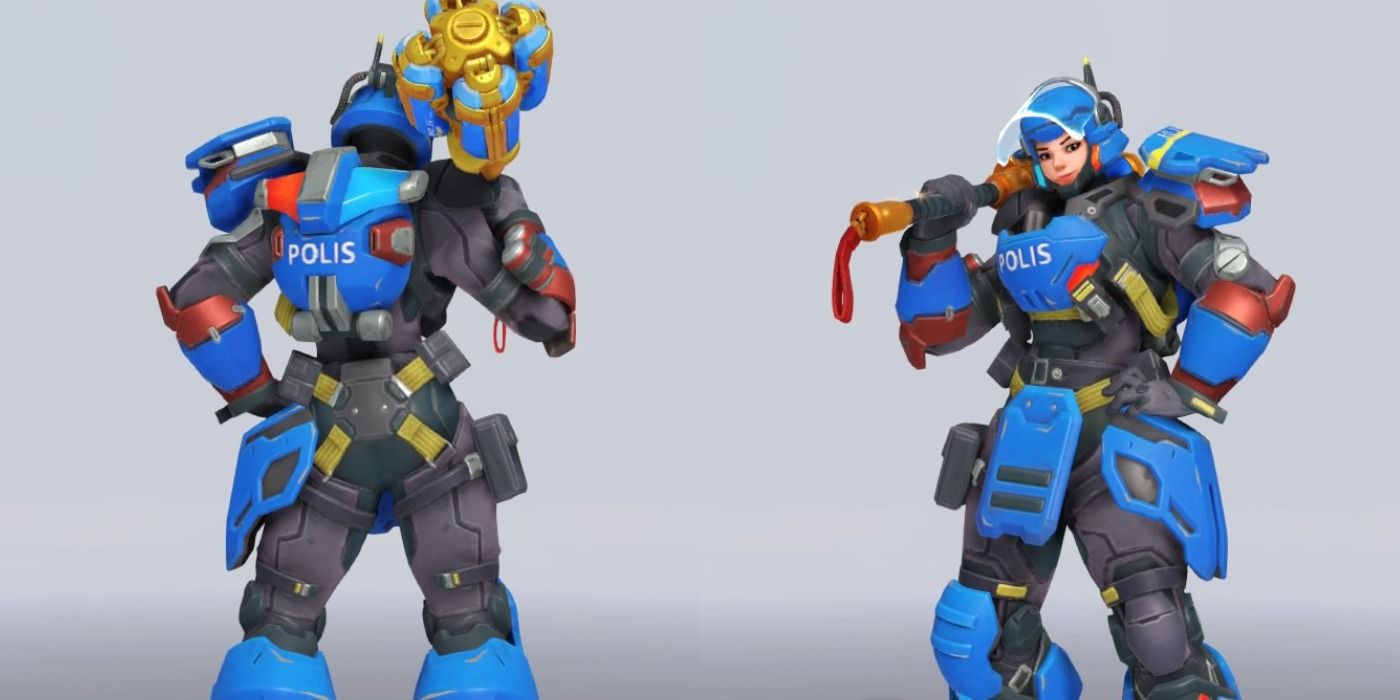 Sometimes available in the shop
Riot Police is one of Brigitte's many Legendary skins, and whilst the design is quite good, it seems a bit unfinished when compared to some of the more detail-focused skins. It does, however, pair well with other military and armed forces-themed skins, such as Officer D.Va.
In this Anniversary Legendary, Brigitte appears as a Swedish riot police officer, with matching police armor, shoulder packs, backpack, and face shield. As a seasonal skin, you'll have to keep an eye out on the rotating shop if you want to snag it.
12/16

Mechanic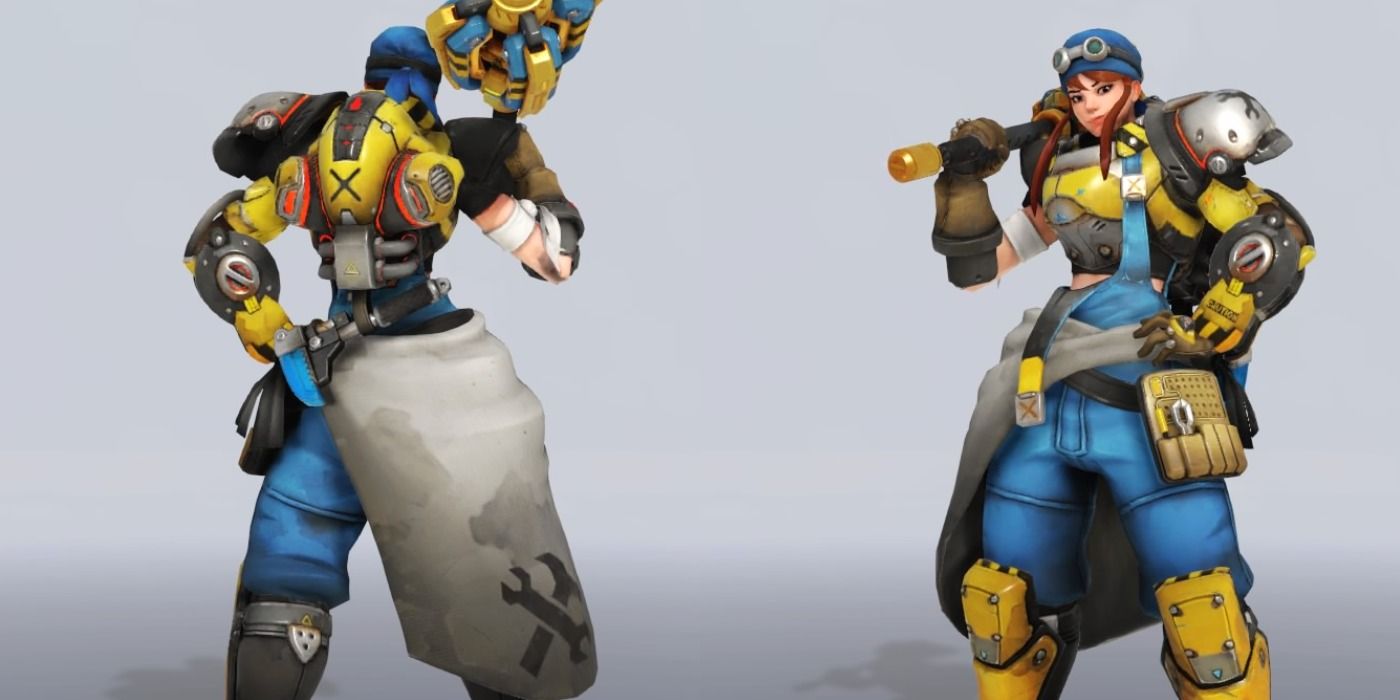 Price: 1000 Legacy Credits or 1900 Overwatch Coins
The first of two heavily lore-based skins for Brigitte is Mechanic. Both of these skins make reference to Brigitte's life pre-Overwatch, when she studied under her father and others, worked with Reinhardt, and began to build her own armor.
Mechanic has a really cool color scheme that suits her theme and also pays tribute to Brigitte's Swedish roots. There are some nice details in the texturing of Brigitte's work overalls, the bandages on her arms, and the grime on her clothes.
11/16

Engineer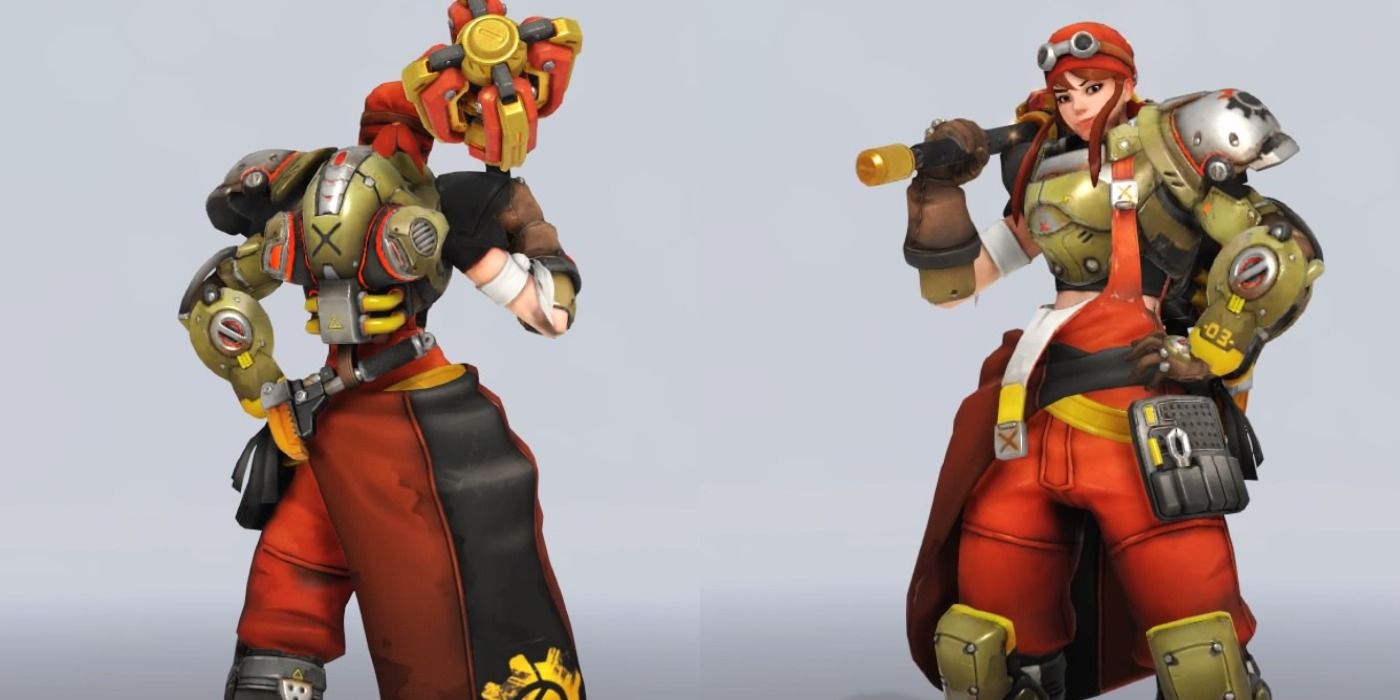 Price: 1000 Legacy Credits or 1900 Overwatch Coins
Engineer is the second of two base Legendaries for Brigitte that reference her backstory, this time a red and camo-green skin that reflects Brigitte's past as a mechanical engineer. When compared to her Overwatch 1 default skin, Brigitte's Engineer skin looks almost like a first draft before she further developed her gear.
In both Engineer and Mechanic, there are loads of references to Brigitte's lore, but we especially love the inclusion of her father's favorite wrench, which sits on Brigitte's back in both skins.
10/16

Ironclad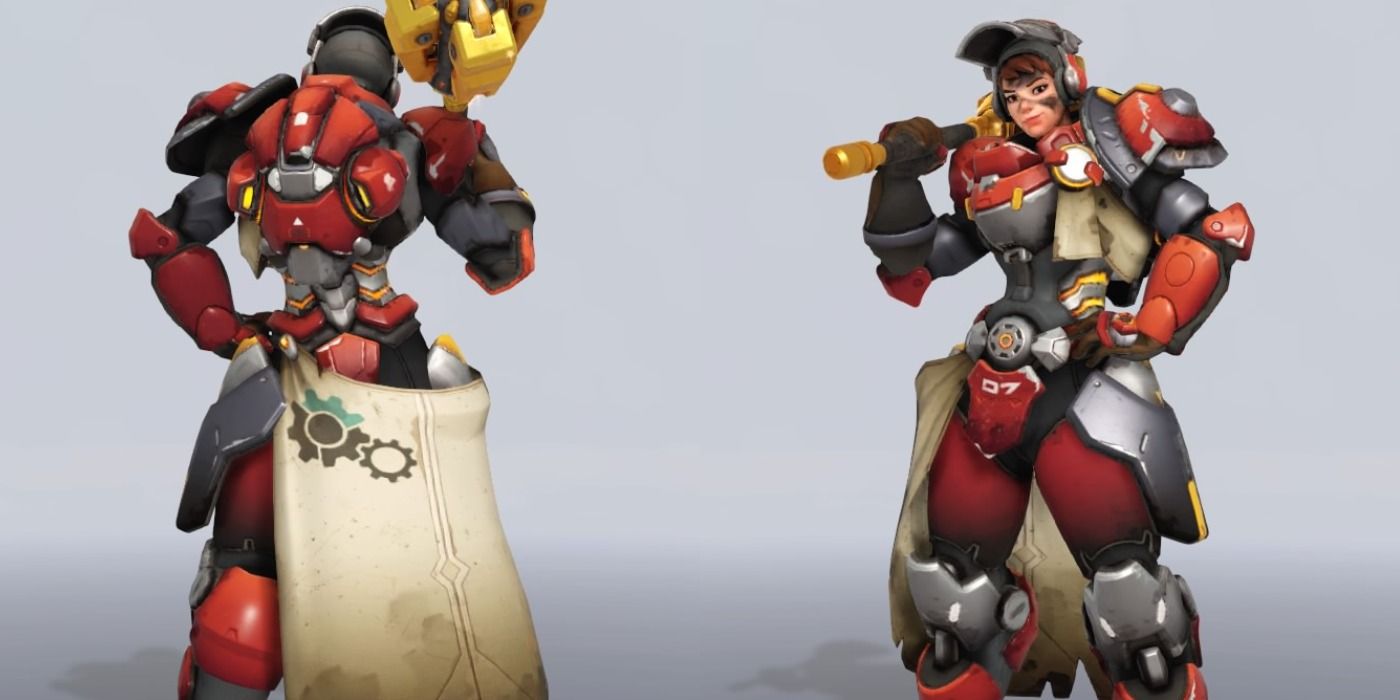 Price: 250 Legacy Credits or 300 Overwatch Coins
Ironclad, like Engineer and Mechanic before it, speaks heavily of Birgitte's in-game lore — especially of her family heritage and her close connection with her father, Torbjorn. Ironclad is the most obvious of the trio but is also the best executed.
Ironclad matches Torbjorn's skin of the same name and refers to when both Lindholms' were part of the Ironclad Guild, noted by the multiple cog symbols painted across this cosmetic. There are lovely little touches in Ironclad that push it ahead of others: the textures and gradients at play, the balancing on the red, yellow, and grey, and even the smudges of grease across Brigitte's nose.
9/16

Tre Kronor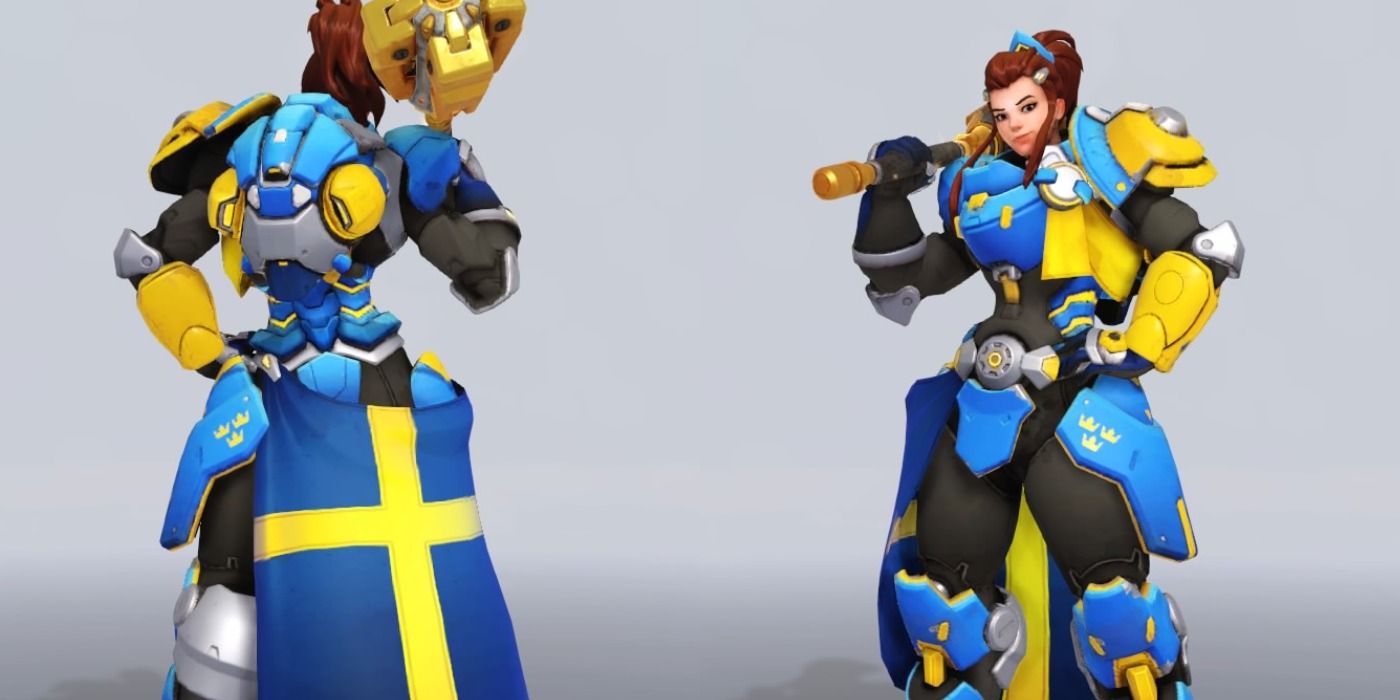 Price: 1000 Overwatch Coins
Summer Games are a season to represent your favorite teams, and Brigitte's Tre Kronor skin does not shy away from this tradition. This Epic level skin repaints Brigitte's armor into a bold blue and yellow — the colors of Sweden's flag, which funnily enough is actually shown draped from Brigitte's hips.
This skin represents not just Sweden broadly but specifically the symbolic Three Crowns of Sweden, as well as referencing Sweden's national Ice Hockey team, which has the same name as this cosmetic.
8/16

Sol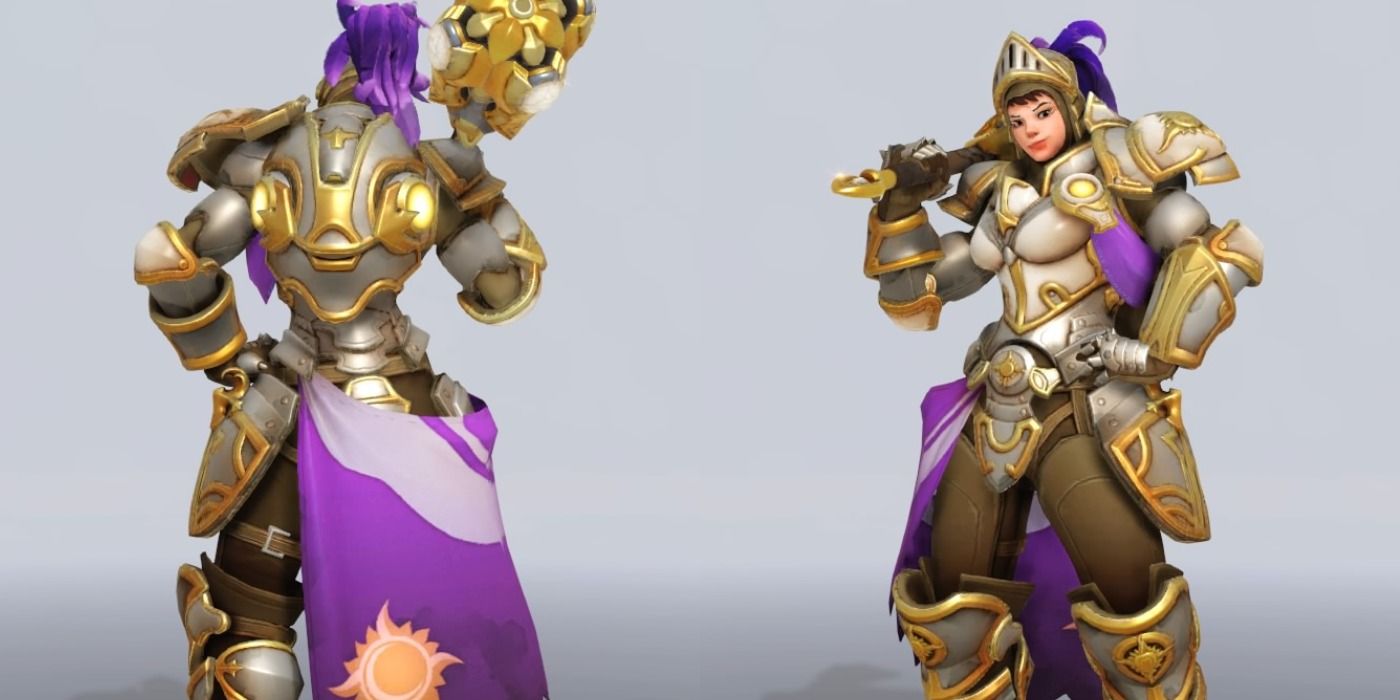 Price: 1000 Legacy Credits or 1900 Overwatch Coins
The greater of two base fantasy-styled Legendary skins for Brigitte is arguably Sol, rendered beautifully in gold and purple. In Brigitte's backstory, we discover that she worked for a time as a squire to fellow Overwatch teammate, Reinhardt, so this 'knight in shining armor' styled look isn't actually too far from the in-game lore mark.
Sol puts Brigitte in shining silver armor detailed in gold accents. Her sash is rendered in bright, royal purple, and her helmet — transformed into a gold-trimmed face shield — has giant plumes of purple feathers attached. Make sure to grab Brigitte's golden weapons (and don't forget to check out her shield) for this skin because they pair together almost seamlessly!
7/16

Medic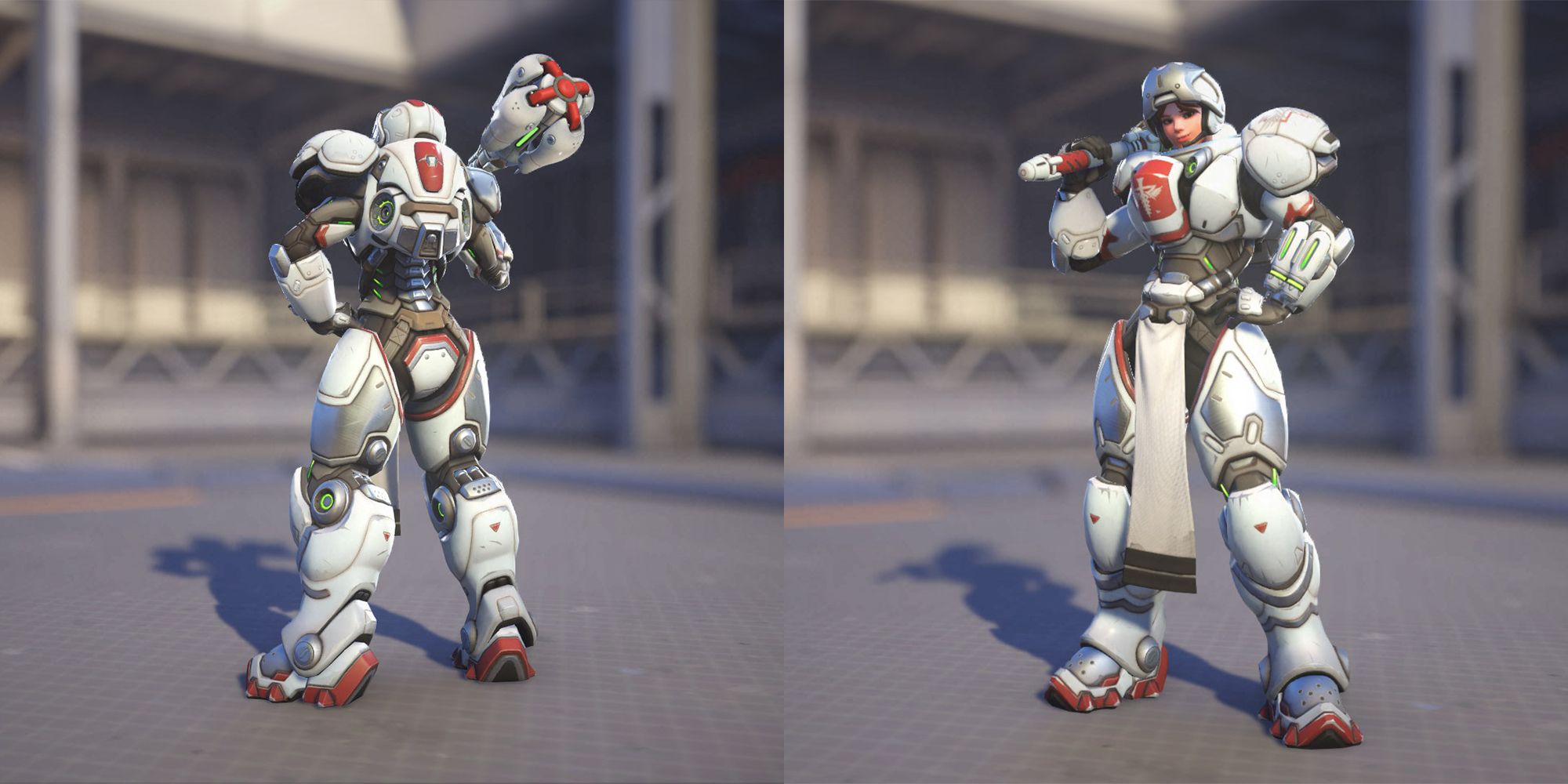 Earned by participating in the Support a Streamer community event
Medic is one of the rarest skins in the game, as it was only available for a limited time during the Support a Streamer event. It is unknown whether Medic will be available for purchase in the in-game shop, or if the event will ever be held again.
To match the rarity of this skin, Medic is also one of Briggite's most unique outfits. Almost none of her original design elements are present here; she trades her orange and silver armor for sterile white gear, with red, grey, and green detailing to break up the gaps in the armor.
6/16

General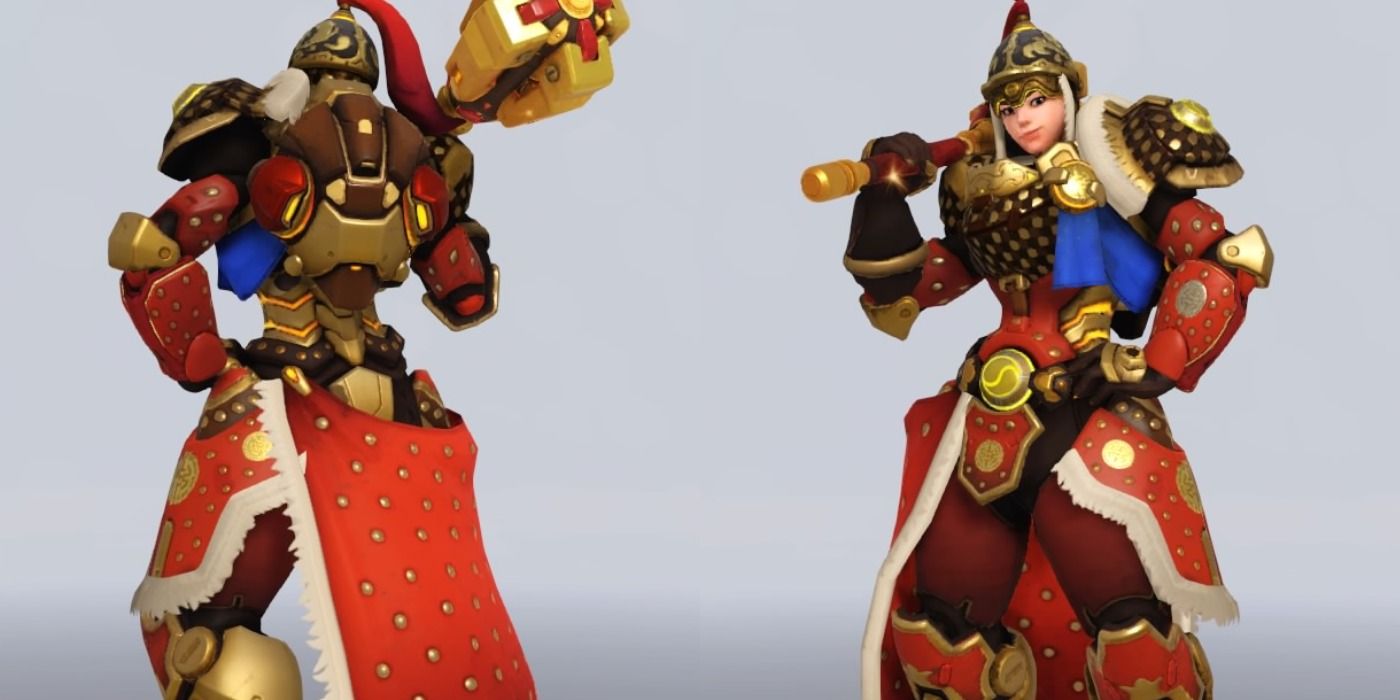 Sometimes available in the shop
If you want to impress but you're on a budget, it's worth checking out Brigitte's General skin. This awesome skin sees Brigitte as a Chinese general and was released during the Lunar New Year season. The gold trim and studded armor really work well with Brigitte's Golden weapon too.
Despite the number of details packed into this skin, it retains its rarity as an Epic skin, meaning it will cost significantly less Overwatch Coins whenever it rolls around into the rotating in-game shop.
5/16

Feskarn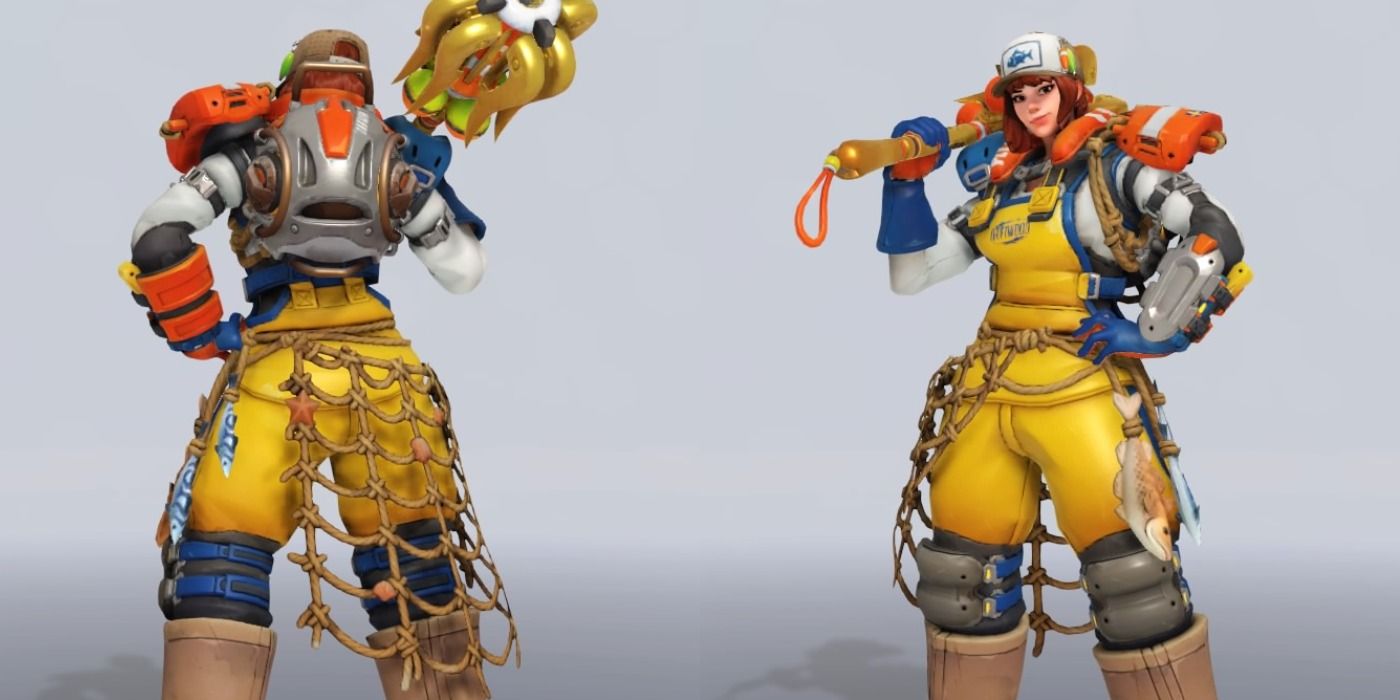 Price: 1900 Overwatch Coins
When it comes to impressive seasonal Legendaries, Feskarn is up there, with its great use of color and sheer attention to detail. Like many of Brigitte's skins, the devil is in the details, and, in Feskarn there are so many details to talk about: the rubber shine of Brigitte's waders, the traditional color-blocked clothing, the trucker cap, the dangling fish, the netting? It all comes together in this fantastic skin that is well worth the Legendary price tag.
Feskarn was first released during the Summer Games 2020 event, but is now available to purchase year-round for 1,900 Overwatch Coins.
4/16

Shieldmaiden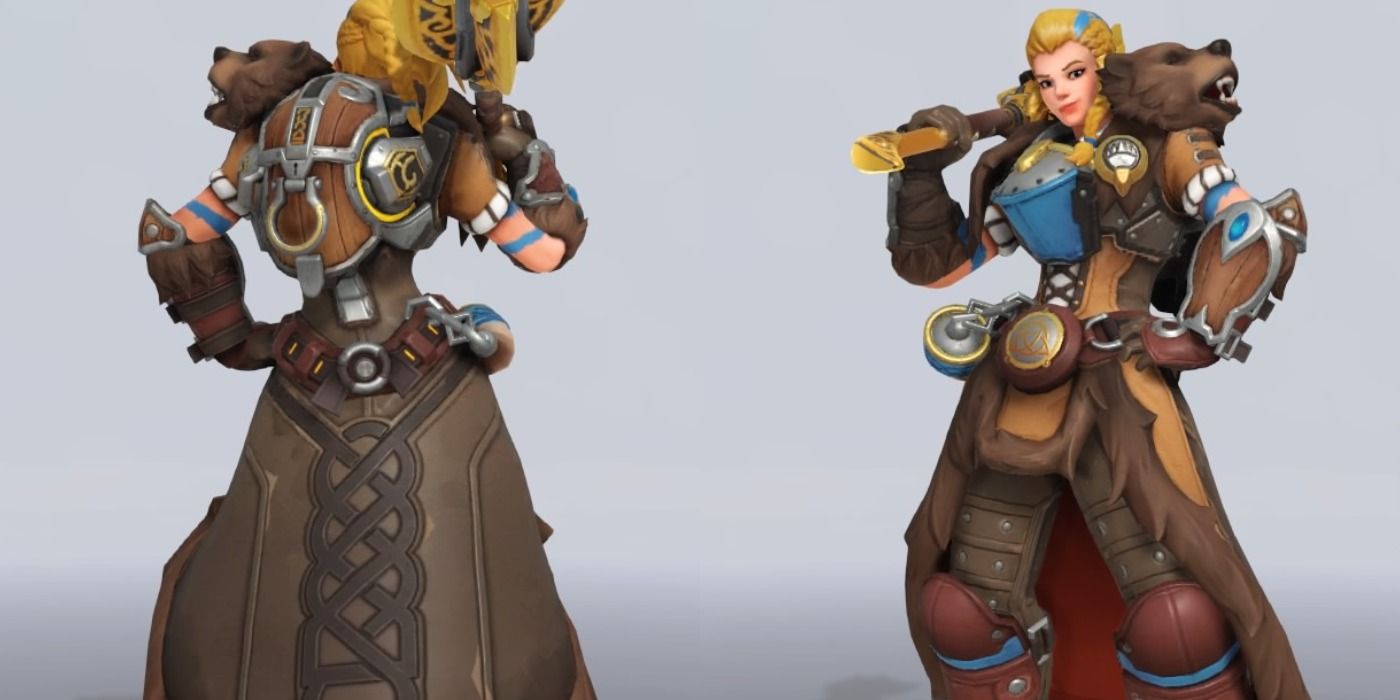 Sometimes available in the shop
For such a simple idea, this Legendary skin is one of the more complex cosmetics that Brigitte wears. Shieldmaiden sees Brigitte going as close to Viking as we'll probably ever see her, with some great details to really make this skin appear authentic. War paint crisscrosses Brigitte's biceps and stains her hair; wood detailing replaces usually metal-based armors, and fur and leather are layered together, building up into a cloaklike skirt.
This skin is currently only available through the daily and weekly offerings in the in-game store, meaning it's unknown when it will be up for grabs. In any case, when it does appear, it will be worth the wait.
3/16

Stone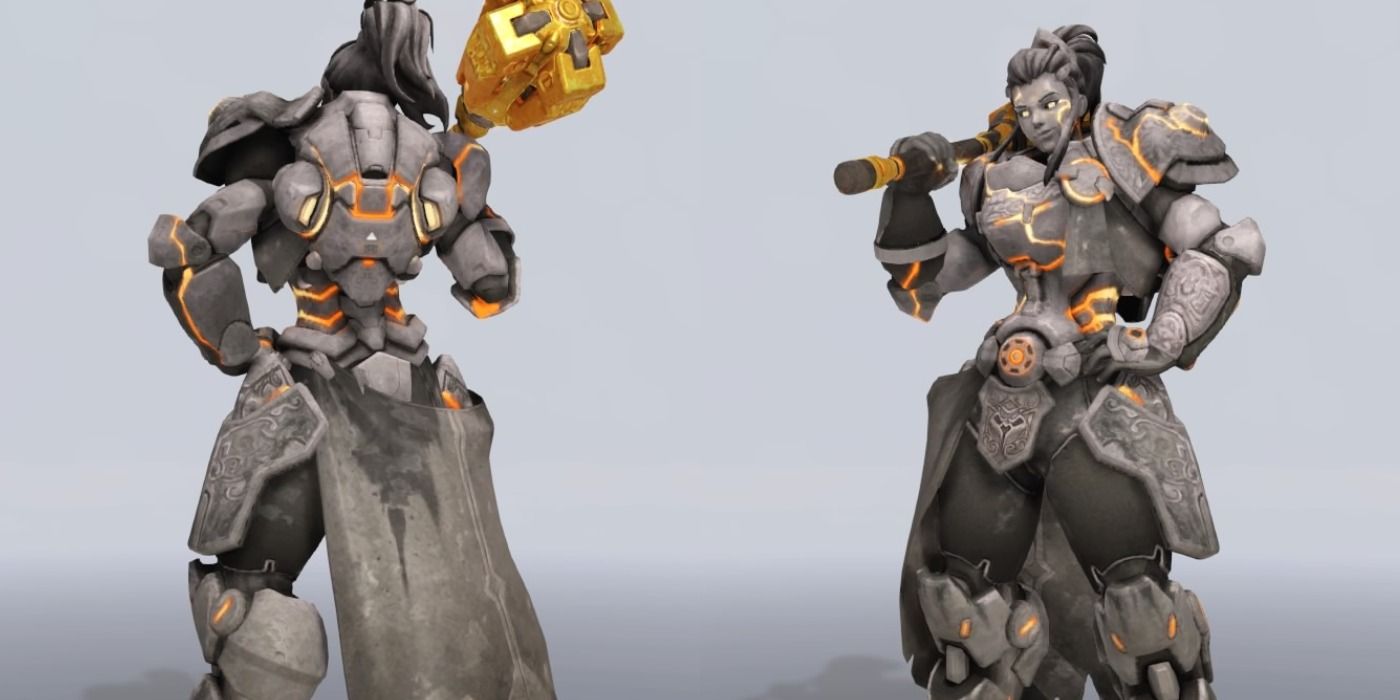 Sometimes available in the shop
Close to the top is this excellent (and extremely limited) skin for Brigitte, released as part of the Halloween Terror season in 2020. Stone renders our favorite young mechanical engineer into…well, stone. There's a great use of texture in this skin's design, and the lines of fire along Brigitte's armor are an especially nice touch.
Although similar in its color scheme to the previously mentioned Mani, the glowing orange lava seeping through the cracks of Brigitte's armor in this skin bring it to a new level. Compared to other Heroes in the game, this skin is entirely unique, making it perfect for players who want to stand out.
2/16

Opera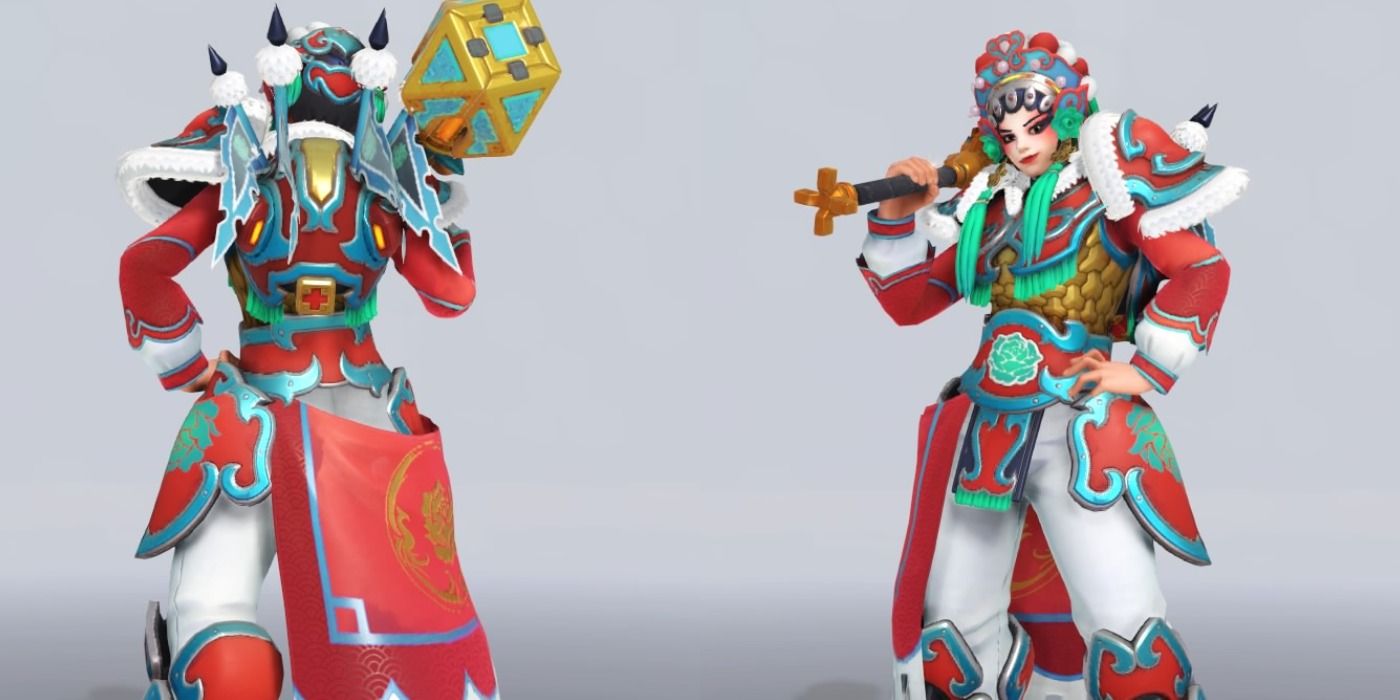 Sometimes available in the shop
Taking the penultimate title in our ranking of Brigitte's skins is the Legendary Opera skin. Released as part of the Lunar New Year season, Opera sees Brigitte dressed for a Chinese Opera, with some really striking color combinations.
There's so much detail to this Legendary skin, from Brigitte's headpiece to her makeup and jewelry, to the detailing on her armor and weapon — all topped off with a set of spiked flags on her back. Every section has multiple layers of detailed textures and intricate patterns, making this skin simply mindboggling to even glance at.
1/16

Vampire Hunter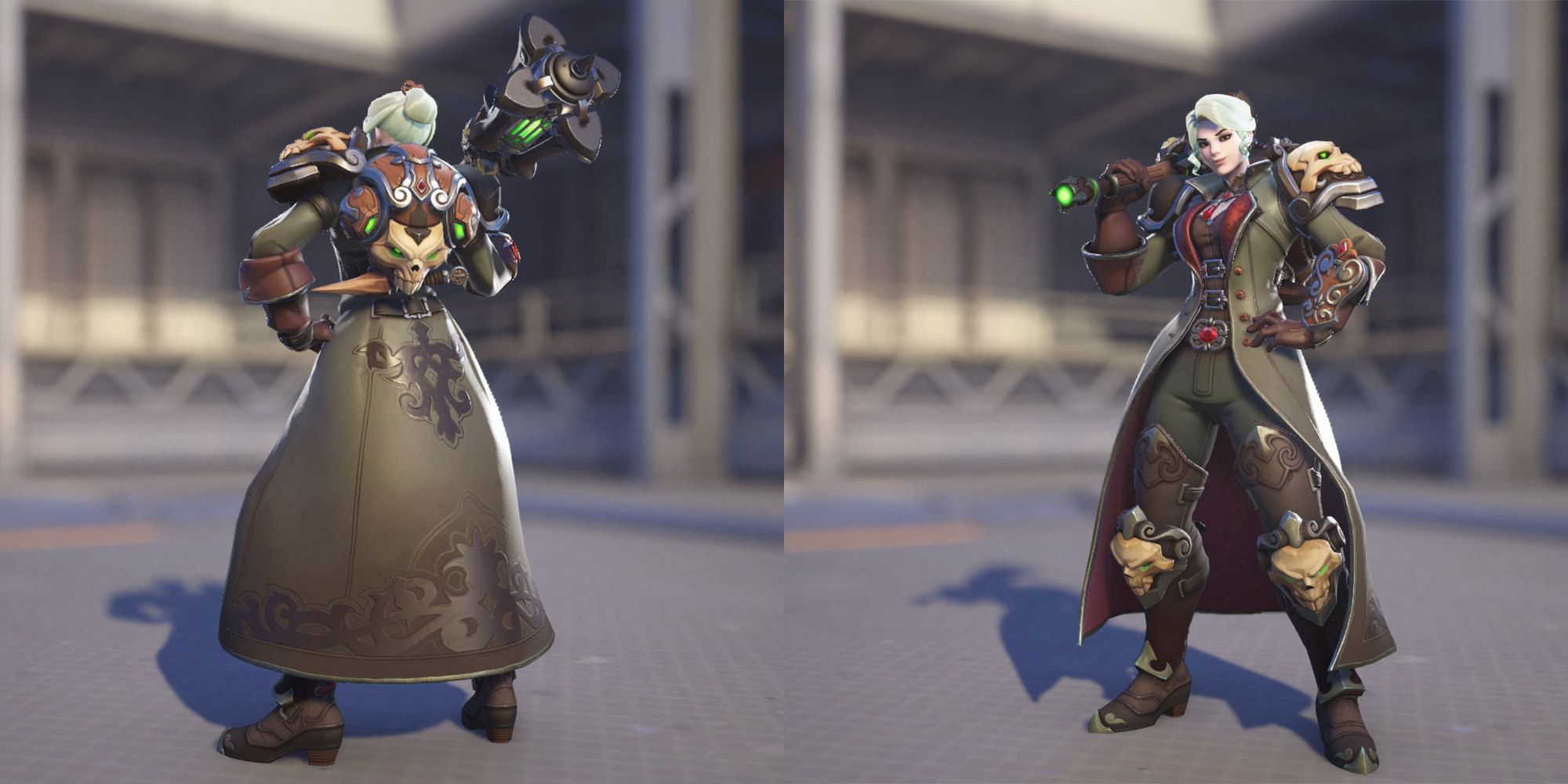 Price: 1900 Overwatch Coins
Brigitte's best-looking skin is the Legendary Skin Vampire Hunter. Originally released as part of the Halloween Terror 2021 event, this skin takes inspiration from various notable vampire hunters in fiction, like Van Helsing.
Similar to the Shieldmaiden skin, this skin gives Brigitte a completely new hairstyle, trading her orange ponytail for short, platinum-blond curls. If you're a fan of cohesive color compositions and skulls, this skin is one of Brigitte's best.
Source: Read Full Article