Persona 4 Golden: All Classroom Answers For April And May
Quick Links
Class Answers For April And May
Persona 4 Golden puts you into the shoes of Yu Narukami, a Japanese teenager attending high school in Inaba for a year. And while it's rather easy to get swept up in all the fun of dungeon-crawling and building social links with your friends and peers, you do still have tests to study for.
While your Knowledge stat remains important to bolster, if you'd like to fast-track to the right answer for your classroom questions and midterm exams, then we've got you covered in our guide below for Persona 4 Golden's test answers for April and May.
Class Answers For April And May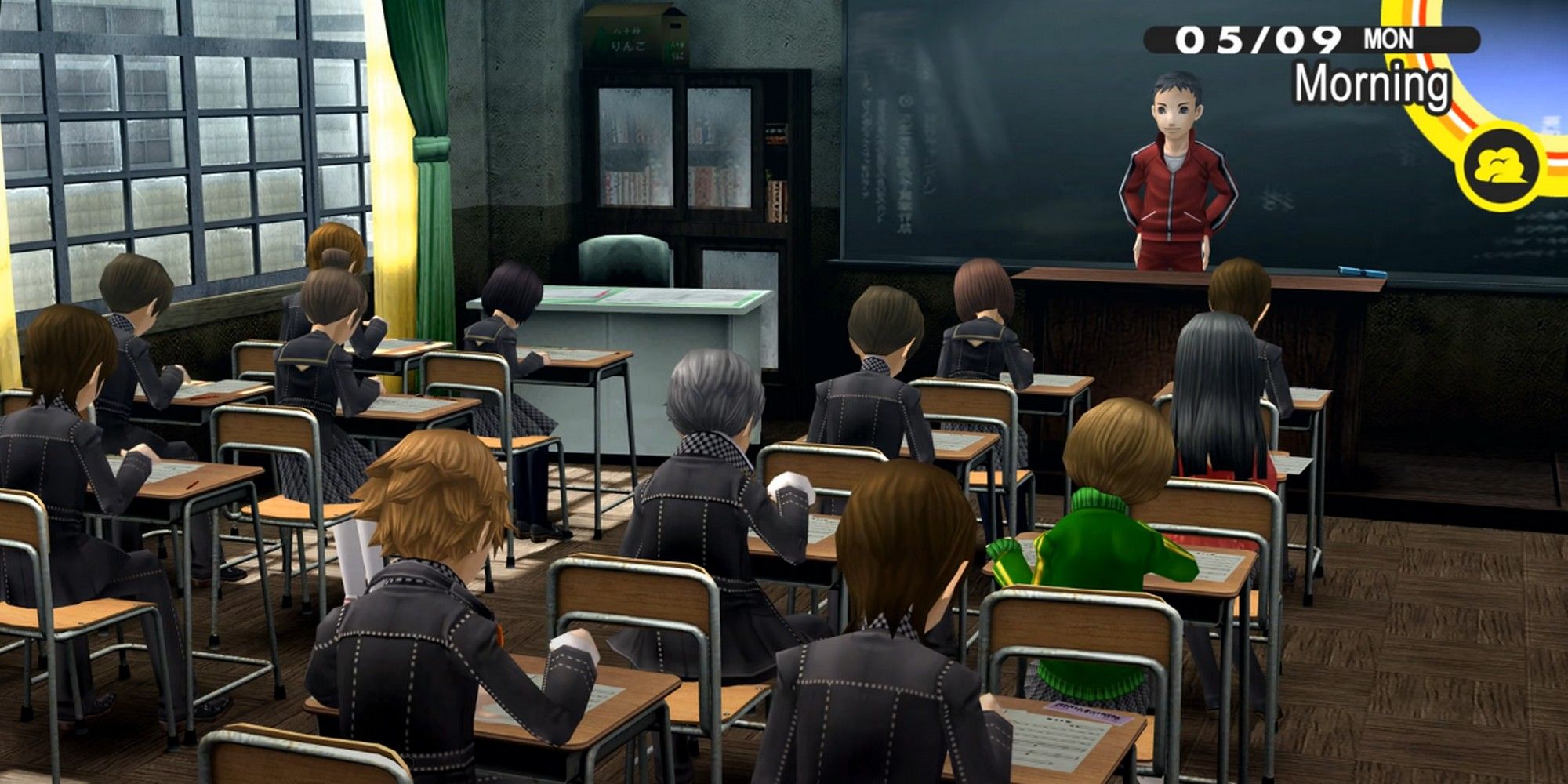 | Date | Prompt | Answer |
| --- | --- | --- |
| 4/14 | What is the year before 1 A.D. called? | 1 B.C. |
| 4/18 | The word alphabet comes from the word "alpha" and what other one? | Beta |
| 4/20 | Yosuke will turn to you and ask, "C'mon man, help me here!" | Three |
| 4/23 | Yosuke will ask you, "What's the economic bubble she's talking about?" | Tulip Mania |
| 4/25 | What's it called when you gain more muscle after getting sore through exercise? | Overcompensation |
| 4/26 | Chie will turn to you and say, "I don't think I've heard of any of these!" | Marriage numbers |
| 4/30 | What is the greatest canyon in the solar system? | Valles Marineris |
| 5/7 | Do you know how Soseki Natsume translated the English phrase "I love you" into Japanese? | The moon is beautiful, isn't it? |
| 5/26 | Your teacher will question you about which theory disproves that slaves built the pyramids | Attendance logs |
May Midterm Exam Answers
Date

Prompt

Answer

5/9

What is it called when muscles grow after exercise?

Overcompensation

What is the year before 1 A.D. called?

1 B.C.

5/10

Which of these types of numbers does not exist?

Marriage numbers

Who translated "I love you" as "The moon is beautiful, isn't it?"

Soseki Natsume

5/11

Who said, "As soon as laws are necessary for men, they are no longer fit for freedom?"

Pythagoras

Which of the following is the highest mountain in the solar system?

Olympus Mons
The midterm exams also have a fourth day. It requires no manual input from you and takes into account your Knowledge skill level.
If you haven't been building your knowledge to this point and your Knowledge is too low, then even if you got all the actual midterm questions right, you will not receive a perfect grade.
Source: Read Full Article