Phasmophobia Gets A Brand New Development Roadmap
The developer behind Phasmophobia, Kinetic, recently released an updated roadmap for the horror game, diving into the details of what players can expect from the team going forward. The studio has outlined all of its planned updates for the rest of 2022 and at least part of 2023. These include overhauled weather, redone ghosts, custom difficulty, and a couple of secret surprises.
"Welcome back ghost hunters and truck dwellers, we've got some news for you," the official announcement on Steam reads. "We thought we'd spend a short moment recapping how development has gone over 2022 and give you an updated version of the roadmap we released earlier this year. As you can see, things didn't exactly go to plan!"
Kinetic went on to explain what went wrong and how the company now intends to approach the process of development. "This roadmap now more accurately represents what we achieved this year, and what we plan to do moving forwards. We want to be transparent and realistic in our plans to make sure we don't have to delay things in the future or force mini-updates to fill gaps." Kinetic noted that "development doesn't always go exactly to plan, so in this new roadmap, we're allowing a bit of extra room for things going wrong. If things go well, that just means we can be ahead of schedule and push updates earlier."
Phasmophobia will be getting several brand new locations and a series of small changes will be made to the existing ones. The next update will feature custom difficulty and some of the aforementioned secrets, all of which "will be revealed when the update trailer drops very soon." The overhauled weather and a significant lighting adjustment are currently scheduled for later this year.
The biggest update to the game, progression, has been split into three parts. This will be fully implemented at some point in 2023. "The progression updates will be the biggest programming and art overhaul that Phasmophobia will ever receive, with many systems, models, and animations getting completely reworked or created from scratch," Kinetic explains. "Hopefully, by us splitting this into several smaller updates, this allows you to experience new things slowly over time, instead of having to wait six or more months for one massive patch."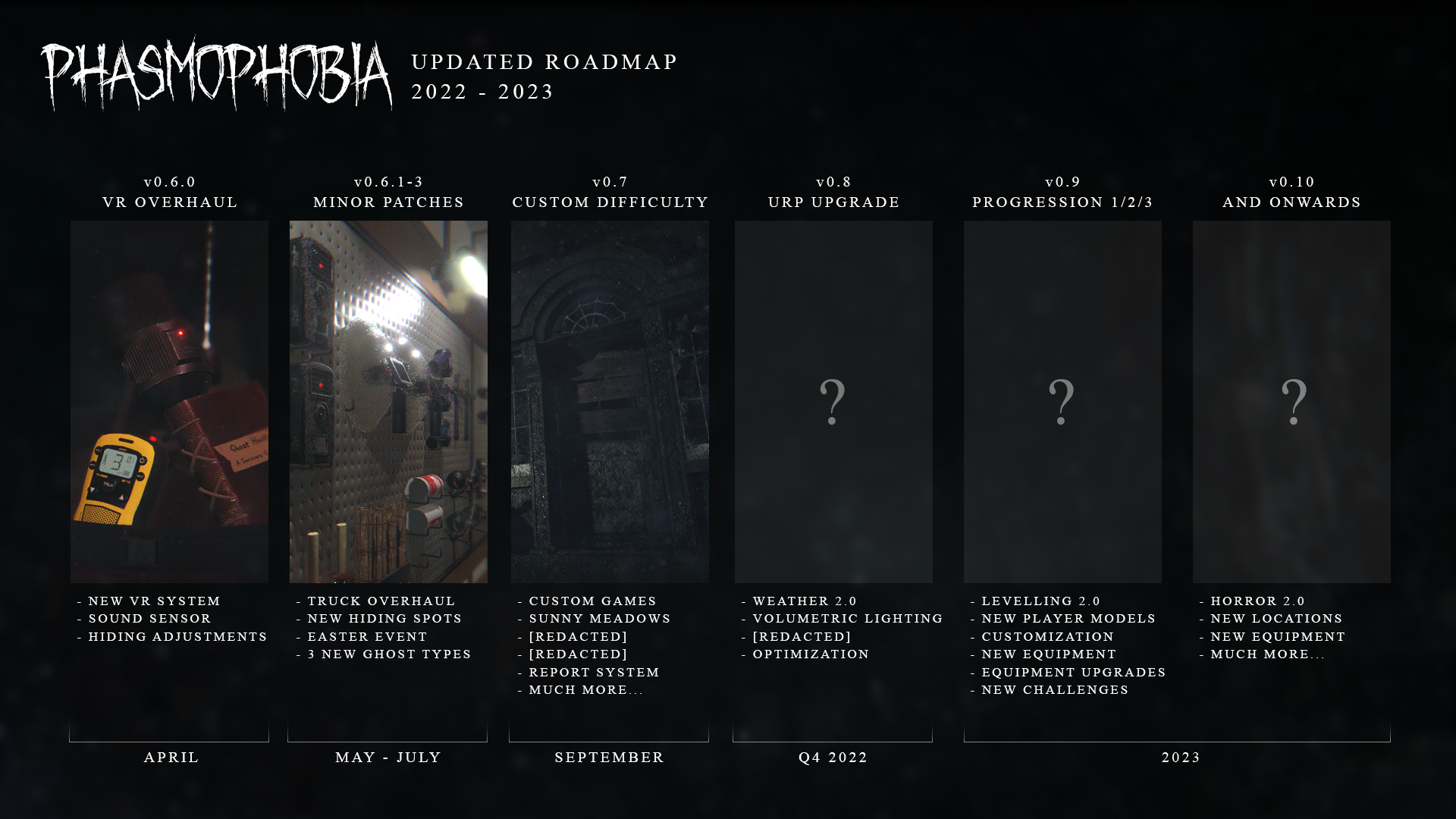 The progression update will include new equipment and challenges along with changes to leveling. "After progression is finished, we'll get onto the last part of Phasmophobia that needs reworking, Horror 2.0. We'll be replacing all of the ghost models and adding a plethora of new effects, events, sounds, and interactions to scare you out of your skin," Kinetic remarks.
Source: Read Full Article