Ratchet & Clank: Rift Apart Confirmed For June 2021 Release
Pre-orders are now live for the brand new Ratchet & Clank which is confirmed to be released on June 11, 2021. The main villain is confirmed to be Dr. Nefarious who's entire plan is to manipulate dimensions in order to find a galaxy where he "always wins."
They've also given a touch more detail on the new Lombax shown off in the trailer who immediately became a fan-favorite. She is a "Lombax resistance fighter." Not much else is known beyond that, however.
One question that many have had is whether this new game is in the old continuity that started on the PlayStation 2 or in the new continuity with the 2016 re-imagining. Insomniac stated, "If you've never played a Ratchet & Clank game before, this is an excellent one to start with.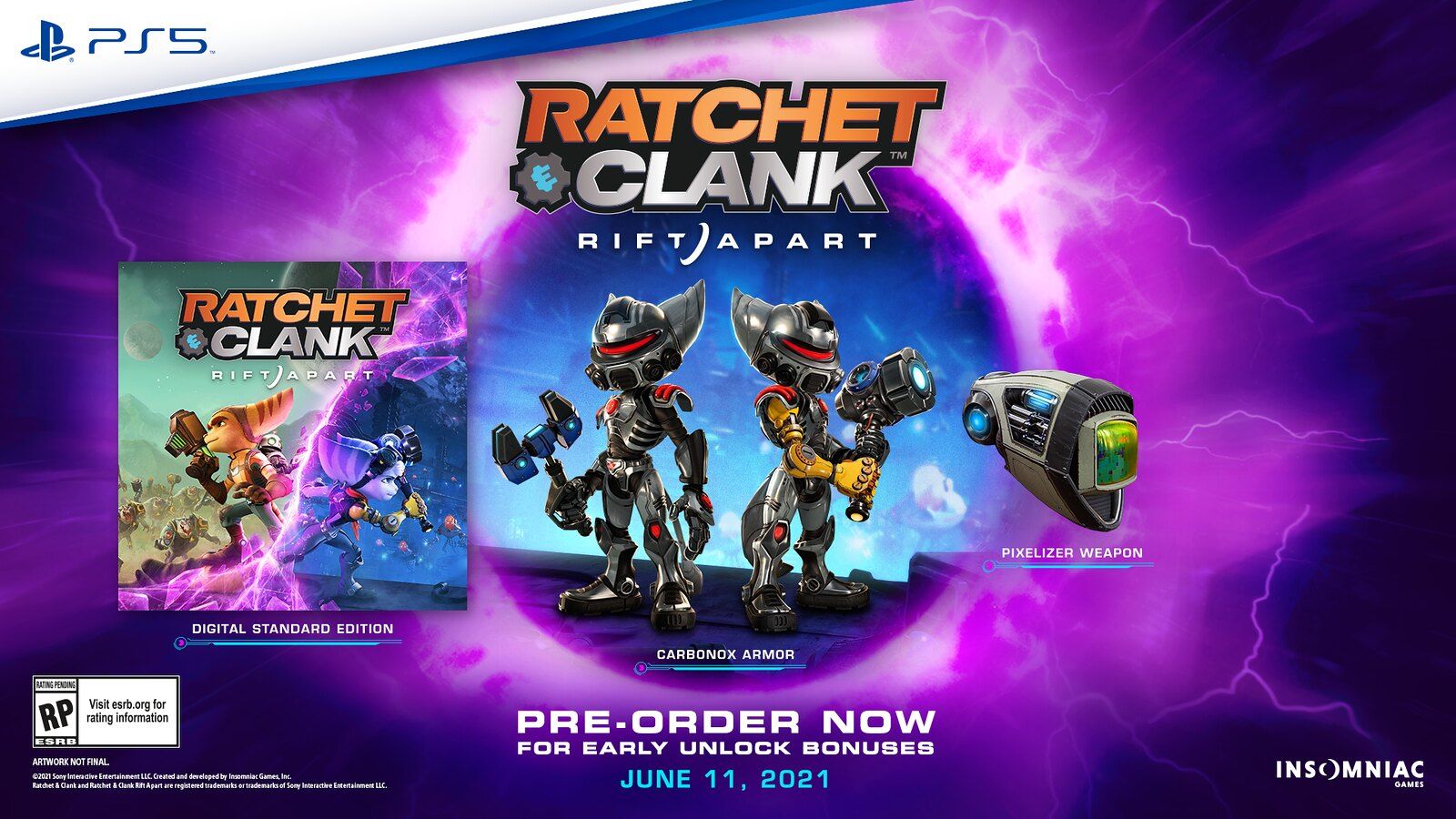 The adventure is a stand-alone storyline, but longtime fans of the series will find deeper layers of connection to previous games." The fact that "games" is plural seems to indicate its old continuity, but it could just be subtle nods. Either way, it's a good place to jump on and get into the franchise."
On top of this, pre-ordering unlocks some early bonuses – not exclusive to pre-order, just early unlocks – and those are five armor sets, a photo mode sticker pack, 20 Raritanium, the digital soundtrack, and the digital artbook. One of these armors is confirmed to be Going Commando's Carbonox set remastered in next-gen fidelity. Given that five armors will be unlocked, it begs the question of how it will work in this game. It was absent in 2016, but perhaps now it's more cosmetic and upgradeable rather than an inclining tier list.
Pre-ordering will also net you 2016's Pixelizer, a weapon that transforms foes into retro, arcadey – aptly pixelated – graphics while also damaging them. It's been updated to next-gen PlayStation 5 quality so it's had a nice tune-up following its debut in the 2016 game.
Insomniac ended the blog post, "Yes, we know you are asking for the new Lombax's name. And it's not fair that we put her in the art-work and aren't telling you yet. Hang in there, you'll be feeling rosy soon."
Source: Read Full Article