Scalpers Are Selling Spider-Man: No Way Home Tickets On Ebay For $25,000
Spider-Man: No Way Home is pegged to be the biggest Marvel movie releasing in 2021. Unfortunately, the hype around the movie has opened up new avenues for scalpers to make some big bucks.
The tickets for this highly-anticipated movie are so sought after that major websites like Fandango and AMC crashed due to the high demand. Despite the high volume of tickets sold, it seems a lot of fans missed out on opening weekend tickets, and scalpers love it. It wasn't long before a few tickets surfaced on eBay, and to say that the prices are exorbitant would be an understatement.
According to one such eBay listing, the seller is charging around $25,000 for one ticket that is available for pickup in New Jersey. It doesn't end there as another listing offers tickets for $4,500. Marvel clearly did a fantastic job at hyping up the movie, but now fans are at the mercy of scalpers.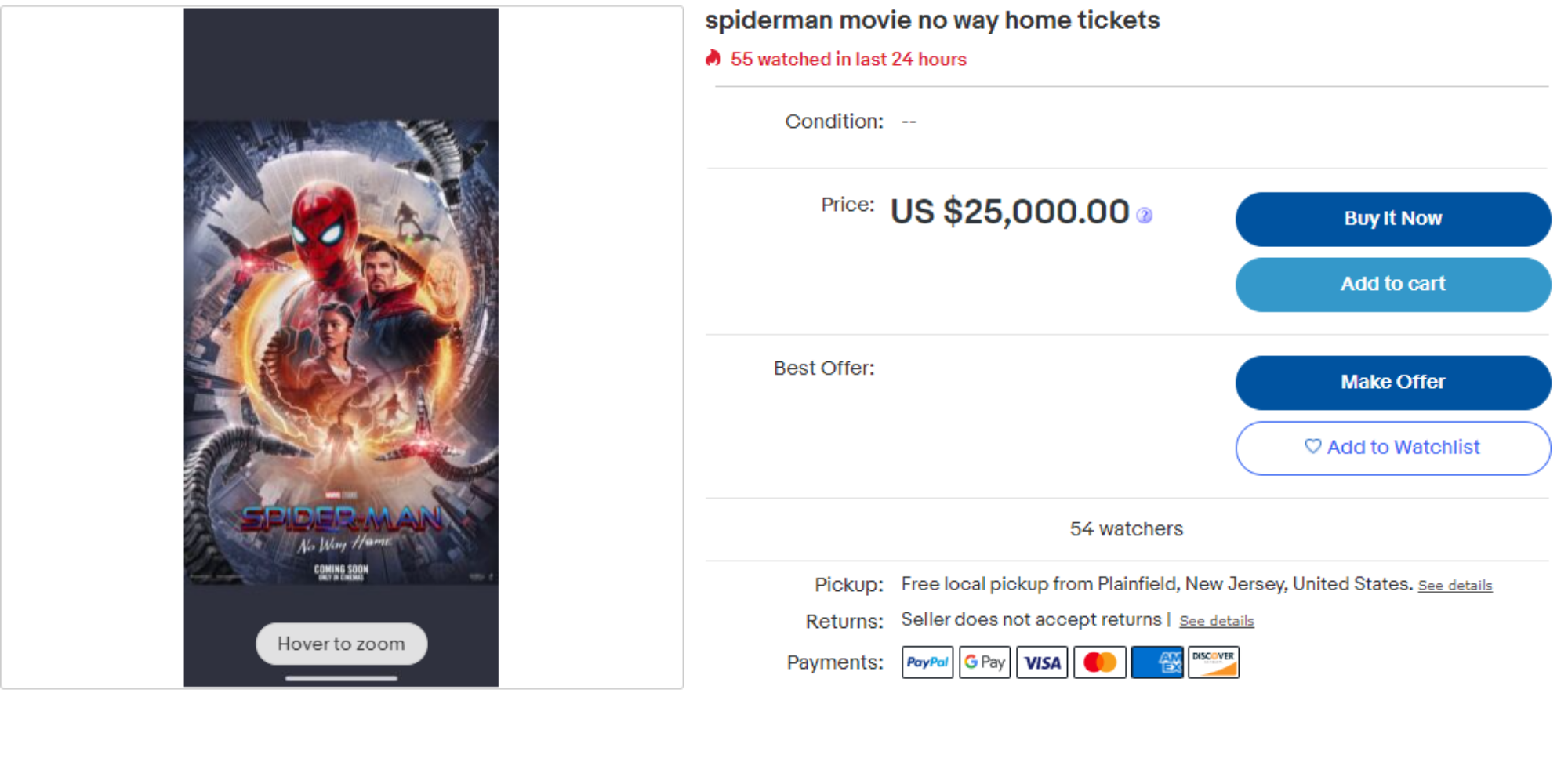 The exploitative prices set by the scalpers might be absurd, but the hype around the movie is quite justified. After all, rumours suggest all three filmic Spider-Men are joining forces to stop Doctor Octopus, Lizard, Green Goblin, Sandman, and Electro. Reports suggest that the trio will face the infamous 'Sinister Six', but the last member of the villainous roster is still a mystery. The Spidey actors have repeatedly denied such a scenario, but at this point, fans are sure that the 'Holy Trinity' of Spider-Men is coming together to face the 'Sinister Six'. There is also a possibility of Venom making an appearance in the movie thanks to the post-credit scene in Venom: Let There be Carnage.
People across the globe have already been frustrated with scalpers exploiting the console shortage, as well as their attempts to buy up all the Pokemon cards. Some even tried to sell off Elden Ring game codes, but this is a new low even for their standards. Hopefully, fans will be willing to wait a few extra days rather than paying $25,000 or even $4,500 for an opening weekend ticket. Maybe all those empty seats will convince companies to do more to prevent scalping.
Spider-man: No Way Home releases on December 17, 2021.
Source: Read Full Article