Sega Celebrates Its 60th Birthday With Free Mini-Games, Interviews & More
While 2020 marks Nintendo mascot Mario's 35th birthday, this year is also noteworthy for the company's rival. Sega commemorates its 60th birthday since being founded, and to celebrate, the company is offering a slew of activities, discounts and special releases on Steam.
Sega and Steam are working together to bring gamers a plentiful sale, that will offer discounts of up to 95% off of a variety of games, including an appearance by the company's mascot in Sonic the Hedgehog 2. The franchise's sequel will be available for free – until October 18 – along with a handful of promised interviews with Sega "legends" from the company's rich history. Regular competitions and giveaways will also color the milestone birthday, along with "retro-inspired artwork" that will be broadcasted across Sega's social media platforms and its dedicated anniversary website.
Related: Sega Ages Ends On A Bang With Herzog Zwei's Excellent Re-Release
The retro company also announced that the western market would be receiving various goodies for gamers to join in on the celebrations, including free retro mini-games on Steam. Relic Entertainment will be bringing top-down shooter Armor of Heroes to the anniversary smorgasbord, which has nine game modes with four-player PvP co-op that's available now. Amplitude – the studio behind Endless Space – will blend its sci-fi aesthetic with Sega's Fantasy Zone for shoot-'em-up Endless Zone, that is also available to play just now.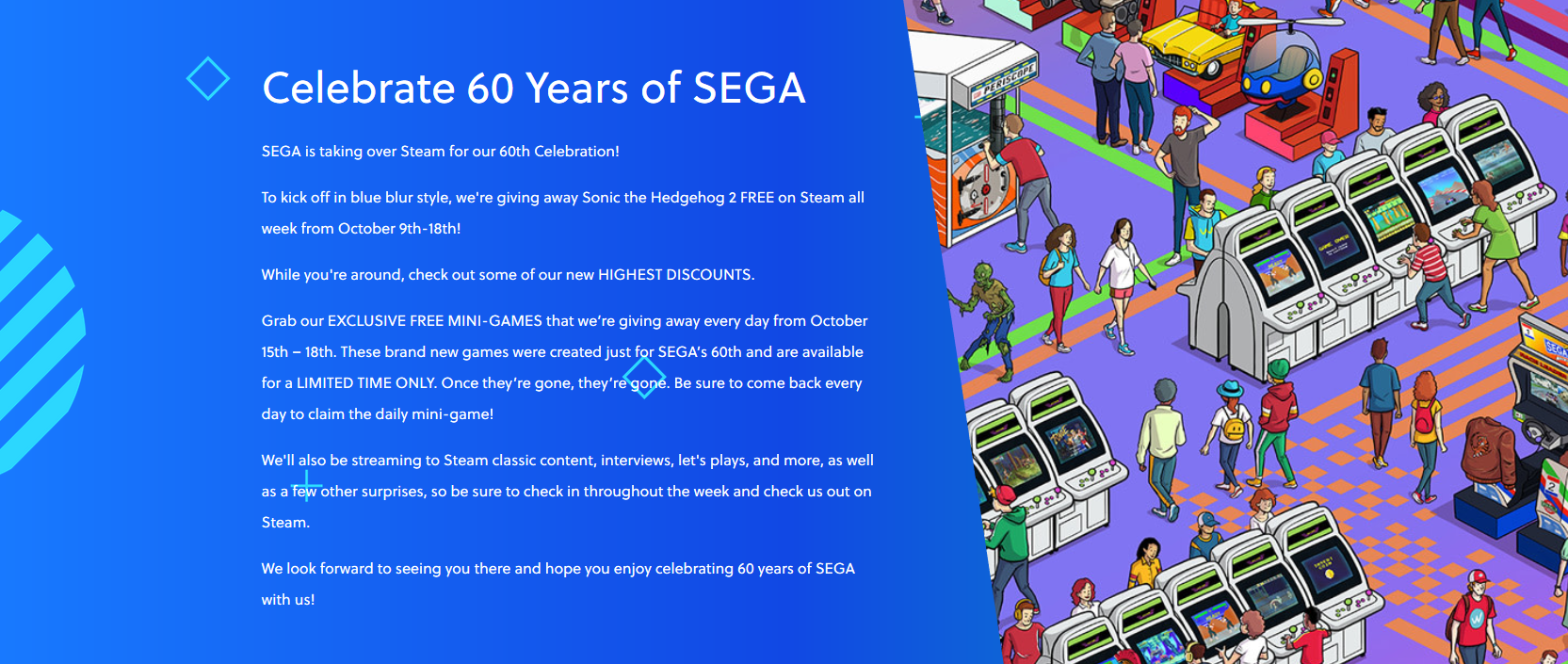 Streets of Kamurocho is a side-scrolling beat-'em-up from Empty Clips Studios, that merges the gameplay styles of Sega's Streets of Rage 2 with the Yakuza series – to make an interesting style crossover – which is available to play October 17. Sega's 60th has also welcomed the triumphant return of the multi-delayed Golden Axe Reborn; Sega's shot at rejuvenating the action title for modern audiences. Development on the Golden Axe Reboot came to an abrupt halt in 2013 when Sega Studios Australia – and consequently the project – was axed. However, Sega has now released a prototype of the game to celebrate the company's birthday.
Sega may not have obtained the longevity of its rival, however, the monumental impact that the company has had on video game history stands to be celebrated. Fans of Sega will also be able to sign up for a free Steam copy of Nights into Dreams, which players can obtain by signing up through the 60th anniversary website.
Source: Read Full Article