Should You Complete The Raheem Sterling Ones To Watch SBC In FIFA 23?
Raheem Sterling's One To Watch SBC is now live in FIFA 23. The card will cost you an 85-rated and an 86-rated squad, but you will get a card that has the potential to get quite a few upgrades over the course of the season.
Sterling's base card is already a pretty good card, but is this SBC worth that extra cost at this stage in the game? We take a look at the card's stats, how much it costs, and how likely Sterling is to get an upgrade.
How Much Is Sterling?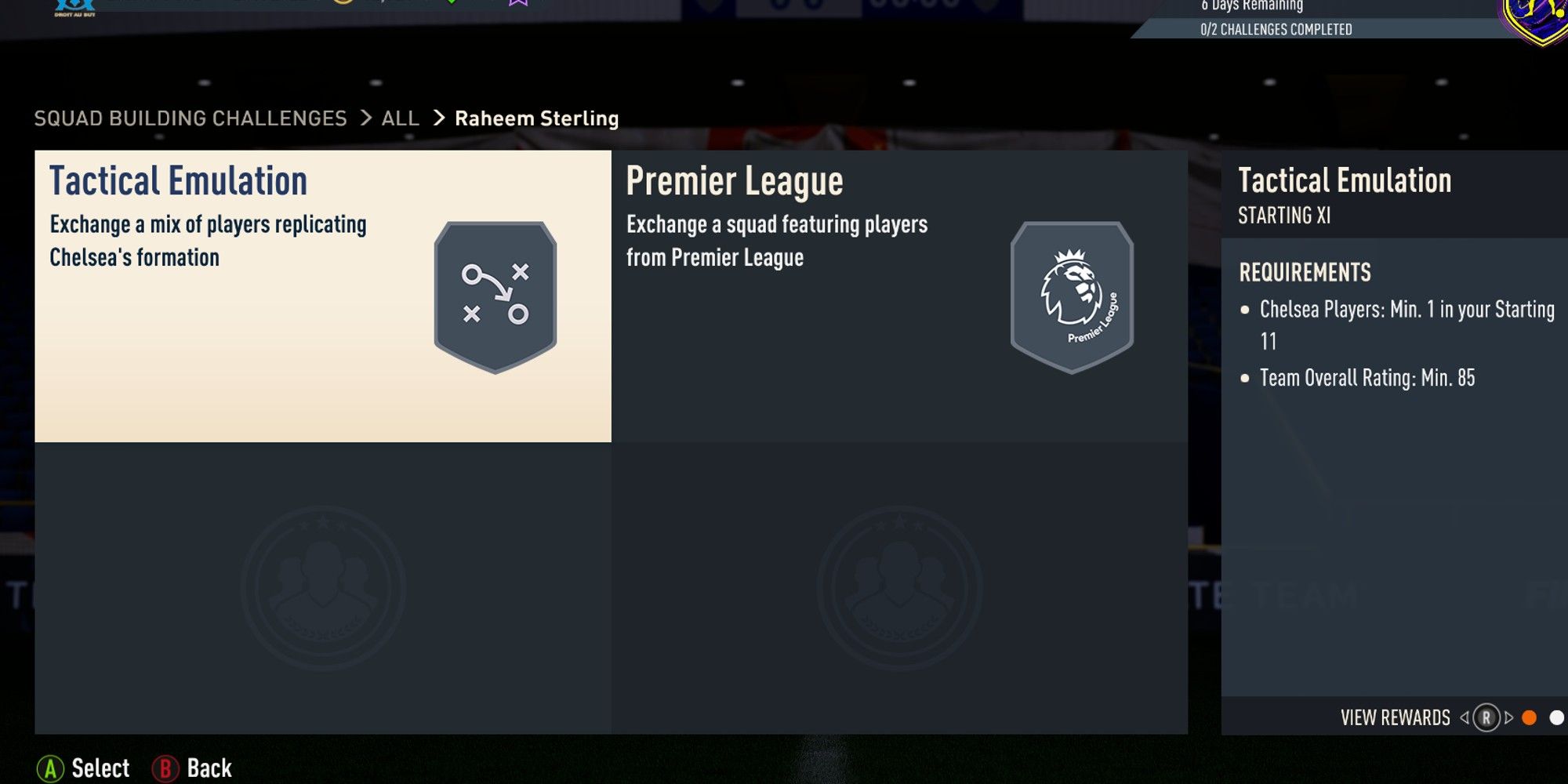 Sterling requires an 85-rated squad with a Chelsea player and an 86-rated squad with a Premier League player. This brings the card close to 150k in total. That's a lot for this stage of the game. However, as this is an Ones To Watch card, it will receive upgrades throughout the year.
How Do Ones To Watch Cards Work? Will Sterling Get An Upgrade?
Ones To Watch cards will always match any other upgrades that Sterling receives throughout the year – cards like in-forms, Team of The Tournament, and Team of the Year all impact this live card's rating.
Chelsea are currently performing decent(ly) in the league with Sterling already bagging four goals for the season, three in the Premier League, one in the Champion's League. We expect it highly likely that Sterling will receive at least two or three upgrades over the course of the game.
Should You Complete Raheem Sterling?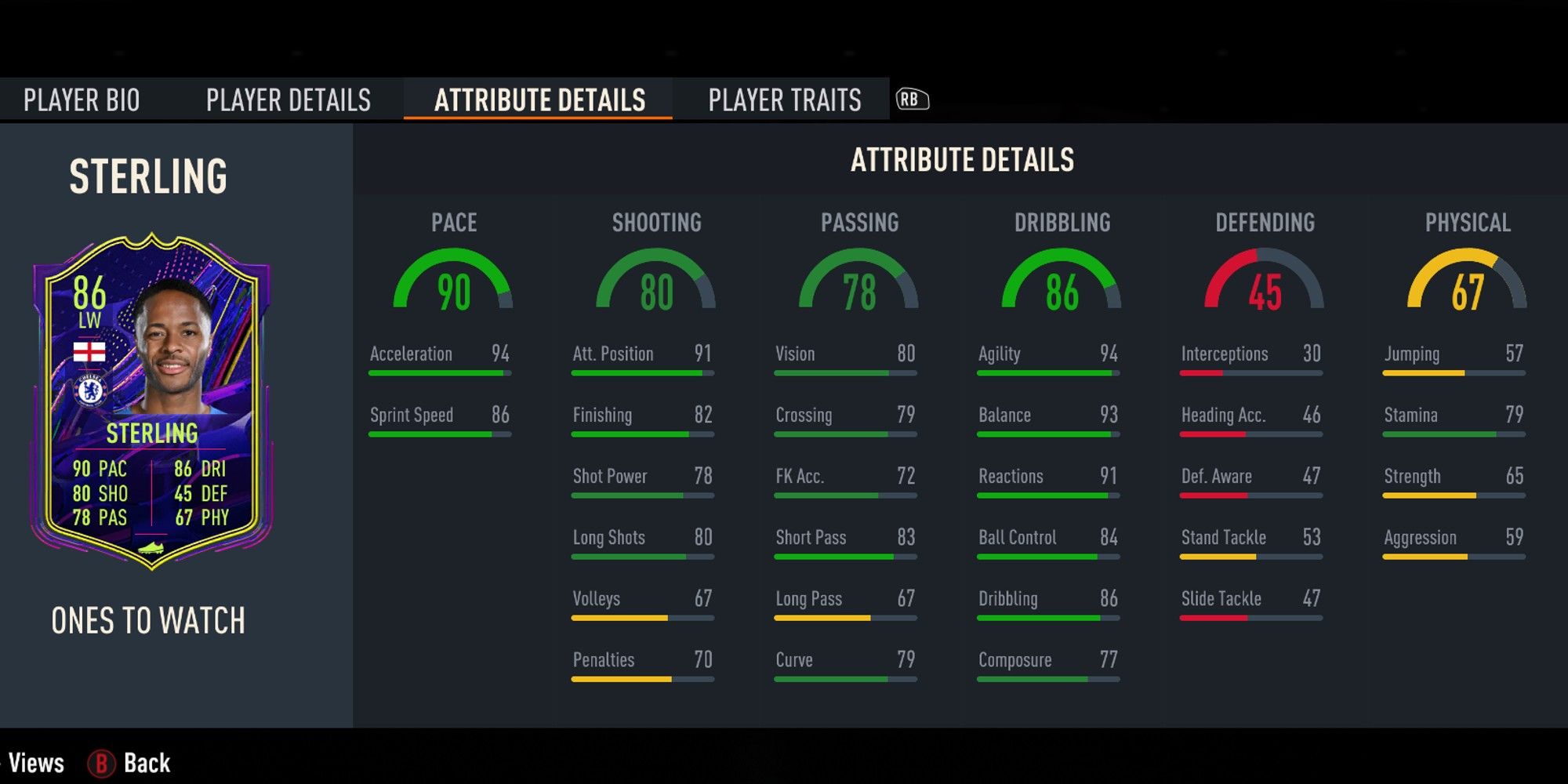 So, with all that about the chances of Sterling's upgrade out of the way, is the card actually worth 150k? In short, it's not a horrible SBC. Obviously, it's early in the game cycle, and you should be wary about how many SBCs you're completing right now, but 150k isn't a ridiculous price. Sterling is in a premium league, plays in a premium position, and has a good chance of being upgraded. This is a little different from other early-game SBCs because the card will get better over the year.
Sterling's OTW card is the same as his base gold, but here are some of the key stats that we think will really shine after the card gets a couple of upgrades.
90 Pace already – this is obviously top tier, and with even one or two upgrades you've got a potential endgame game.
Sterling's 80 Shooting isn't incredible, but with some boosts to Finishing and Shooting Power you've got a top tier card.
Sterling only has 77 Composure, but again, with a few boosts to this you'll have excellent dribbling stats across the board.
Sterling's SBC is live until October 13.
Player Review
We've played with Sterling's base card, and it is a totally viable choice for this stage of the game. That means not only are you getting a potential upgraded card in a couple of months, you're also getting a card that can actually very easily be used in most Premier League/English hybrid squads. Plenty of pace, decent shooting, great dribbling – Sterling's got pretty much the entire package for a winger.
Sterling's base gold card is currently sat at around 40-50k on the market, which means the potential upgraded card could only cost you an extra 100k. Not bad.
Overall, we see Sterling as a totally fair-priced SBC. Definitely worth doing if you've got a Premier League theme already going in your club, or you have some spare untradeables sat around in your club to buff out that 85 and 86-rated squad. Not bad EA, not bad.
Source: Read Full Article