Should You Complete The Robin Van Persie World Cup Icon SBC In FIFA 23?
Robin Van Persie is the first World Cup Icon to receive an SBC in FIFA 23 during the ongoing World Cup promo. It's a 90-rated Icon card with a Dynamic Image and some fantastic stats, although that 79 heading has taken everyone by surprise. Haven't EA watched that goal?
This guide covers how to complete the Van Persie SBC, including the cheapest players for the various squad requirements, as well as a deep-dive into the cards stats and a comparison to other players in this position.
How Much Is Robin Van Persie?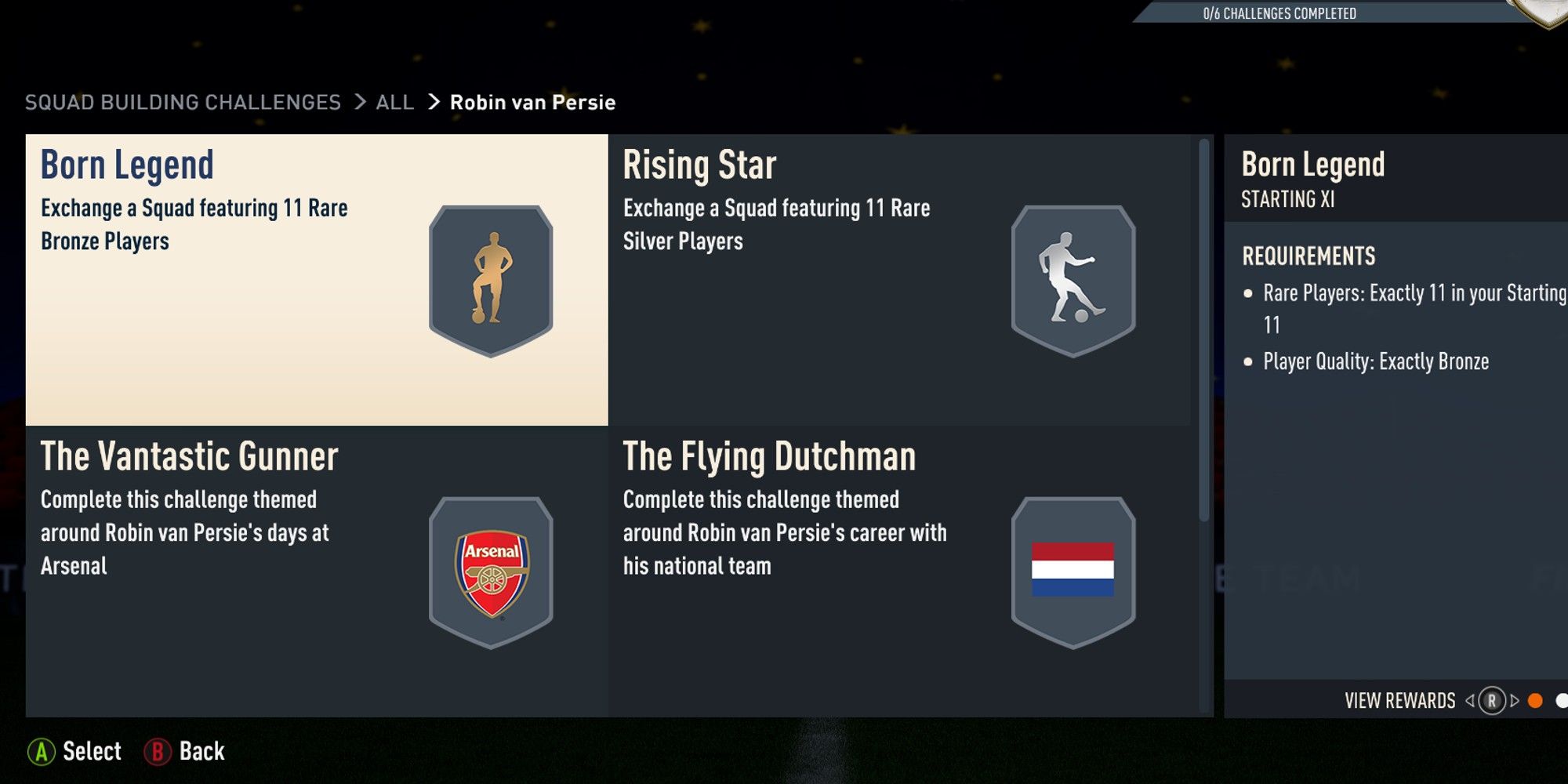 Robin Van Persie is currently coming in at around 280k-300k although if you have the fodder to complete the 86-rated and 87-rated squads in your club already, the price is drastically reduced because of the other cheap squads required.
How To Complete Van Persie
To complete the Van Persie SBC you will need to enter six different squads.
Born Legend: 11 Rare Bronzes
Rising Star: 11 Rare Silvers
83-rated squad with one Arsenal player, one TOTW player
An 84-rated squad with one Netherlands player
An 86-rated squad (No Requirements)

The cheapest 86-rated cards are currently hovering around 12k-13k, like Dybala, Martinez, Immoblie, and others

An 87-rated squad (No Requirements)

87-rated players are currently hovering around 17k, the cheapest being Maignan, De Gea, Lloris, and others

Fodder is at an all-time premium in FIFA 23, which means 86-rated and 87-rated squads are currently quite expensive to put together. However, this is also a great time to check out the Bronze Pack Method because this SBC requires Rare Bronzes. You can read our guide on how to make coins with Bronze Packs here.

Should You Complete The World Cup Icon Van Persie SBC?

​​​​​​​

Van Persie's card looks fantastic. Here's a look at some of the key stats.

| | |
| --- | --- |
| Pace | 84 Pace – Not the fastest, but Van Persie can become Explosive with the Artist Chemistry Style |
| Shooting | 93 Shooting – Key stats here are 94 Attack Positioning, 93 Finishing, and 93 Shot Power. These are excellent stats |
| Dribbling | 89 Dribbling – Well-rounded dribbling, but not excellent Agility or Balance which have always been the most important stats in terms of meta dribbling. However, with the Engine chemistry style you can greatly improve this area of Van Persie's game |
| Passing | 86 Passing – Really excellent passing for a Striker, and the sort of stat that is more important in FIFA 23 than ever before |
| Traits | Four-star Skill Moves, Four-star Weak Foot, Outside The Foot Shot, Flair – These are all great traits to have, and Van Persie can also play as a CF |

Here are some other players you can currently get for the value of Van Persie's SBC in FIFA 23.

Thierry Henry Base Icon
Emilio Butragueno Base Icon
Del Piero Base Icon
Zola Base Icon
Drogba Base Icon

Van Persie's Hero Card definitely looks better than some of these cards, and you can craft the SBC with fodder that you get from the upcoming World Cup promo and Black Friday packs.

We recommend trying out the Engine Chemistry Style on Van Persie to improve that Dribbling stat mostly.

Overall

Overall, we think that Van Persie is great value for a card of this quality. We imagine that Van Persie might be a little less expensive on the market than this SBC, mostly due to the chemistry changes in FIFA 23, but not by much. Van Persie's mid-Icon card is currently sat at 130k on the market, to give you an idea.

Source: Read Full Article