Simpsons Hit And Run Is The Most In-Demand Remaster Right Now, And It's Not Even Close
According to a new study by video game retailer Game, The Simpsons: Hit & Run is the most popular fan choice to get the remaster treatment – it beat out the runner-up, GTA San Andreas, by a significant 20%. Hit & Run is a parodical take on GTA 3 and features a unique story about an alien mind-control cola. The game allows players to step into the shoes of all the Simpsons bar Maggie (the best Simpson), as well as fan-favourite Apu.
Video game remasters are popular among fans, as they allow new and old players to experience old classics without the inconvenience of dusting off old consoles. Despite many popular games receiving remasters over the years, many favourites still haven't made the cut yet.
Game asked Twitter users which games they most wanted to see updated for newer consoles by using the site's poll feature to have games battle it out in the arena of public opinion. In the final, Hit & Run beat out Rockstar classics Bully and GTA San Andreas, as well as Metal Gear Solid. While San Andreas did see a PS4 port, and is also playable due to the Xbox One's backward compatible library, it is not currently optimised for the newest consoles.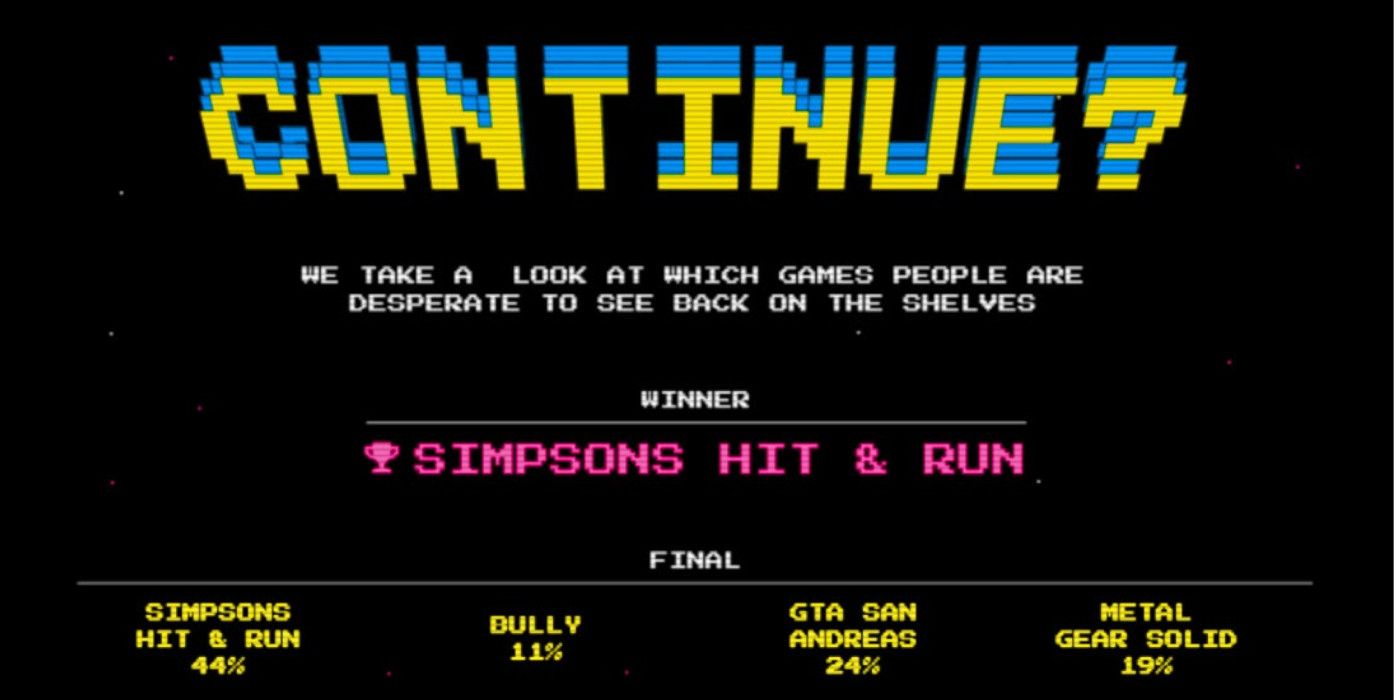 Hit & Run released back in 2003, and since then the most recent console Simpsons game we've had is 2007's The Simpsons Game, so it's no surprise fans are craving more cartoon comedy on their consoles. Still, it's impressive that Hit & Run beat out San Andreas by 20% of the votes, especially considering San Andreas is the best-selling game on the PS2, selling over 17 million copies worldwide compared to Hit & Run's total sales of around 3 million copies.
In other Hit & Run news, Twitch streamer LiquidWiFi recently beat Hit & Run in less than one hour and 20 minutes – maybe they'll try and beat their record if there's a remaster. If you just can't wait for a remaster, you can play something close to it – a recreation of the classic in PS4 game Dreams. There's also a petition for either a sequel or a remake, it's not entirely clear. However, it is still gaining signatures despite being five years old, so add yours. Hopefully, Game's recent poll will nudge developers and publishers towards giving us a remaster soon.
Source: Read Full Article