Sniper Elite 5: All Pistol Workbench Locations
Quick Links
Pistol Workbench Location 1 – The Atlantic wall
Pistol Workbench Location 2 – Occupied Residence
Pistol Workbench Location 3 – Spy Academy
Pistol Workbench Location 4 – War Factory
Pistol Workbench Location 5 – Festung Guernsey
Pistol Workbench Location 6 – Liberation
Pistol Workbench Location 7 – Secret Weapons
Pistol Workbench Location 8 – Rubble And Ruin
Unlocking the full arsenal of weaponry in Sniper Elite 5 is achieved by simply playing through the story. They are unlocked by completing the missions from each level, whether that be sabotaging the Nazi war machine or dispatching members on your kill list.
In Sniper Elite 5 there are three workbenches hidden in each level, some of which you may find during a regular playthrough, but some are hidden away in the dark recesses of the mission area. Unlocking every attachment for a weapon can seriously improve its performance and give you a massive advantage in toppling the Nazi regime.
Workbenches Overview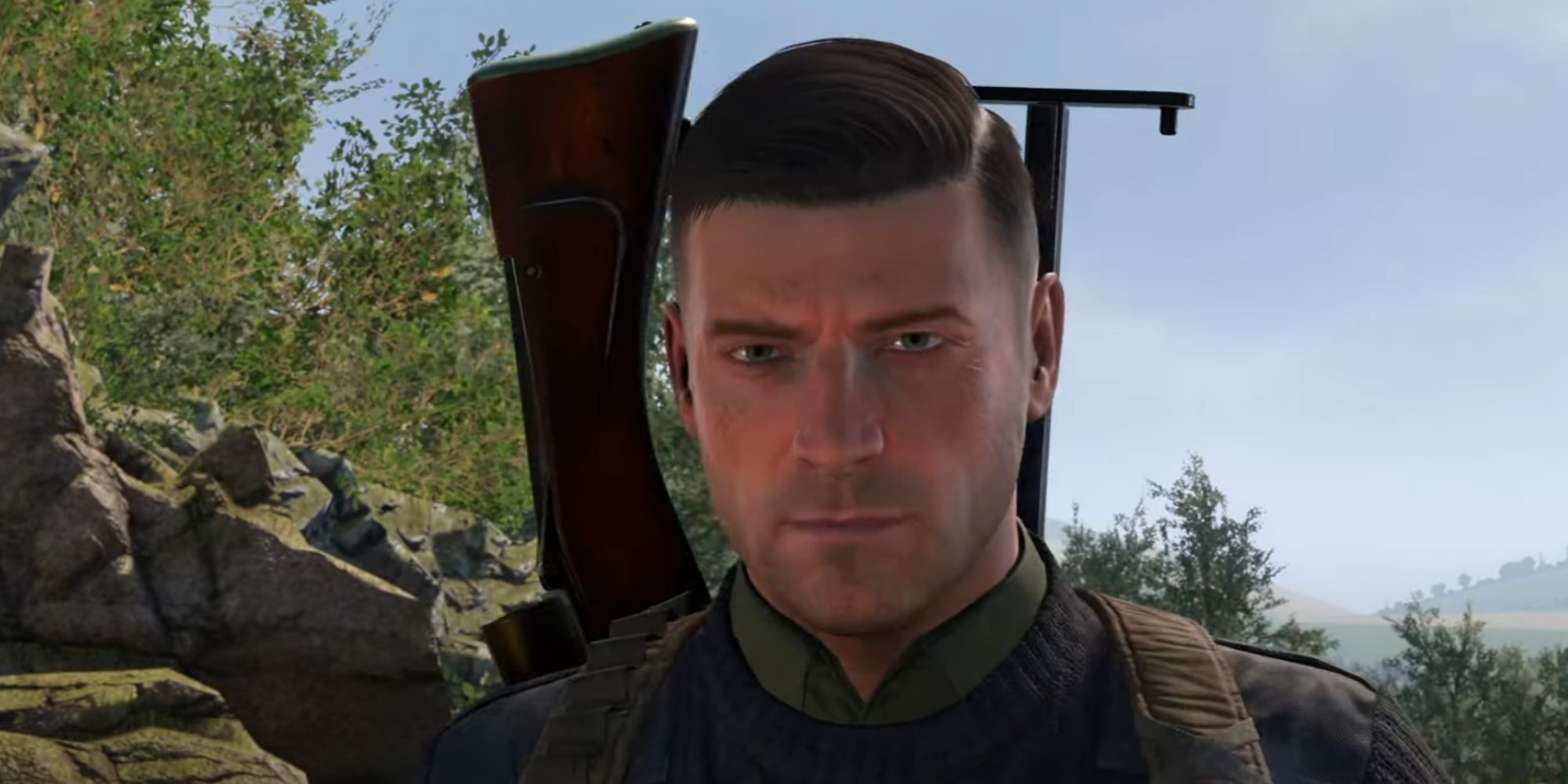 At each level, there are three workbenches to be found; each one corresponding to a specific class of weapon (one for pistols, SMGs, and rifles). The workbenches double up as a secret collectible, finding them can prove difficult, especially later on in the story. Each time you do find one, it unlocks a certain set of attachments for you to use, some will lean more towards an all-guns-blazing approach (rate of fire improvements), while some will aid you in keeping your missions silent and deadly (suppressors). Pistols will often be seen as a last resort by players; something that only gets used when everything else has failed or ran out of ammunition. But if constructed with the right attachments, pistols can certainly hold their own in even the heaviest firefight.
Pistol Workbench Location 1 – The Atlantic wall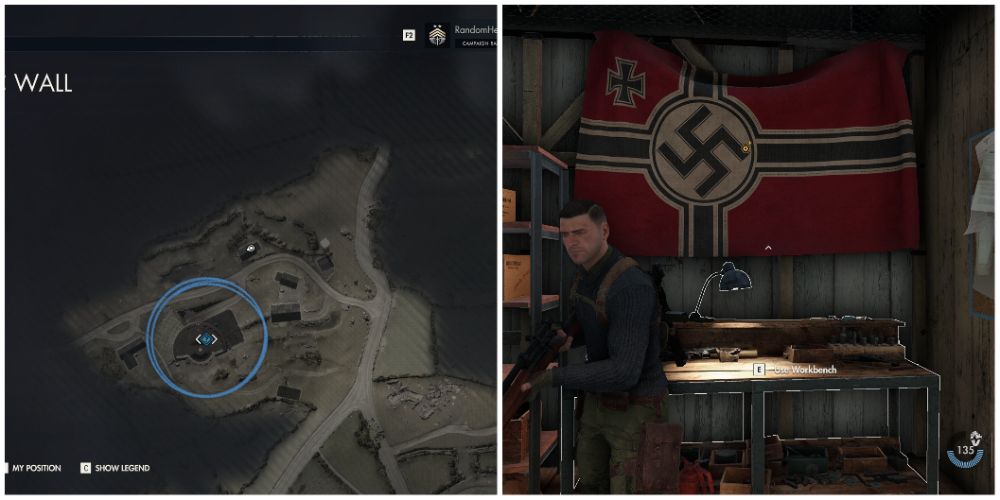 There is a small wooden outhouse on the northwestern portion of the map that contains the pistol workbench for this mission. You can gain entry to the structure by either blowing the door with satchel charges or looting the key from a nearby soldier.
Pistol Workbench Location 2 – Occupied Residence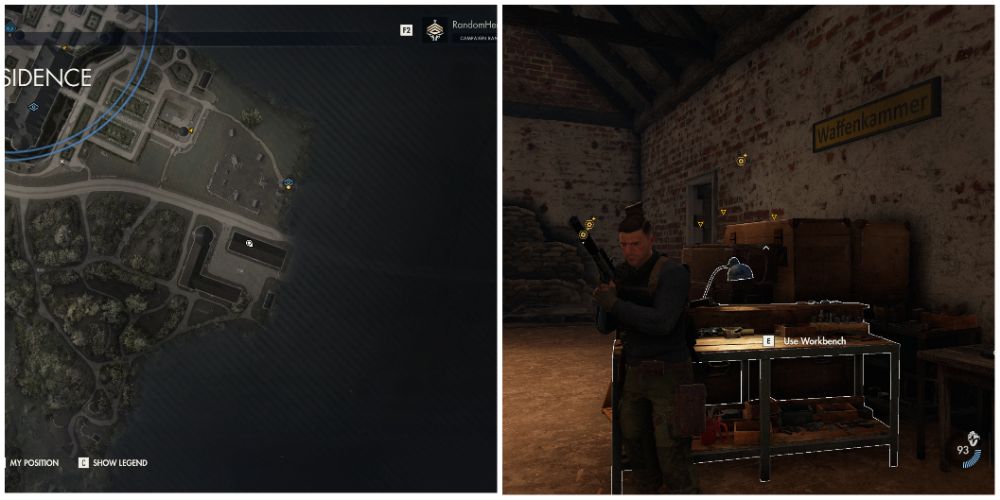 Head towards the chateau, and when you get to the front gate turn east and head towards the edge of the playable area. There you will find a barn-like building. Again, you can either loot the key from a nearby soldier or gain access by more explosive means. Once you gain access you'll find the pistol workbench inside.
Pistol Workbench Location 3 – Spy Academy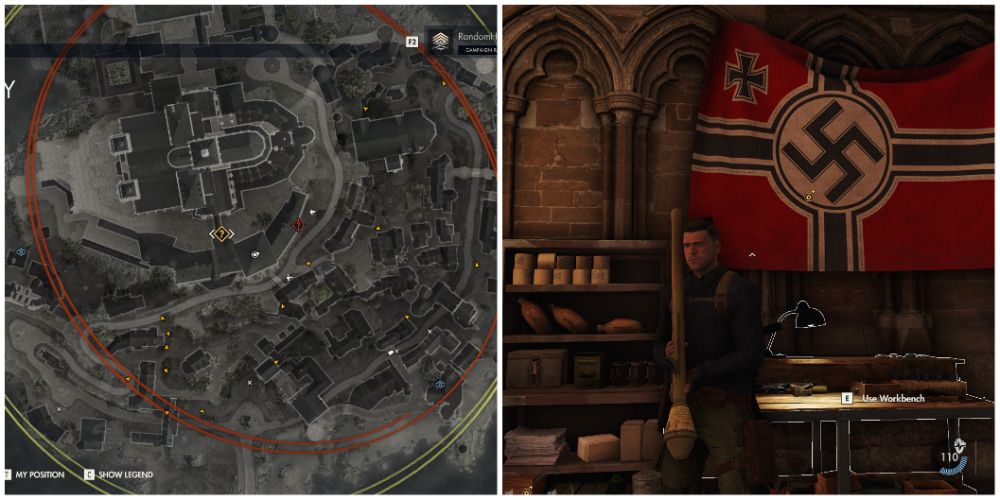 Opposite the Spy Academy building itself is a German armory. If you head up the winding path heading up to the main mission building it will be on your right side. To gain access to the workbench you're going to need a satchel charge, so make sure you have one of those in your inventory before you get to the building.
Pistol Workbench Location 4 – War Factory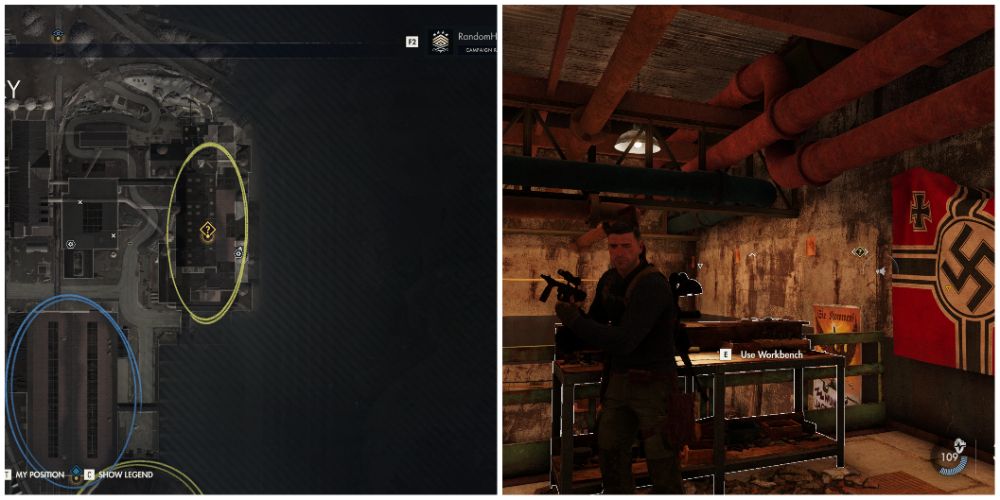 On the eastern side of the map, slightly above the large warehouse, you'll find a Nazi armory that houses the pistol workbench for this mission. Same as before, you'll either need to blow the doors off with a satchel charge or loot a key from an officer nearby.
Pistol Workbench Location 5 – Festung Guernsey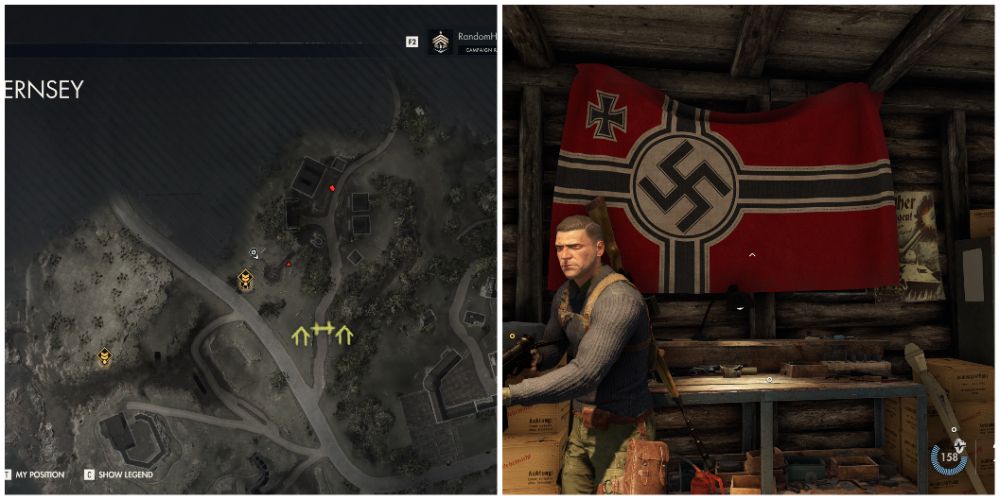 Near where the main entrance is to the base you'll find a series of trenches. If you make your way through them, you'll eventually come to the side room where the pistol workbench is housed for this mission.
There is a panzerfaust in this workbench location. Highly useful for those tanks that may, or may not, be hunting you down.
Pistol Workbench Location 6 – Liberation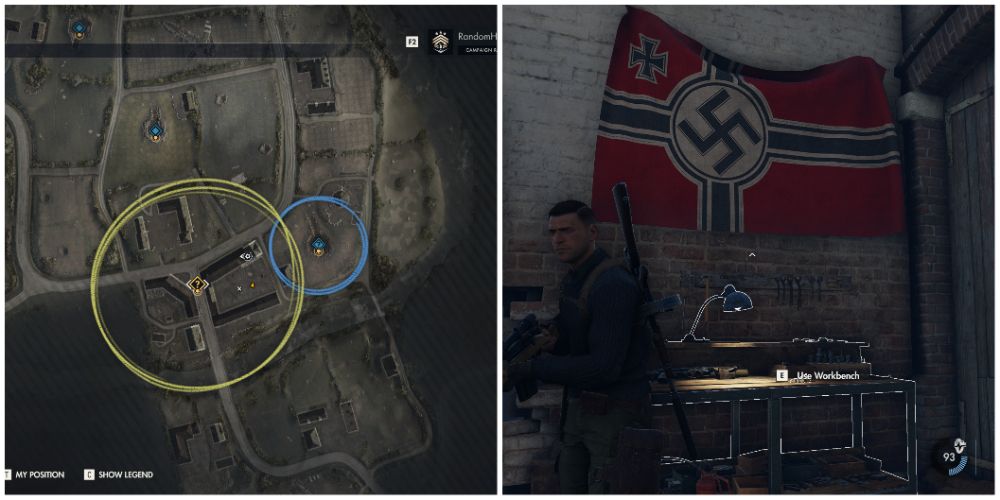 There is a horseshoe-shaped building towards the bottom edge of the map, entering this building and making your way upstairs you'll notice a makeshift structure jutting out from the hole in the roof. If you make your way along these planks and around the back of the building, you'll find the pistol workbench for this mission.
Pistol Workbench Location 7 – Secret Weapons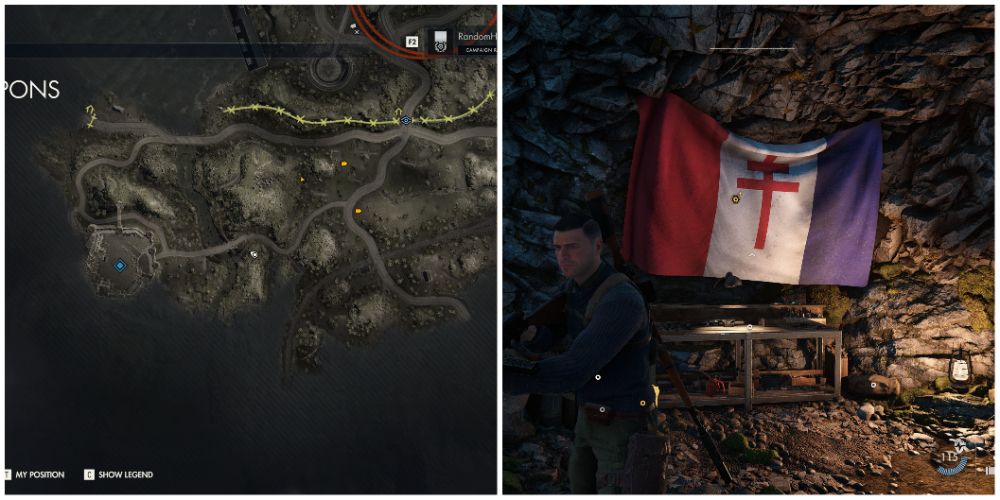 This workbench can be easy to miss, as it's hidden underneath a waterfall. In the southwestern part of the mission area, there is a castle, if you're approaching from the eastern side you'll notice a waterfall. Head down the small slope and turn left; there will be a few planks to break, but once you do, you'll have access to the pistol workbench for this mission.
Pistol Workbench Location 8 – Rubble And Ruin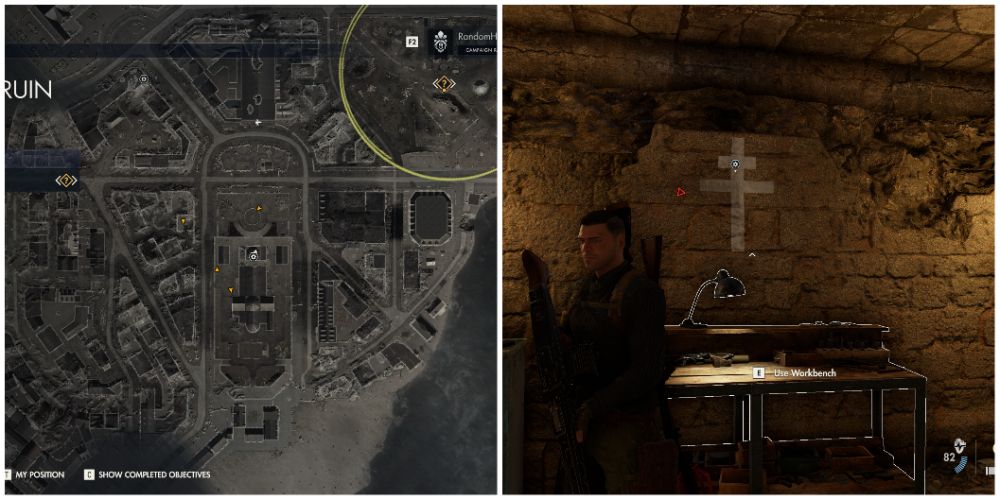 At the centre of this mission, there is a church. If you head up one of the spires you'll notice an 'original Adolf' painting, and also the key to the crypt. Climbing back down the ladders you'll now be able to unlock the door to the crypt and gain access to the final pistol workbench.
That's all of the pistol workbenches in the Sniper Elite 5 base game. Finding these rooms not only gives you the aforementioned attachment unlocks, but each area generally contains a lot of ammunition and special items. Pistols in Sniper Elite 5 pack a surprising punch and can be incredibly handy if you run out of ideas, and ammunition, for your other guns. You can also outfit some pistols in Sniper Elite 5 with scopes if sniping with rifles is getting too easy for you.
Discovering and interacting with every workbench in the game will also unlock the Tinkerer achievement.
Source: Read Full Article