The Sims 4 High School Years: How To Survive High School
Quick Links
Copperdale High: Your Schoolday
Socialising: Apps And Activities
In The Sims 4 High School Years, all work and no play makes you a dull Sim. Part of the fun of getting to experience high school with your Sims is the chance to balance exam prep, become head cheerleader, and grow a thriving fashion empire – all whilst still under your parents' roof.
However, there's more to a school than simply stink-bombing the class bully. From plucking up the courage to ask your crush out on a date, to win a medal at Football Sports Day, here's your guide to surviving Copperdale High.
Copperdale High: Your Schoolday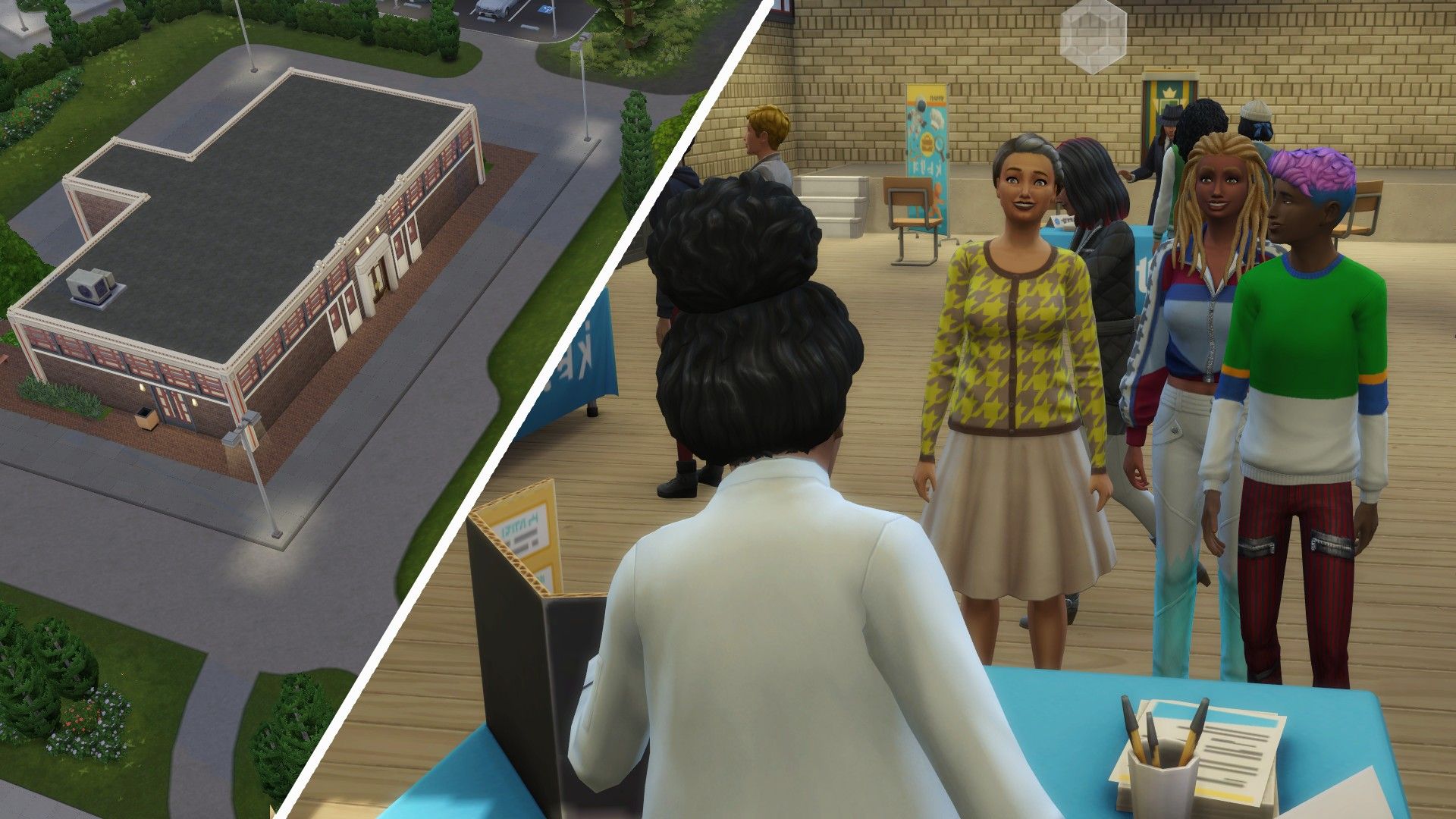 Pick up those pencils and notebooks, because class is in session.
From nine in the morning to half past three in the afternoon, your teen Sims will be heading off to Copperdale High School for a day of learning and mischief. Should you choose to accompany them, you'll be stepping off the school bus and onto the quad in no time. Welcome to your first day of school!
Schedule
A normal day will consist of some free time in the morning followed by a morning class. Afterward will be lunch recess, which lasts just over two hours – plenty of time to finish that late homework before you get stuck into your afternoon class.
Try to attend every class you can! Not only will your Sim build valuable skills which will be carried into adulthood, but getting caught skipping class will see your grades take a nose dive. Also, you're sure to get slapped with a hefty detention summons. Good luck explaining that to your coach.
Sometimes, you'll have special activities during school hours such as:
Careers Day: professionals come to chat with students about prospective jobs. Attending this and completing objectives at Careers Day will give your Sim a strong Confident moodlet.
Sports Day: On different days, the Cheerleading and Football teams will hold activities in the quad where you can compete against your peers for medals. Those with higher Fitness skills tend to do best here!
Fire Drill: In the middle of class, don't be surprised if a fire engine pulls up outside as the student start trickling out. Participating in fire drills will help kick your Sim into action should any fires break out on their lot in the future!
Exams: On Friday, you'll sit your final exams in the place of your afternoon lesson. Be sure not to skip this one – it could mean the difference between passing and expulsion!
After-School Activities: Whether you're a footballer, cheerleader, computer geek, or chess guru, there's something for everyone in Copperdale's comprehensive extra-curricular roster.
Going To Prom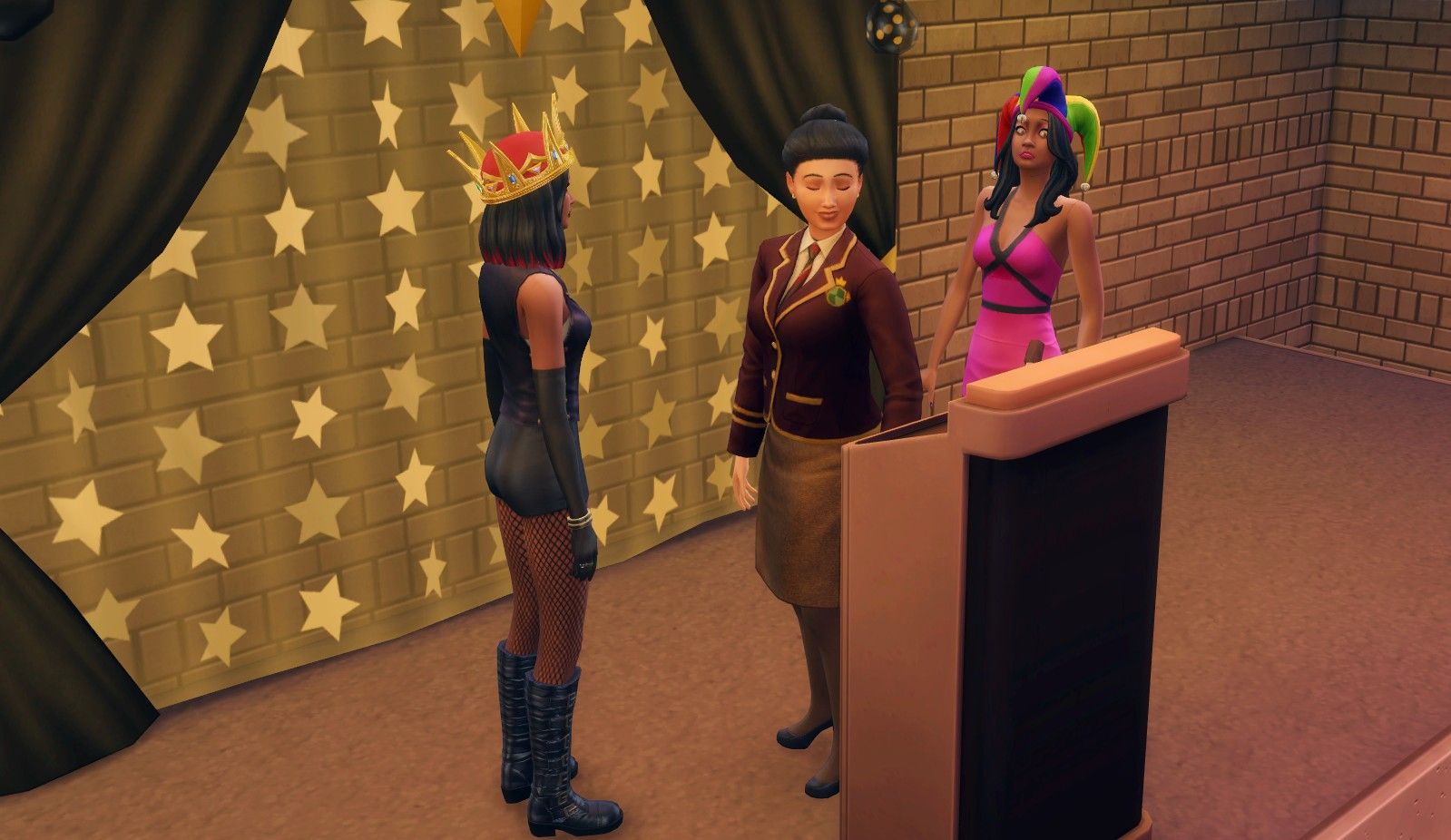 At the end of each week (unless it coincides with a Holiday, for those of us with the Seasons expansion pack), your Sim has the opportunity to attend Prom with their crush or with a friend.
Promposals And Sentiments
You can craft a promposal sign to present to your crush, asking them to the Prom with you the fancy way if words simply won't cut it. Be warned that even though you may have a Crush sentiment toward a fellow student, it might not be reciprocated.
Try to ascertain their romantic and mess around interests before you profess your undying love, or you might be left out in the cold. When in doubt, it might be wiser to ask them as a friend rather than as a date.
Prom Court
When you get to Prom, be sure to submit your vote for Prom Royalty before snagging yourself some punch. A Prom Queen, King, or Jester may be chosen, so if you want to be up there getting crowned before the entire school you're going to have to be relatively popular on campus.
And hey, even if you don't get chosen, there's still plenty of time to dance the night away – and, of course, hit the after-party.
Skipping Prom
If streamers and spiked punch aren't your bags, you can always scrap Prom entirely. Select a Sim of your choice and choose the 'Promise To Skip Prom Together' option from the Friendly interactions menu. This will show up in your partner in crime's information panel when you check your relationship status.
When Prom rolls around, be sure to select the 'Skip Prom' option to avoid letting down your bestie.
Because Prom is like, so lame.
Socialising: Apps And Activities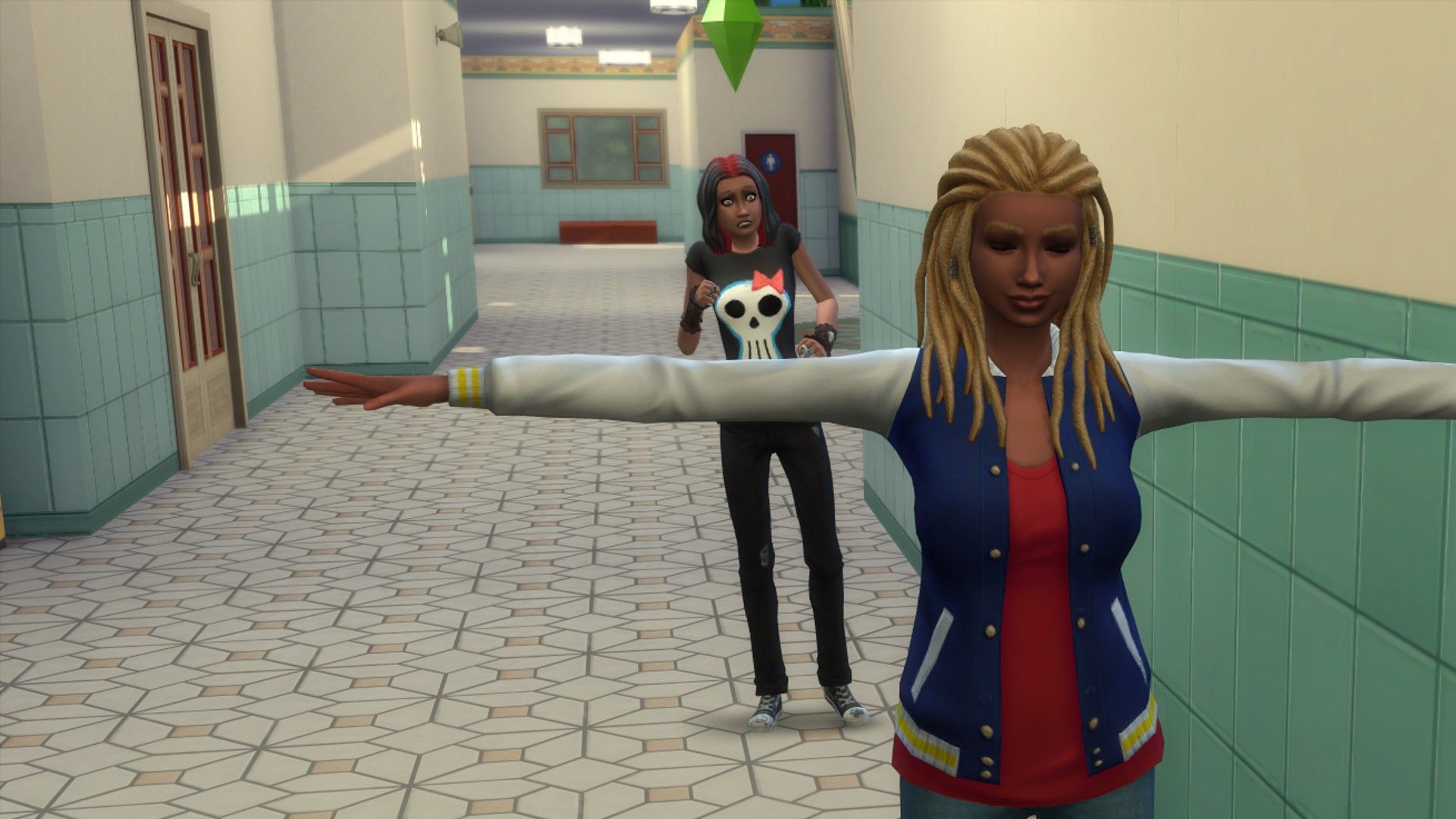 There's more to life than good hair and good grades. If you're looking to kill time between classes or on weekends, High School Years comes with a host of killer activities to ensure that your Sim is never bored.
Social Bunny and Trendii
Social Bunny is the social media application everyone has in The Sims 4. Through it, you can interact with classmates by tagging them in posts or sending them direct messages. Your tone can be flirty, friendly, or even mean – it all depends on how you want your relationship to progress.
Use Trendii to browse and sell hot new outfits as purchased from the second-hand store, Thrift-Tea, which doubles as a boba tea shop. This is a great place to hang out after school with friends, allowing you to check out the newest trends to find a style that best fits your Sim's personality.
If you're hoping to take your passion for fashion to stratospheric heights as a Simfluencer, try hyping your outfits up to fashion-forward buddies and gauge their reactions. Positive responses have real-time effects on hot trends, so you never know: your threads could end up the topic on everyone's lips in just a few short days!
Goofing Off At School
On the first day of school, be sure to claim your locker and let the games begin!
Sims with at least Level One Mischief can interact with their classmates' lockers, planting stink bombs to catch their unsuspecting marks off-guard. You can even design your locker to suit your aesthetic, from grunge to kawaii and beyond.
Once your Mischief level is high enough, you'll be able to spread some nasty urban legends on campus. To mess with your friends, click on the 'Discuss Urban Legend' option from the Mischief interactions menu. Be careful though – legends aren't always as harmless as they seem.
If you see a Sim standing around with their arms splayed, be sure to ask them what T Posing is. They will explain it as a silly viral trend on Social Bunny, and next time you see someone performing the T Pose Challenge your Sim will be able to join them! What better way to infuriate your normie teachers than with an obscure social media joke they'll never understand?
Hanging Out At The Fairgrounds
Overlooking the sapphire waters of Copperdale is Plumbite Pier, complete with a ferris wheel, haunted house, and tunnel of love. Meet friends here and grab some ice cream before mooching off down to the riverside hangout – now that's a chilled weekend.
You can even sneak out past curfew if you're lucky enough to be invited to a party with your friends. To sneak outside past curfew, be sure that you have an open window on the lot to sneak out from, or just wait until your folks are fast asleep before creeping out through the front door.
Successfully sneaking out grants positive moodlets, whilst getting caught will make your Sim Angry, Embarrassed, or just plain grounded.
Source: Read Full Article