The Sims 4 Seasons: Everything You Need To Know About Weather
The Sims 4 Seasons was highly anticipated as it, unsurprisingly, added weather to the game, bringing new depth and realism to each and every neighborhood. There's no new world in the pack but every existing one becomes transformed with the addition of seasons and seasonal weather patterns. This continued after the pack's release with every world released since also coming with its own climate and unique weather pattern.
Weather in the game is incredibly variable and it also has some dangers. This guide walks you through the different weather types, weather forecasts, and the weather machine. It also shows you how to stay safe in the more extreme conditions and how to use the game settings to adjust some of the weather patterns and remove the risks.
The Different Types Of Weather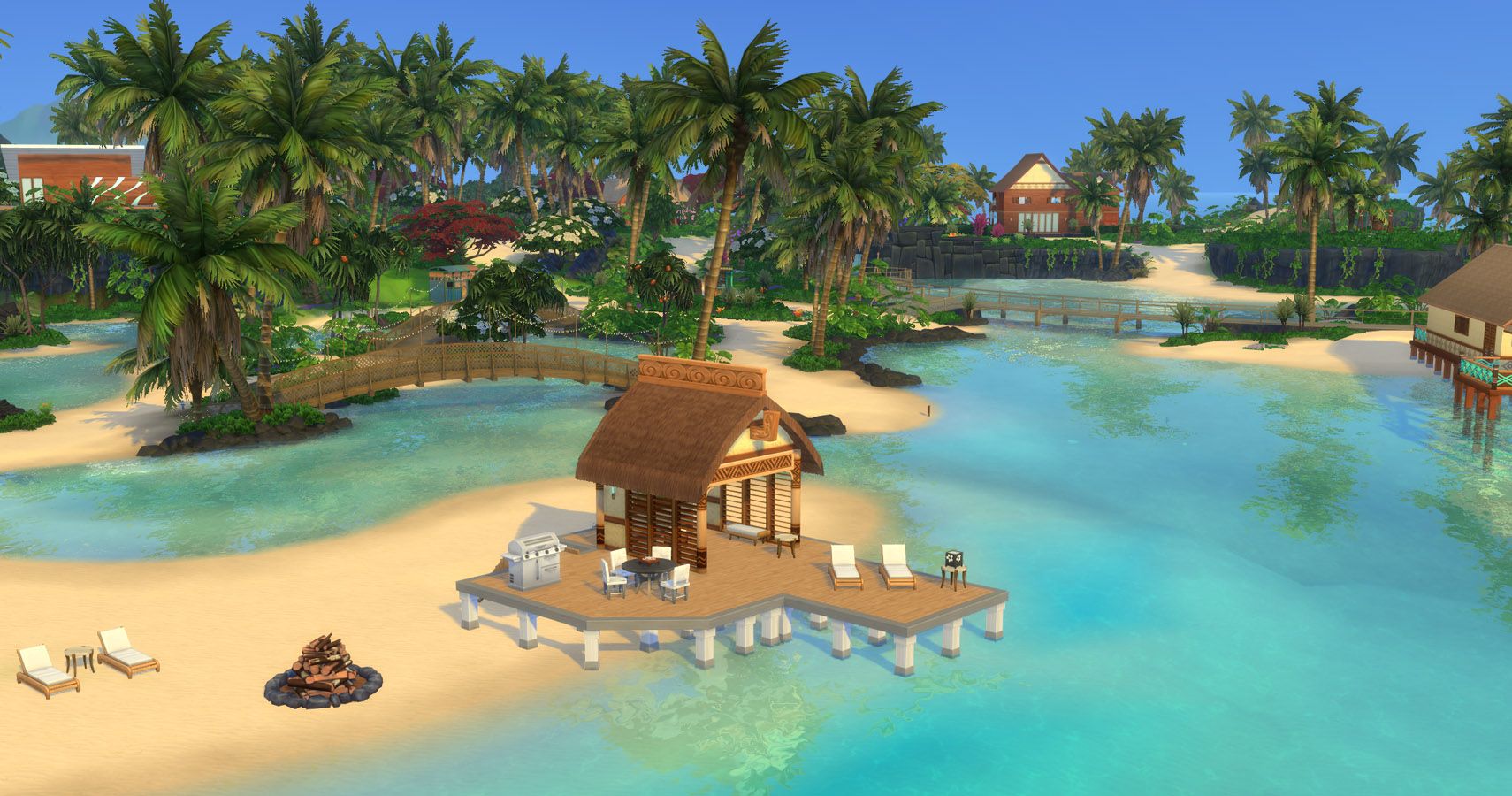 The weather Seasons brings is incredibly variable. Temperatures range from freezing to a heatwave and your Sims will also encounter sun, rain, snow, and clouds in different combinations. In certain worlds, the climate is more extreme and you'll see blizzards, storms of varying intensity, and even thundersnow.
Weather conditions are closely linked to the seasons, as well as to the individual world. For example, the desert world of Oasis Springs has a hotter, drier climate, while Mt. Komorebi has a much colder weather pattern with a lot more snow. During the first and last days of each season, the weather will begin to change over to the new seasonal type, creating a natural feeling climate.
The Weather Forecast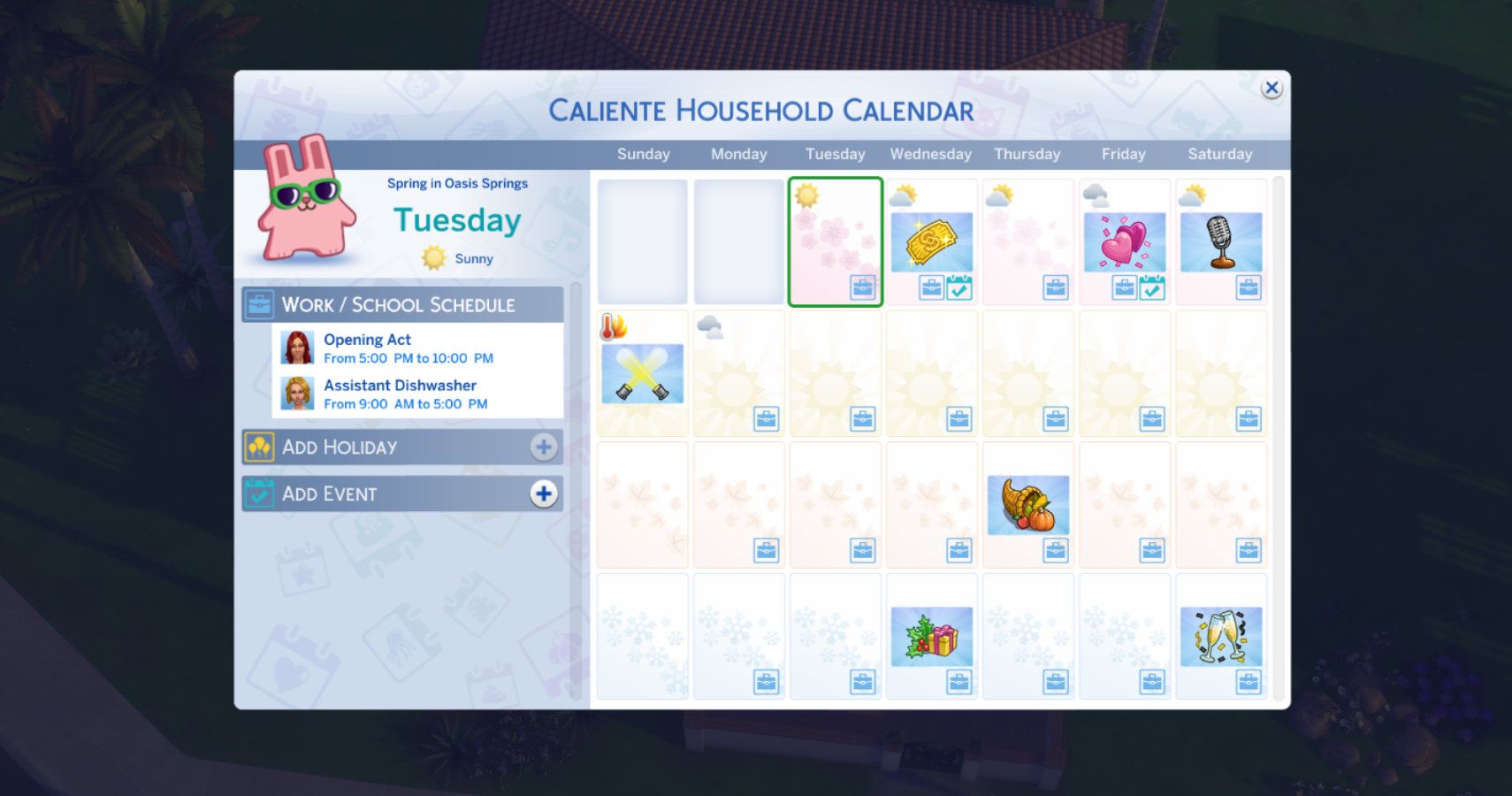 If you want to know what the weather will be, for instance, if you are planning an outdoor wedding and want some sunshine, the calendar is your friend. Here you'll see the seasons marked by faint icons, as well as a weather forecast for the week.
While the weather forecast isn't always totally accurate, it's close enough to allow you to plan events that require specific weather with reasonable success. You'll also get used to the weather patterns in the world which will help you judge the likely accuracy of each day's forecast.
Weather By World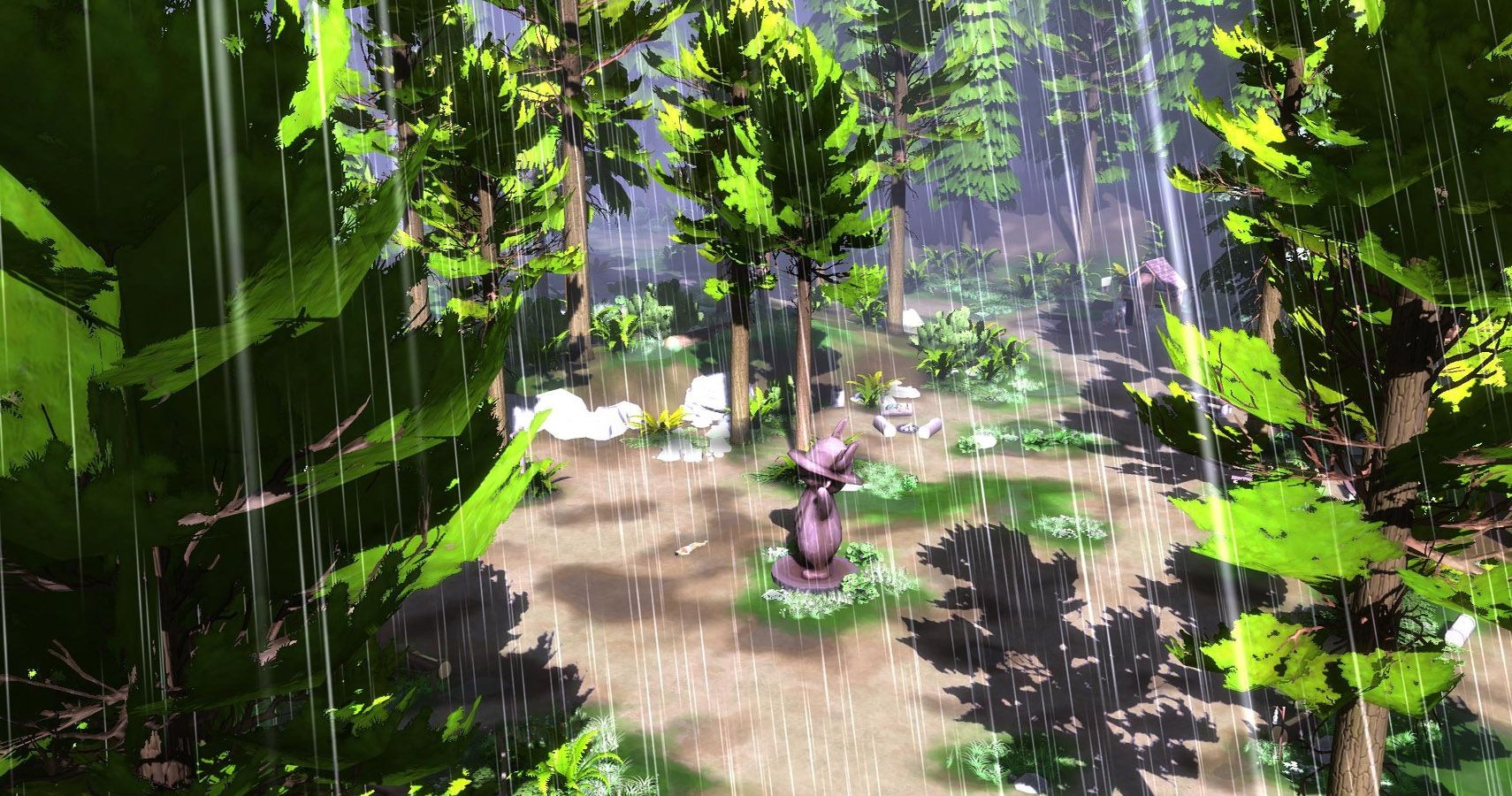 We've already mentioned that the weather changes depending on both the season and the world your Sim is in. Here are the weather patterns for the base game worlds.
The weather in Willow Creek is quite variable but follows a fairly traditional Northern Hemisphere pattern. Spring is cool or warm with a mixture of rain, clouds, and sun. Summer will bring hot and sunny weather as well as the odd heatwave but can also bring storms. Going into Fall the weather turns cooler and the weather roughly matches that of Spring. As Winter rolls around cold and even freezing temperatures set in along with snow and blizzards.
Being a desert world, Oasis Springs is warm, hot, and sunny throughout both Spring and Fall, with temperatures rising to heatwave levels during the Summer. In Winter it can be cooler and cloudy but remains predominantly hot and dry.
Newcrest's climate is similar to Willow Creek but has a tendency to be a little cooler. Spring is often cool and rainy, although the Summer can be warm, hot, or even have a heatwave. There are also Summer storms before the weather cools back down in Fall with a mix of warm or cool sun and rain. In Winter temperatures turn cold to freezing and you'll see snow and blizzards.
Each additional world has a mixture of the weather patterns found above, with slight variables depending on the world. For example, Selvadorada being a jungle has rain most of the year but this is accompanied by high temperatures.
Managing The Temperature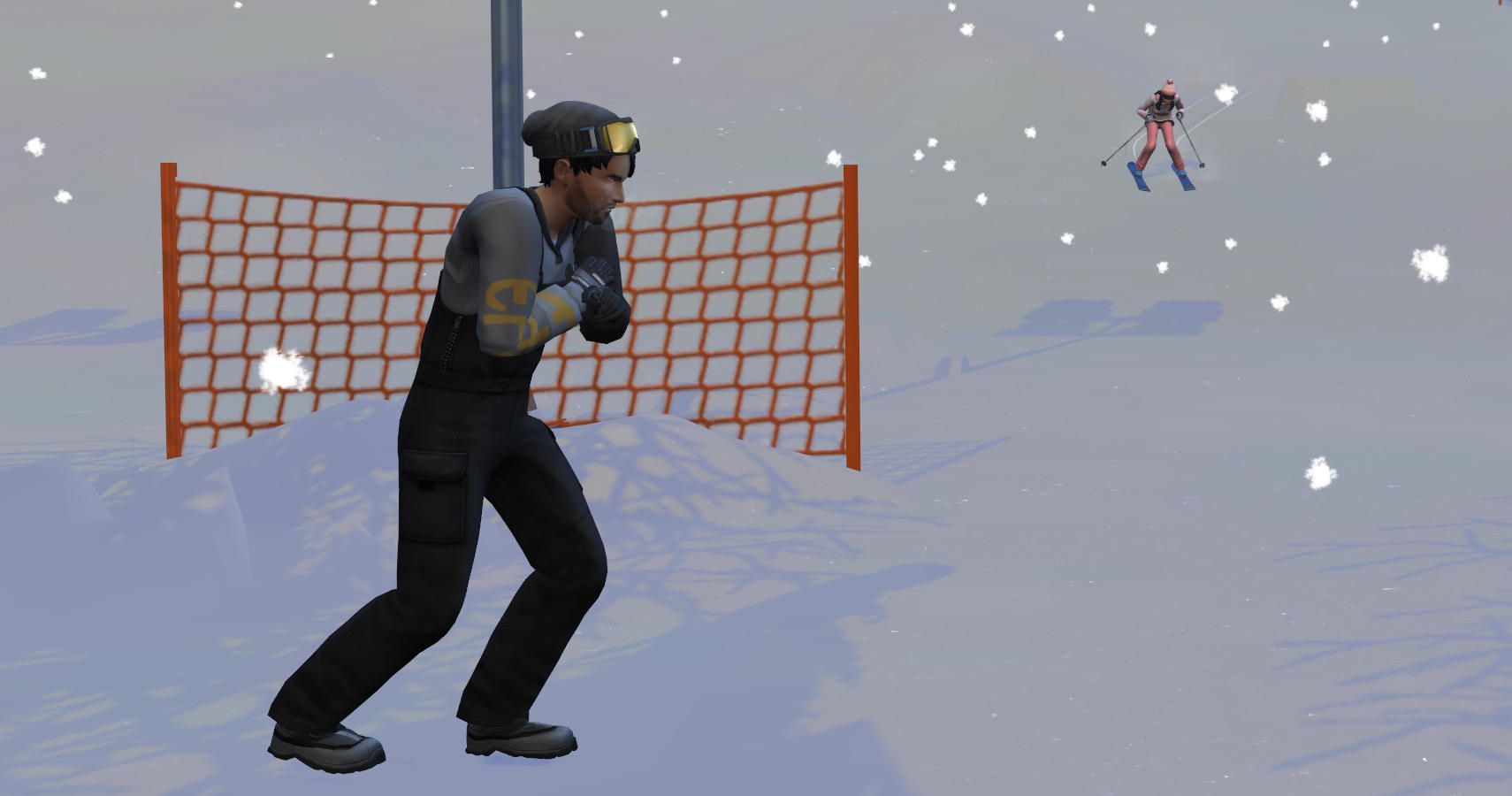 Especially in worlds with more extreme temperatures you'll need a thermostat to keep Sims comfortable in their home. You can simply place the item on the wall and click it to turn it on and then change the temperature to either cool or warm. You'll only need one per lot but just be aware that using it often will make your bills go up so it's best to use it when you see the uncomfortable moodlets.
Sims can also be uncomfortable if they wear the wrong clothing outside. Seasons added hot and cold weather outfits to the game and you need to make sure that your Sims are wearing the appropriate ones. It doesn't actually matter what the clothes themselves are since the effect is linked to the cold and hot weather options in Create-a-Sim, rather than individual outfits. While they will often do this autonomously it does depend on the Sim as some like to live dangerously.
The Dangers (And Benefits) Of Extreme Weather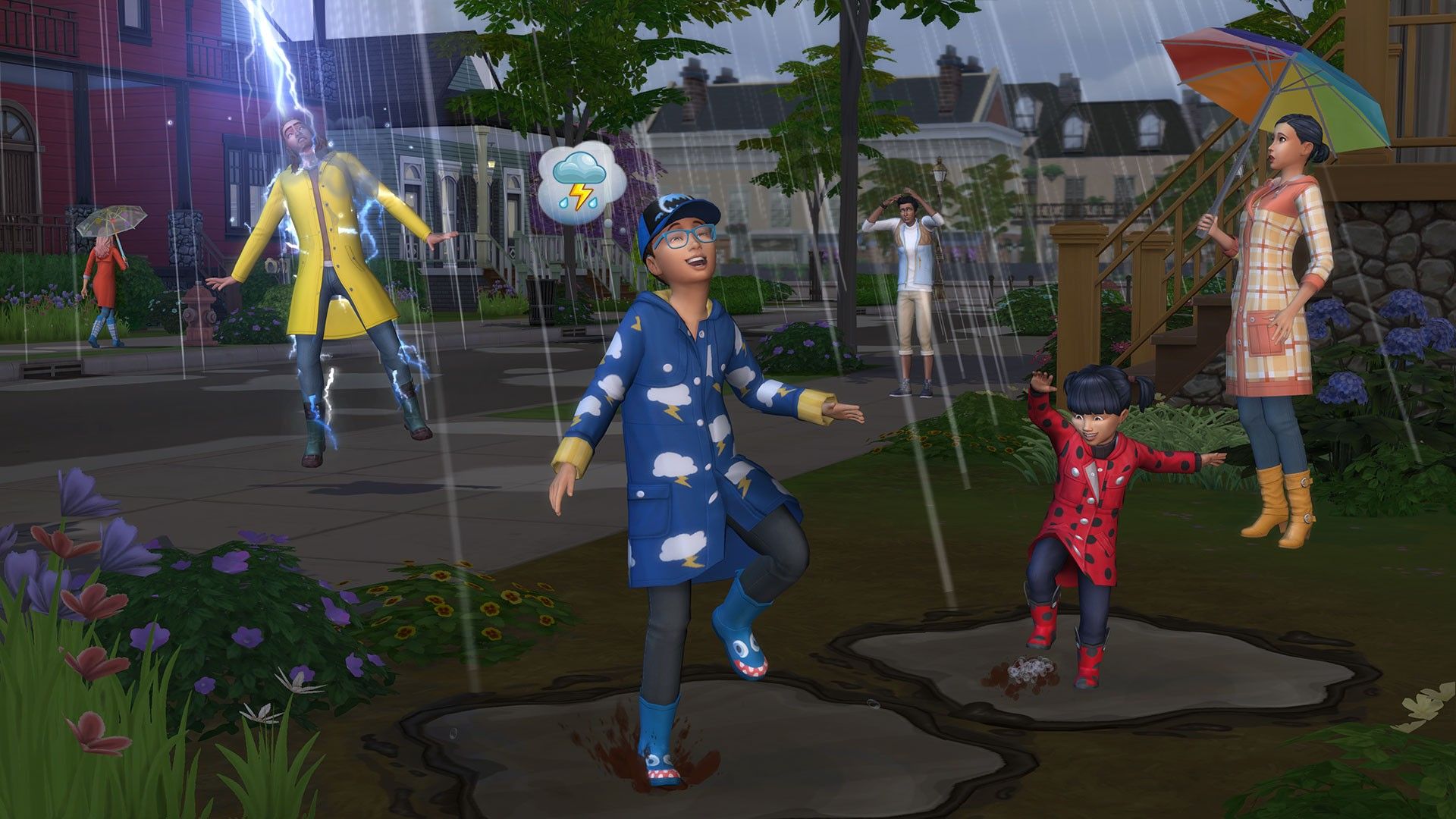 There are three ways Sims can die relating to weather. The most common are the temperature effects. This is when Sims either freeze or overheat. These effects are triggered by wearing inappropriate clothing for a length of time or by swimming in freezing weather.
If your Sim is in danger you'll notice them begin to either turn blue or sweat profusely. There should also be a notification that they are freezing to death or overheating. If you see this you need to act fast as you'll only have a couple of Sim hours to reverse the effect. For those playing at faster speeds, this isn't long at all.
To counteract the debuff you need to change a Sims clothing and preferably get them to a more sheltered place since temperature effects are less extreme inside. Assuming you manage this in time they will return safely to a normal temperature.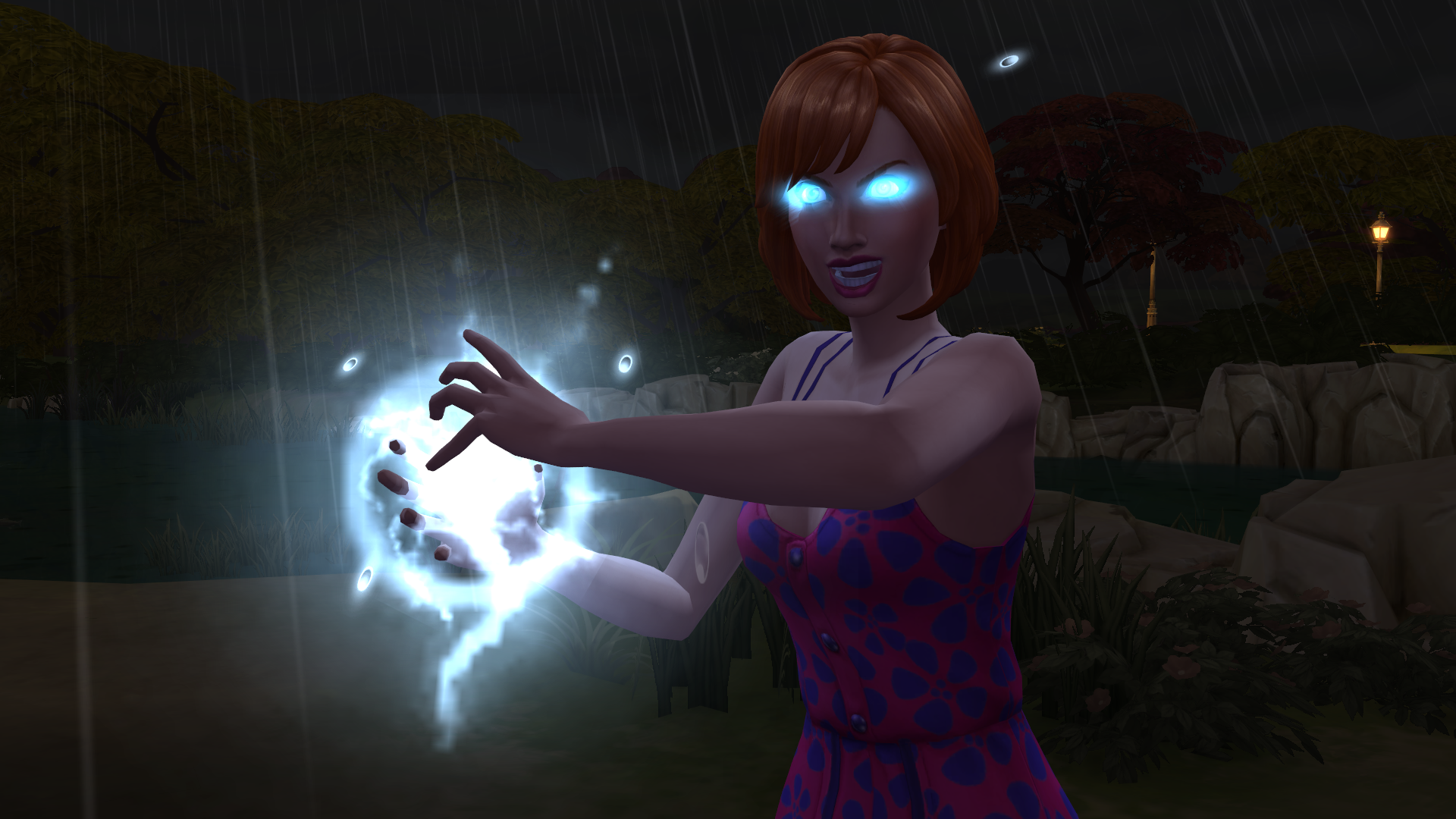 The third way Sims can die is by lighting but this is a little more complicated. If a Sim is struck by lightning they get a 'supercharged' moodlet. There are then three ways their fate can pan out. If they seek shelter the buff will time out and nothing will happen. However, if they get struck again, the story is different.
Two strikes within an hour will kill your Sim via electrocution. However, if the second strike takes place after an hour but before the 'supercharged' moodlet wears off they will get a 'hypercharged' moodlet instead. A hypercharged Sim becomes a "lightning bender" and gains the temporary ability to summon lightning anywhere.
Weather Options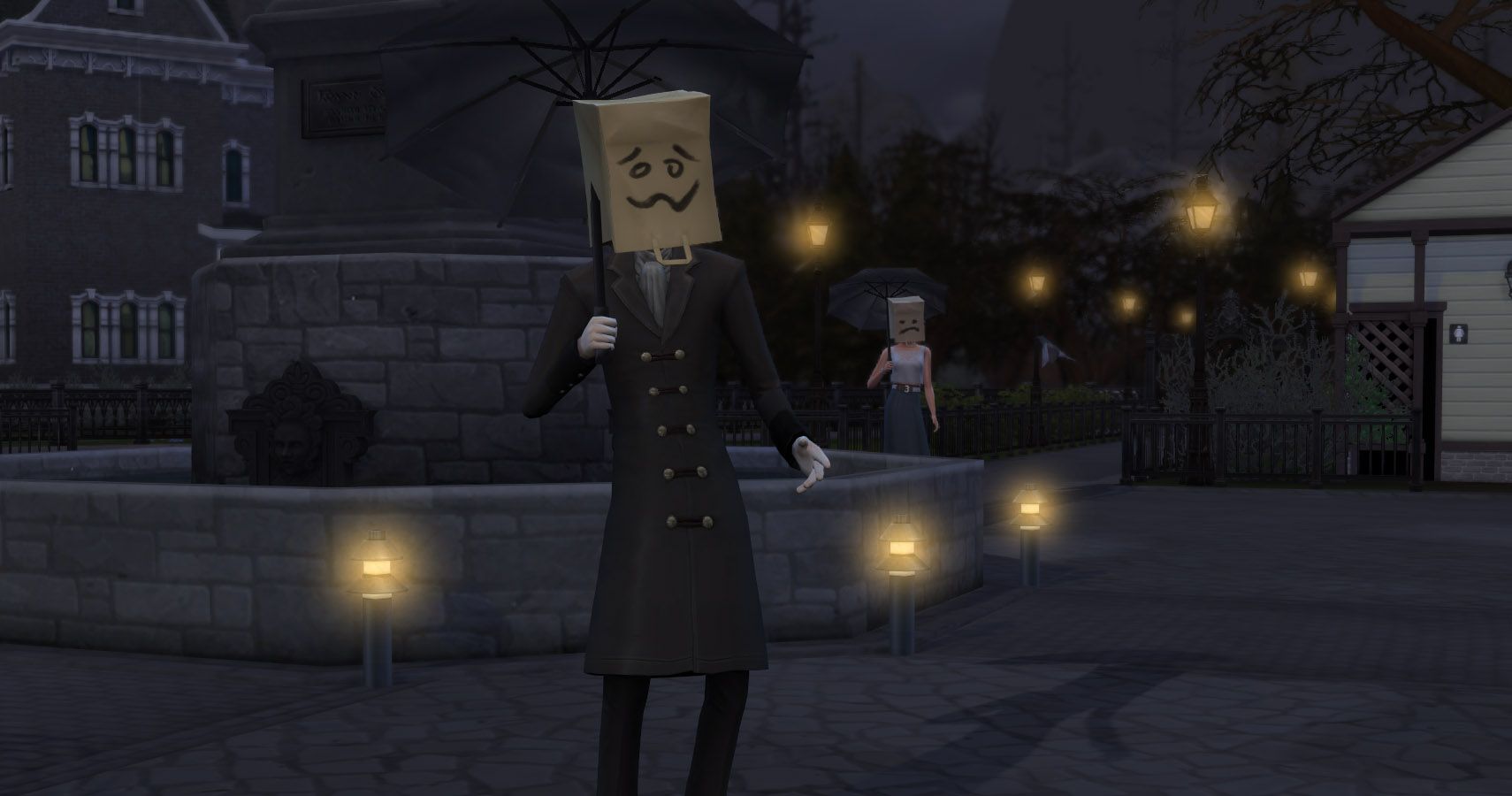 If you find the temperature deaths difficult to manage you can turn off this effect. To do this head into game options and open the weather tab. Now make sure that enable temperature effects on Sims is unticked. You'll also find options to set the rain and snow. Rain can be set to none, just rain or rain and thunderstorms. Similarly, snow options can be non, just snow or snow and blizzards.
This options menu also allows you to adjust the length of the seasons in-game, although this will mess with some of your calendar settings. For those with Snowy Escape, you can also choose to enable or disable the Thundersnowstorms and Icy Conditions found in Mt. Kormorebi here as well.
The Weather Machine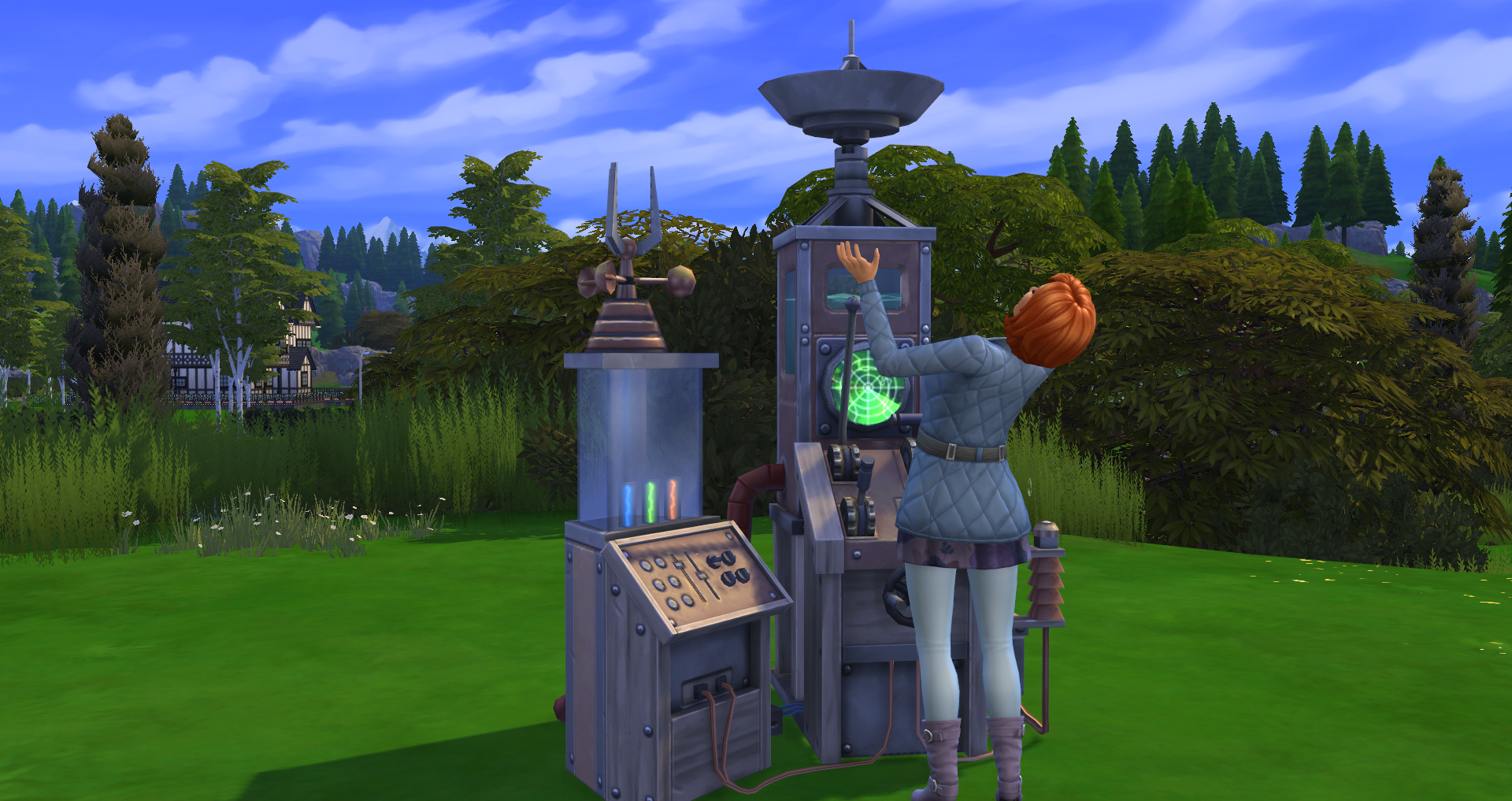 If you want total control over your weather all your need is 1,500 Simoleons and some handiness skill. To begin simply head to build and buy mode and purchase Dr. June's Weather Control Device. You can then use the device to adjust the weather for the day.
Your success will depend on the level of the machine and your handiness skill. If it backfires you can get zapped. As with all electrical items, two zaps in a row means death, so make sure you keep an eye on your moodlets.
In order to manipulate the weather further, you'll need to upgrade the machine. Here's what each upgrade offers and the handiness level required.
Climatic Hydrator (Level Two) – Increases your chances of success when dealing with snow and rain.
Humidity Chiller (Level Two) – Increases your chances of success when controlling snowy or cold weather.
Moisture Vaporator (Level Two) – Increases your chances of 'clear the skies' working.
Gyroscope Durability (Level Two) – Decreases the chances of the machine breaking.
Capacitive Efficiency (Level Three) – This allows you to select different options such as snowy, mild, or normal and increase the chances of that type of weather for the rest of the current season.
Self-Repairing Nanites (Level Five) – The weather machine will become unbreakable.
Temporal Modifier Unit (Level Eight) – Adds the option to change the season.
Now you know everything about Season's weather, you can be in charge of climate change in your world.
Next: The Sims 4 – A Complete Guide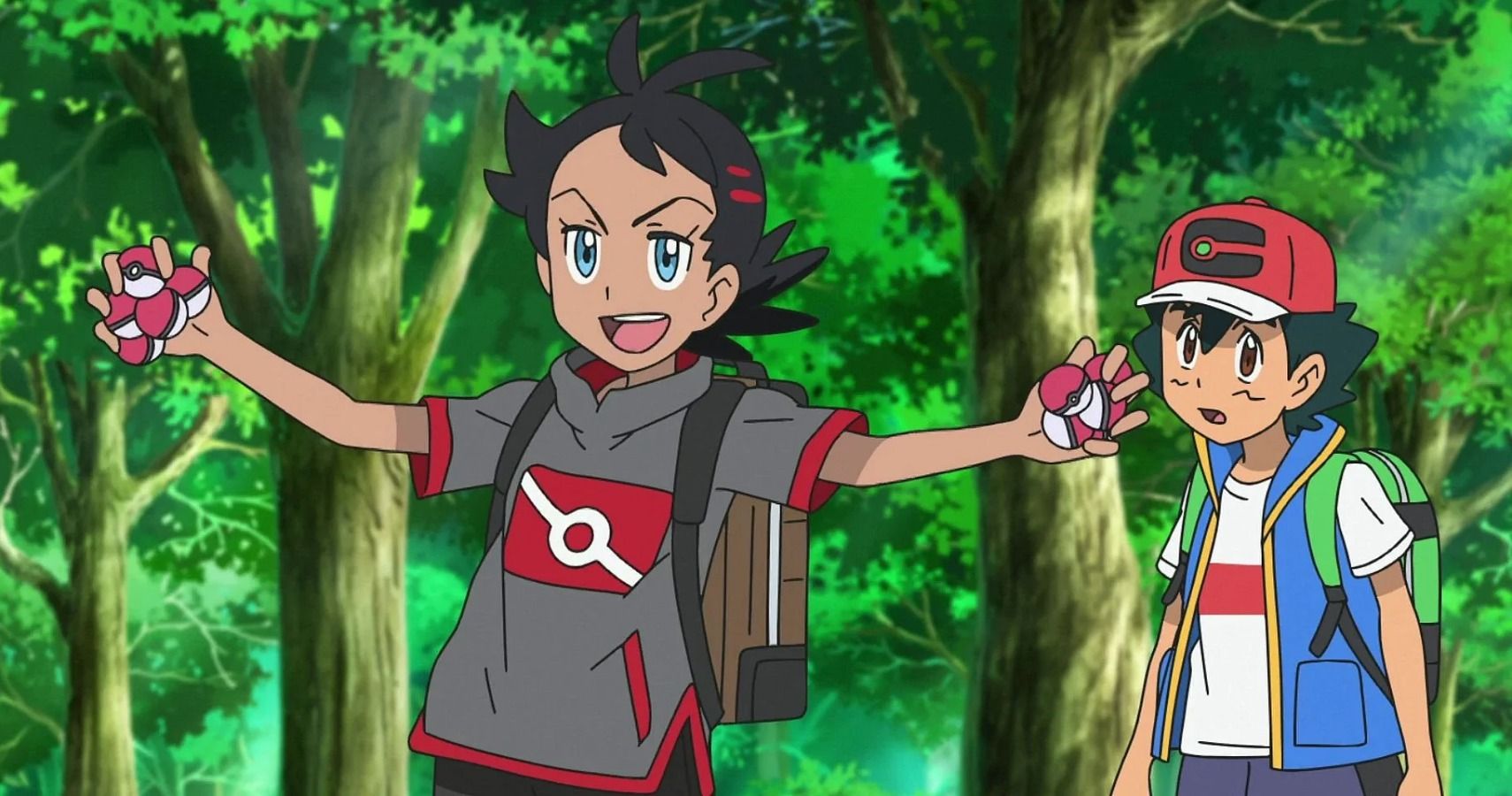 Helen began playing games at an early age with her first computer being a hand-me-down Sinclair ZX Spectrum. It didn't put her off… She is all grown up now but is still a gamer at heart, especially when it comes to The Sims and other strategy and simulation games.
She juggles the daily demands of life with a family and somehow still finds the time to indulge her two passions in life, writing and gaming; sometimes both at the same time.
Source: Read Full Article