Turtle Beach Stealth 600X Gen2 Max Review – Battery Bliss
I'm not massively fussed about brands when it comes to my gaming equipment. I don't have a particular favourite and I don't aim to have everything under the same brand umbrella. That being said, I've had Turtle Beach headsets for as long as I can remember thanks to their reliable quality, good audio, and the comfortability of their headsets.
This meant that taking a look at the Stealth 600X Gen2 Max was an exciting prospect, and a chance to try out Turtle Beach wirelessly for the first time. Thankfully, I wasn't disappointed, as the Stealth 600X is a great wireless headset that makes battery life an almost non-issue, works across multiple different platforms with ease, and delivers great sound quality.
If you're familiar with Turtle Beach, then the design of the Stealth 600X isn't going to surprise you. It's a mostly-plastic headset with ear cushions and a decent amount of movement options to fit different head sizes. It's also advertised as being glasses friendly, but as someone who doesn't wear any, I can't back that up.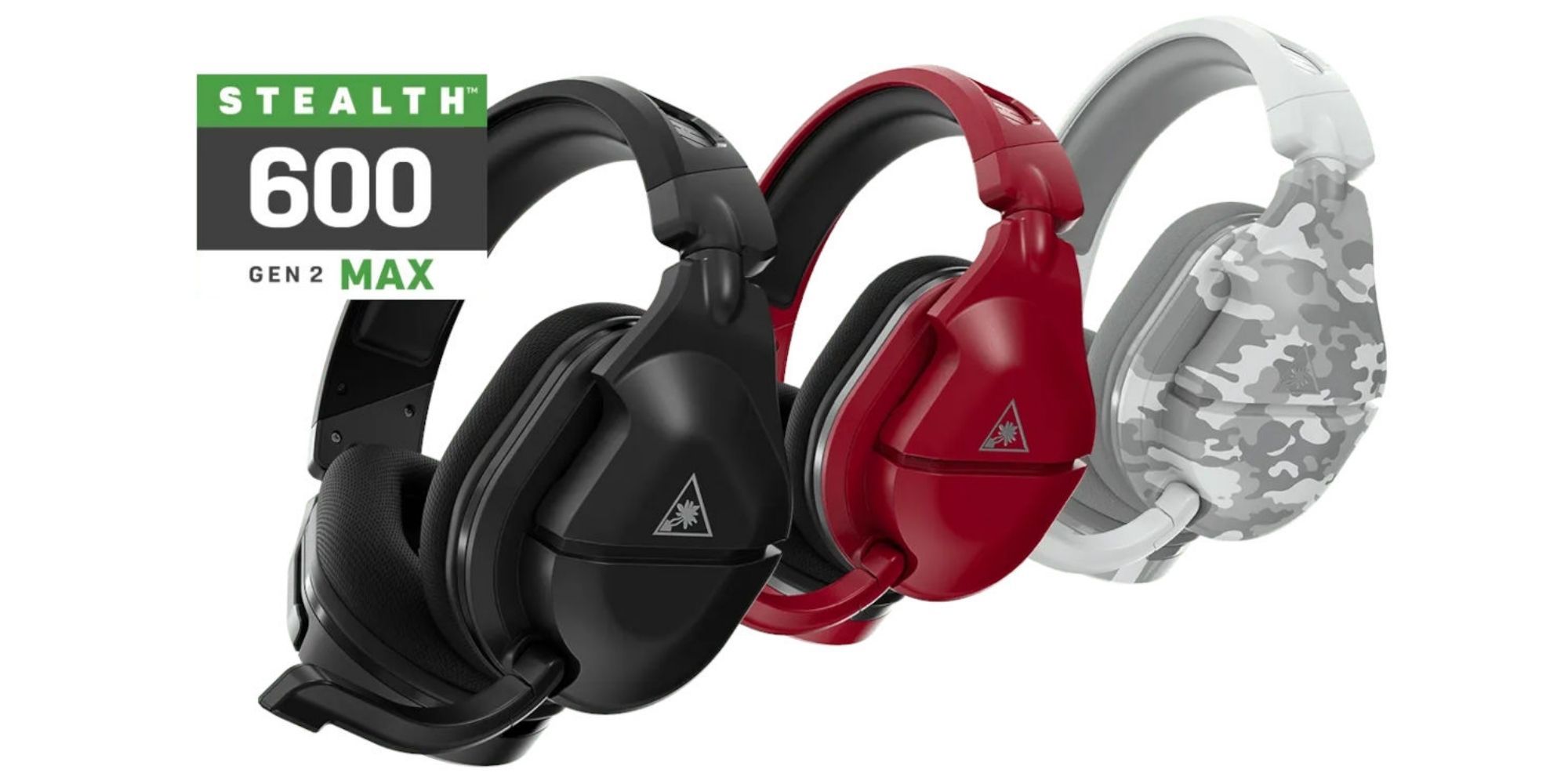 The one part of the design that seemed unique to me, having only really experienced wired Turtle Beach headsets before, is the headset microphone, which actually folds into the headset itself and mutes and unmutes itself depending on if it's tucked in or out. This is a really cool feature that I haven't seen before, and I'll admit to messing around with it a bit more than an adult should when I realised what it was. It's a smart design choice that really elevates the whole wireless feeling the product is going for.
Wireless is another main selling point of the Stealth 600X, as is the case with most other big gaming headsets. It's a very easy process here, as all you need to do is switch the USB device to USB (which counts for PlayStation, Switch, and PC) or Xbox depending on the console you're using, and away you go. Not having wires to restrict movement is great and it's good to see that the quality of the headset doesn't suffer because of that wirelessness.
Although being wireless is a selling point of its own, I do wish there were options for wired play too. I mainly play games on the PS5, which makes it incredibly easy to just plug in my wired headset and call it a day, so it's a shame that it's not included as an option here, although it's unlikely to change anyone's mind on the headset.
The other main selling point of the Stealth 600X Gen2 Max is its battery life, which is advertised at 48+ hours. Although I didn't sit and use it for 48 hours, that number is very believable, as I didn't have any battery issues with it after continuous use over several sessions, and only ended up charging it out of a built-in fear – sort of like reloading after shooting a couple of bullets out of habit. My Dualsense died twice in that time and was near the end of a third run before I decided to charge the headset, so it's clearly got a decent amount of life in it.
Comfort is another key part of what makes a Turtle Beach headset so great and it's the same with the Stealth 600X. The ear cushions make wearing it for an extended period of time painless, and it never feels too heavy – even after a long session. A minor complaint that I have is that it can feel a little tight around the ears at times, which is coming from someone with a relatively small head. This feeling goes away the more you use it, but prepare to break it in a little bit at first.
Some of the games I tested the headset out on included OlliOlli World, one of my default options because of its fantastic audio design and music, Fortnite to see how it functions when talking in a party chat and up against others competitively, and, sadly for my heart rate, Evil Dead: The Game, simply because it had just came out and seemed like a good choice to try out.
The quality of the audio really shined when playing OlliOlli World, and I'd go as far as saying this is the best the game has ever sounded to me. Fortnite sounded great too, both for me and the friend I was chatting to. This is also where I tested out the 'Superman' hearing functionality that boosts audio, and it's a cool feature, if a little loud. Evil Dead: The Game was a mistake on my part because dear god is that game loud and scary. Props to the Stealth 600X for its sound quality, but being jump scared while wearing the headset is an experience I won't soon recover from. Horror masochists will love it, though.
Overall, the Stealth 600X Gen2 Max is a fantastic wireless headset with great audio and a battery life that is second to none, even to other Turtle Beach products that have followed. There aren't many extra bells and whistles here, but if you're looking for a long-lasting headset with great audio, then look no further.
A product sample was provided for the purposes of this review.
Source: Read Full Article