Two Point Campus: Guide To Musicality
Quick Links
How To Unlock The Musicality Course
Musicality Course Details
Musicality Course Items and Facilities
As the manager of Two Point Campus, you can teach courses in anything that you want. From the benign to the supernatural, you'll be able to teach students a variety of skills. But, one of the biggest challenges in the game is trying to turn a group of students into superstar musicians and dancers in the Musicality course.
The Musicality course in Two Point Campus is all about training students in the performing arts. If you're trying to run a Musicality course for the first time in the campaign, you might be surprised by how differently it operates as compared to the other courses. That's not a problem, since we've broken down how Musicality works, and everything you need to know to run the course successfully.
How To Unlock The Musicality Course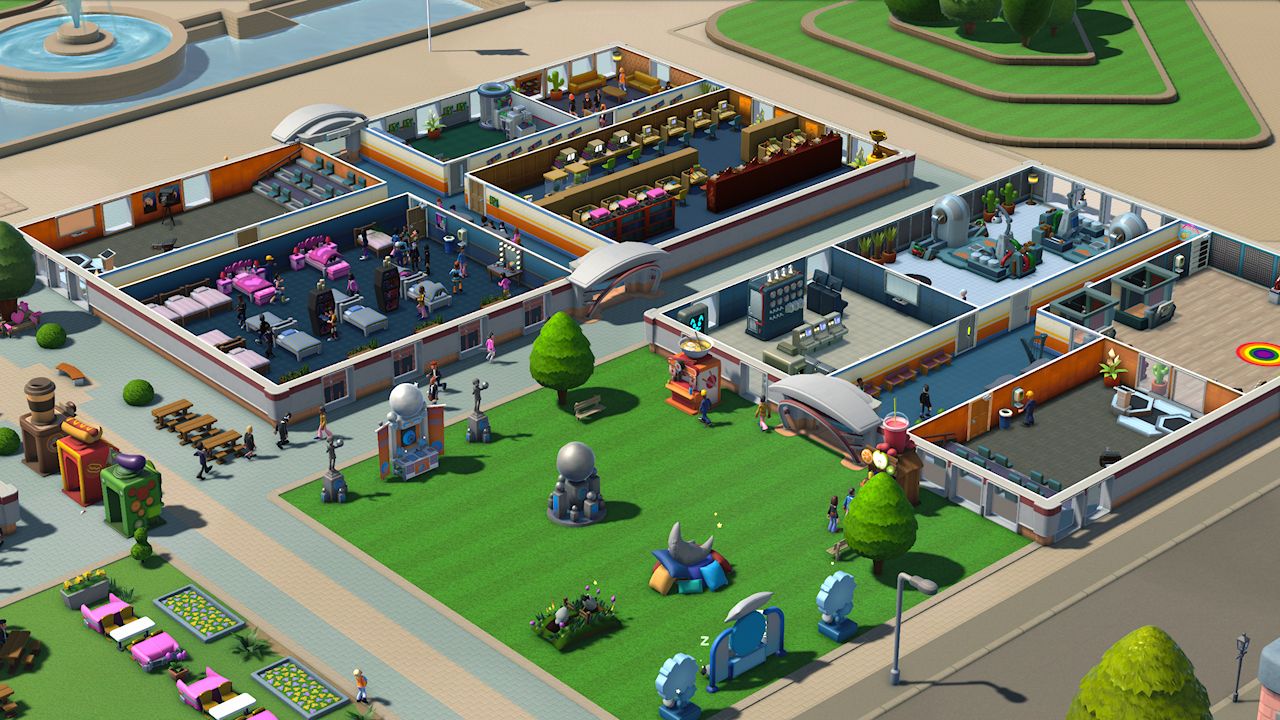 To unlock the Musicality course, you'll need to progress to the seventh level of the campaign, Upper Etching. Upper Etching will be a dilapidated campus when you begin, which will be difficult since your funds are limited, and you won't receive any tuition fees or rent on this level. Even if you begin to teach courses outside of Musicality, you won't receive tuition fees while playing on Upper Etching. Though Musicality courses taught on other campuses do pay out tuition fees.
Upper Etching will require you to level up your Student Lounge before you can to do anything else, since the Student Lounge can be used to hold Open Mics for Musicality students, helping them to earn extra XP. After that, you'll need to build a Lecture Theatre and Recording Studio for students. Eventually, students will also need a Computer Lab to study in.
Musicality Course Details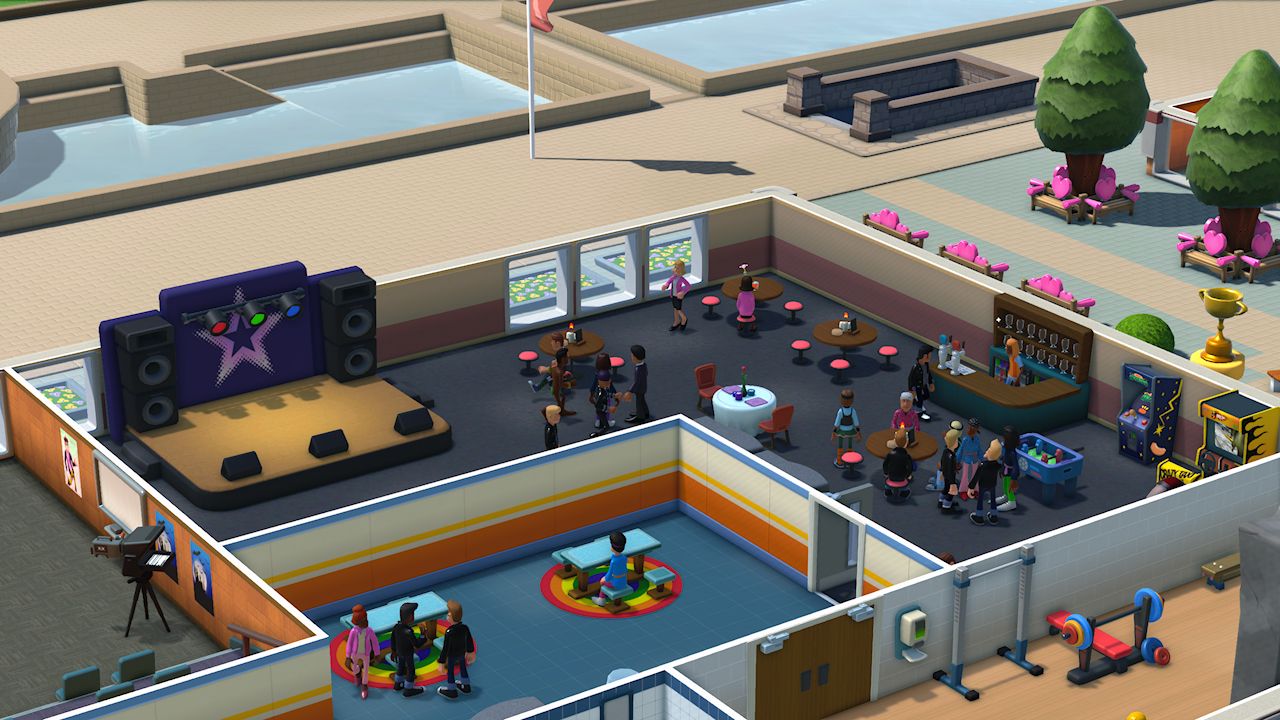 The Musicality course takes place over a series of lectures and sessions in the Recording Studio. Students will also need to study in a Library or Computer Lab to level up and achieve better grades.
As previously stated, the Musicality course in Upper Etching doesn't charge students tuition fees or rent – which are the two most lucrative sources of income. Instead, you'll receive $2,000 every time a student levels up in their subject. This means the key to staying profitable is to run the best Musicality course that you can, ensuring that money flows in from students' academic performance.
You may need to take out a loan in the early parts of this level, but to remain stable in the long-term, it's recommended that you start an Orb Club on campus. This will slightly decrease student happiness, but students' can generate more than $10,000 during their three years on campus.
At the end of every academic year, you'll be able to begin new courses for students Course Points – Musicality costs 30 Course Points to start. During summer break, you can also upgrade courses from level one to ten, increasing the student intake for that course and the maximum qualification level for teachers. Having more qualified teachers is crucial for Upper Etching since better teaching will equate to more profit on campus. Having a higher student intake means you'll need more facilities to accommodate them.
| Level | Students (Default) | Max. Teacher Qualification Level | Lecture Theatres | Recording Studios | Musicality Teachers |
| --- | --- | --- | --- | --- | --- |
| 1 | 10 | 3 | 1 | 1 | 1 |
| 2 | 15 | 4 | 1 | 1 | 1 |
| 3 | 20 | 5 | 1 | 1 | 2 |
| 4 | 25 | 6 | 1 | 2 | 2 |
| 5 | 30 | 6 | 1 | 2 | 2 |
| 6 | 35 | 7 | 1 | 2 | 3 |
| 7 | 40 | 7 | 1 | 2 | 3 |
| 8 | 45 | 8 | 1 | 2 | 3 |
| 9 | 50 | 9 | 2 | 3 | 4 |
| 10 | 55 | 10 | 2 | 3 | 4 |
Once you reach the third year on a campus, you'll have three years' worth of students, so you'll need an extra Musicality Teacher, Recording Studio and Lecture Theatre that aren't included in the above table.
Musicality Course Items and Facilities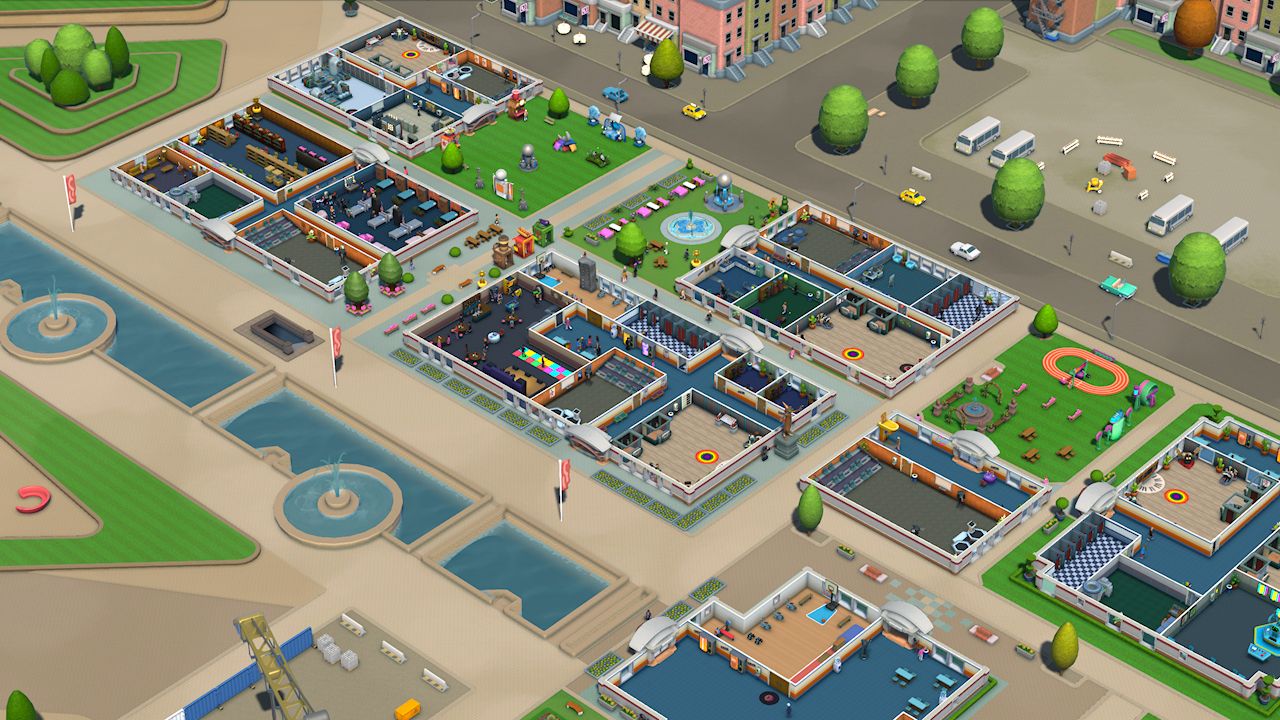 Building the required rooms and facilities will let your students learn smoothly. But if you want to maximise the learning on your course, you'll need to level up rooms by decorating them with better equipment and decorations. Making rooms bigger than their minimum size requirement is also another way to help them reach higher levels. Higher level rooms will make them more effective for learning and will also contribute to your campus level, giving you more Course Points to invest at the end of the year.
Remember to decorate your rooms with windows, posters and plants to reach even higher levels.
Every room in Two Point Campus will let you know which items are required before you build it. Sometimes students will request items that are required to complete an assignment, but these requests will come in the months and years after starting the course.
Even though there are only a few required rooms for the Musicality course, your students will still need other essential rooms to satisfy their needs. Dormitories, bathrooms, shower rooms, staff rooms, and more will be needed to keep your students happy.
Here are all the major rooms and equipment for the Musicality course:
Recording Studio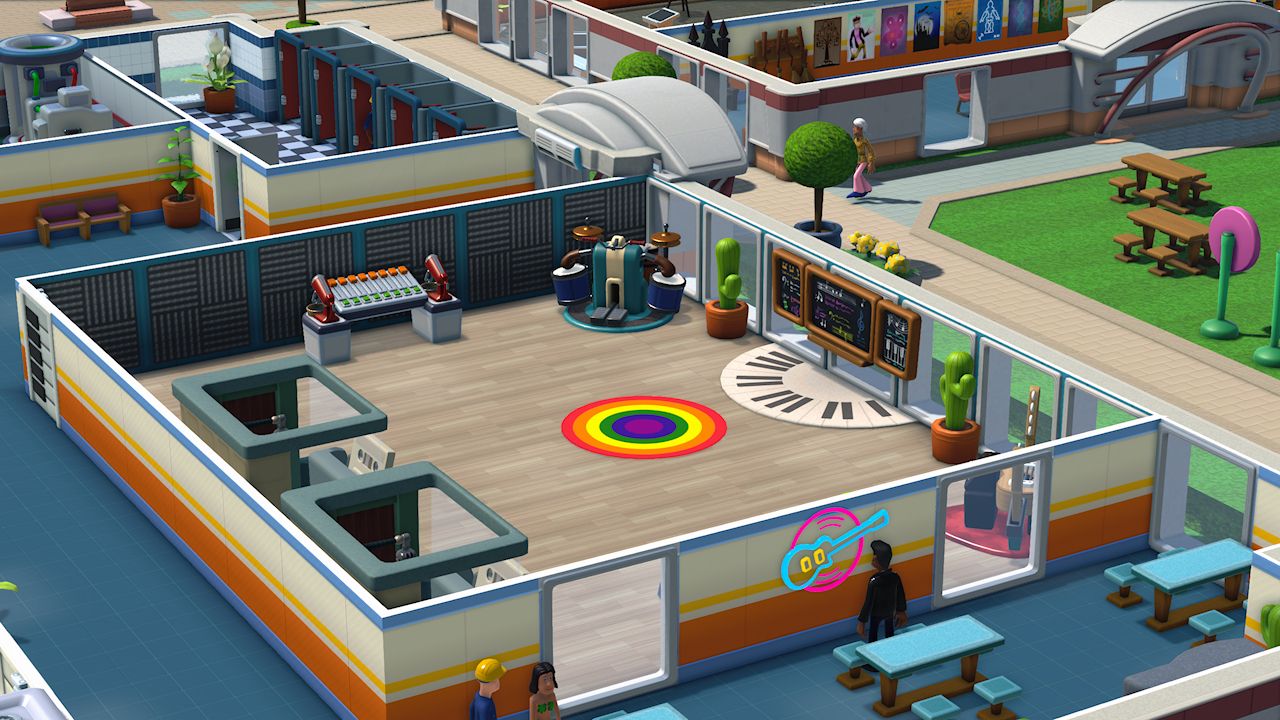 The Recording Studio is a room that's unique to the Musicality course. This is where students will have classes to play various instruments and level up. A Recording Studio costs $11,600 to build and has a minimum room size of 5×5. You'll want to make your studio larger than the minimum requirement to fit in additional equipment.
Item
Details
Music Blackboard
Punch & Kick Drum
String Section

$5,000
Required for assignment

Sound Mixer

$9,000
Required for Assignment
+4% Learning Power
200 Kudosh

Pianotrome

$6,000
Required for assignment
+2% Learning Power
100 Kudosh

Vocal Booth

$15,000
Required for assignment
+4% Learning Power
200 Kudosh

Tromborgan

$12,000
+3% Learning Power
150 Kudosh
Computer Lab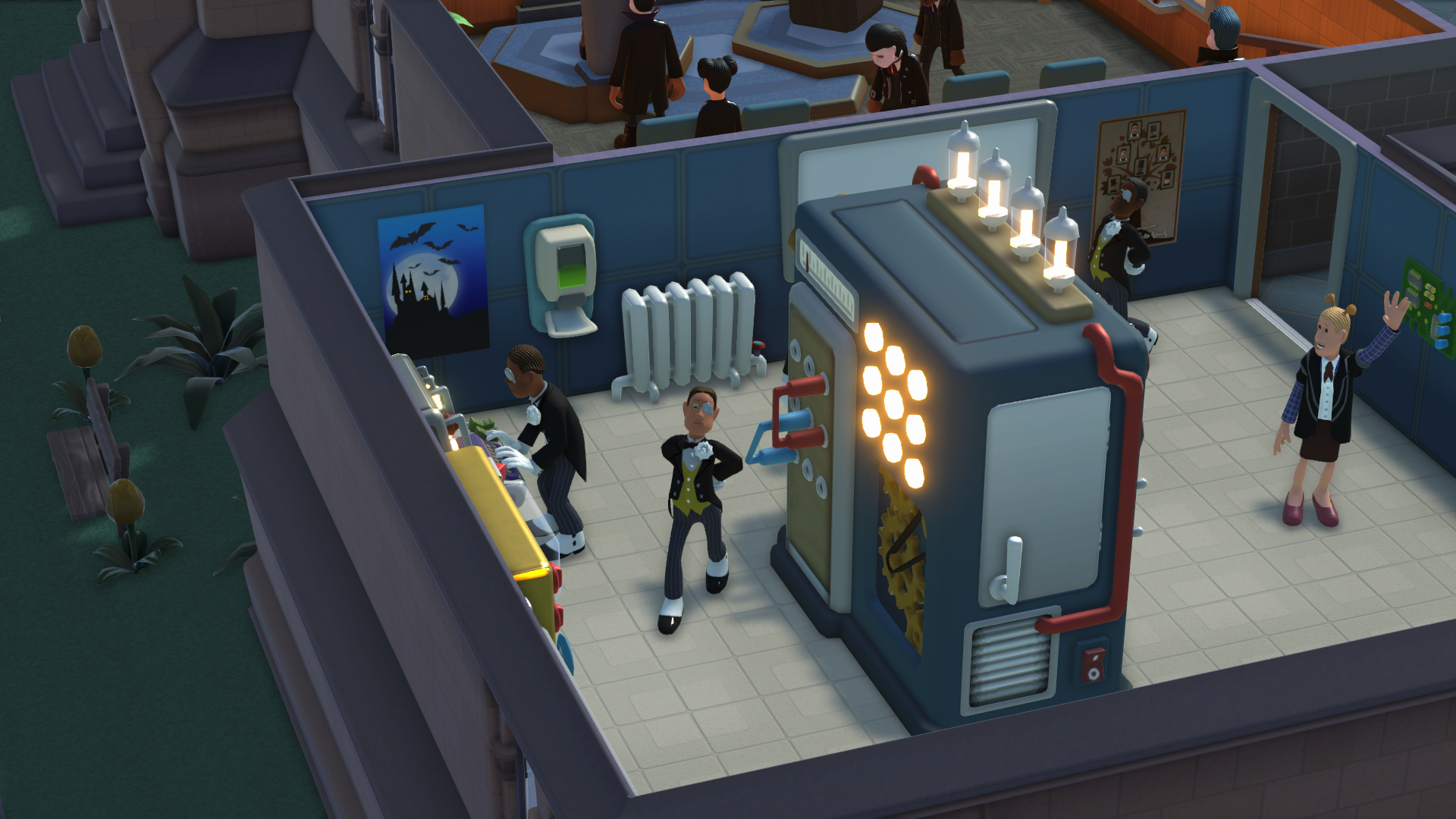 Computer Labs aren't required at the beginning of the Musicality course, but over time students will request to have one. They're a great place for students to have lessons and level up in their courses. Computer Labs costs £26,700 to build and have a minimum room size of 4×4.
Here's a breakdown of the most essential Computer Lab items:
Items
Details
Whiteboard
Analogue Console
Analogue Computer
Super Computer

$50,000
+10% Learning Power
100 Kudosh

Digital Console

$3,500
+1% Learning Power
50 Kudosh

Super Console

$6,000
+2% Learning Power
100 Kudosh

Super Server

$40,000
+2% Learning Power
75 Kudosh

Digital Server

$25,000
+1% Learning Power
200 Kudosh

Monitor

$3,000
+1% Learning Power
120 Kudosh
Lecture Theatre Items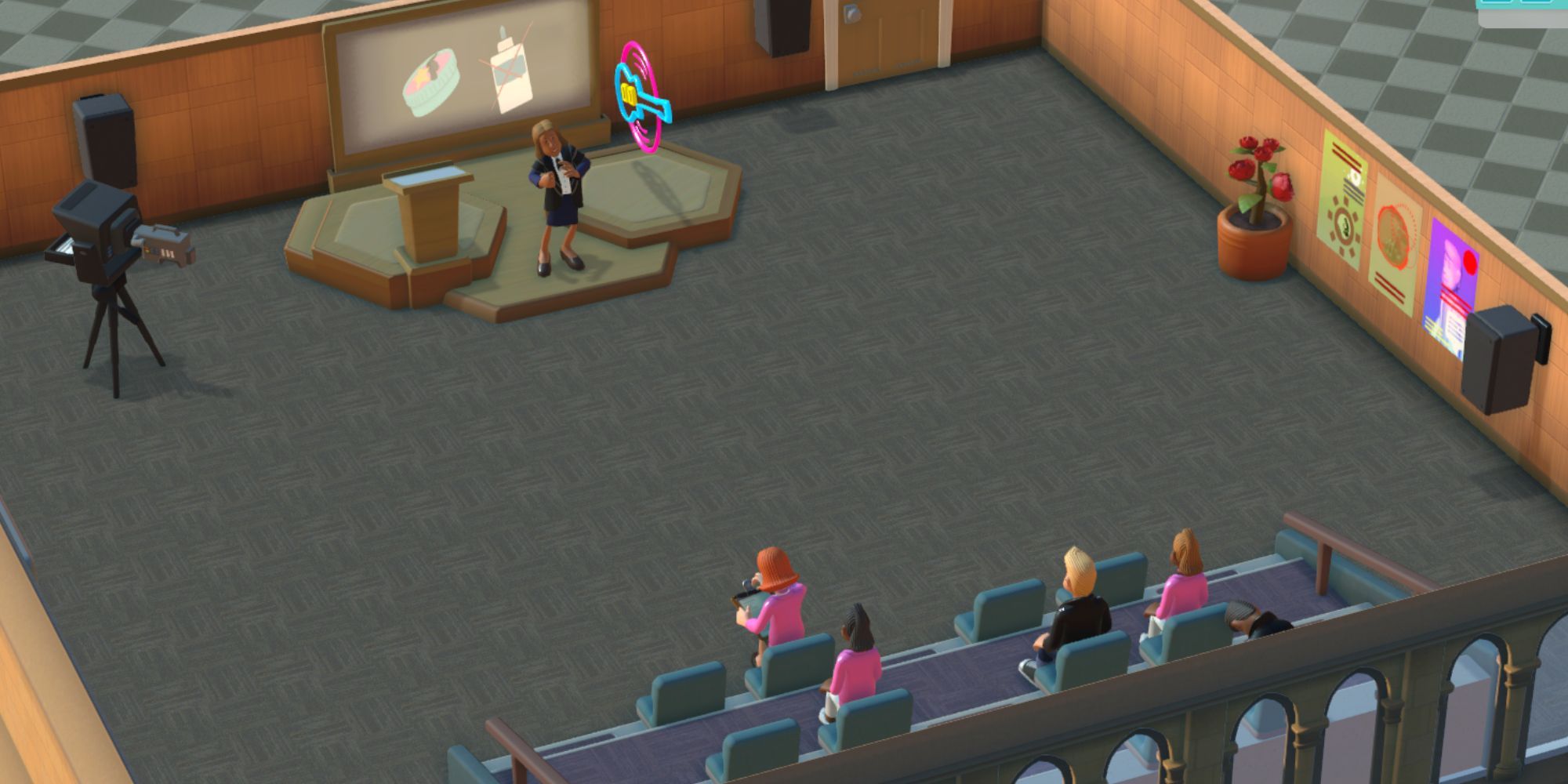 Almost every course requires a lecture theatre for classes to be taught in. Improving a lecture theatre will increase how much students learn in a lecture. Lecture theatres cost $21,300 to build and have a minimum size requirement of 4×4. The lectern and the seating are the only required items, but be sure to upgrade the lectern for an additional boost to learning.
Remember you can hold film screenings in lecture theatres for various boosts to things, like movement speed, happiness and entertainment.
| Item | Details |
| --- | --- |
| Lectern | |
| Lecture Seating | |
| Autocue | |
| Surround Sound | |
Library Items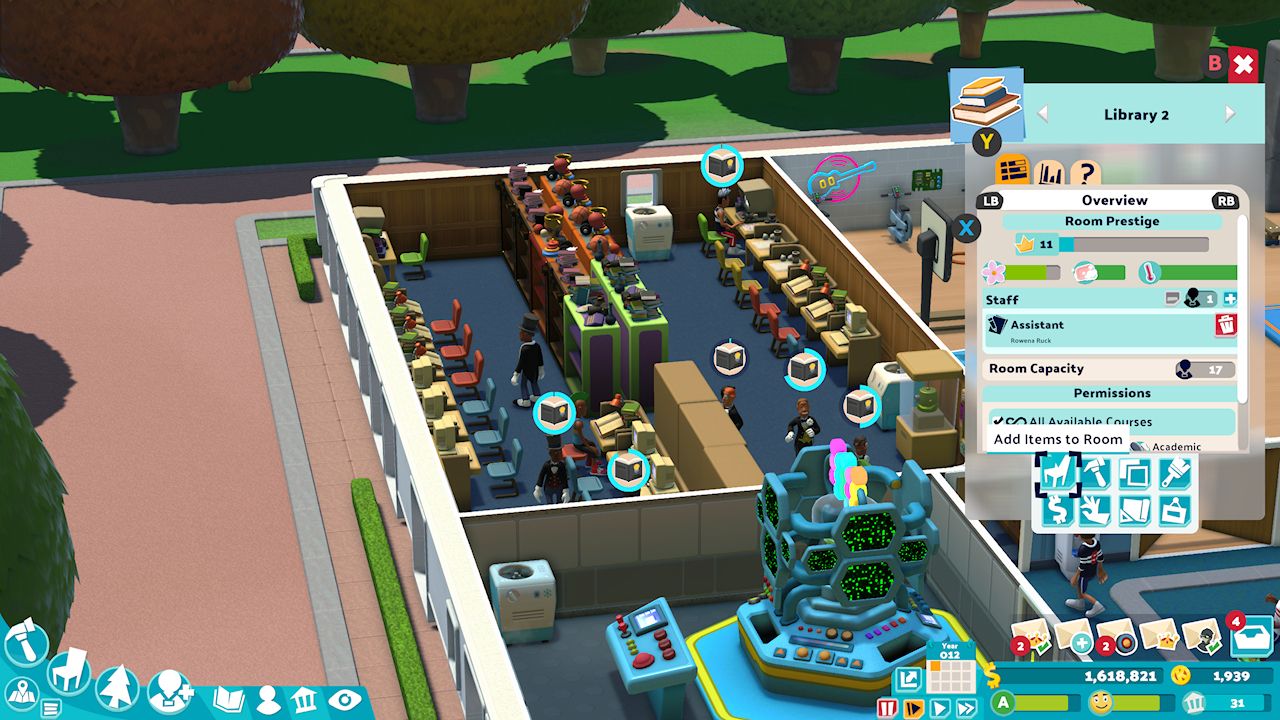 The library is another essential facility for students in any course. Cubicles and bookshelves are essential for students looking to study and if you don't place enough of each item, a queue will form behind these items.
It costs $11,900 to build a library, and they have a minimum room size of 3×3. Again, you should aim to make your library much larger than the minimum requirement to fit enough decorations and equipment to accommodate students' needs.
| Item | Details |
| --- | --- |
| Textbook Cubicle | |
| Library Reception | |
| Bookcase | |
| Computer Cubicle | |
| Study Cubicle | |
| Musicality Bookcase | |
| Giant Library Reception | |
Source: Read Full Article