Xbox Webpage Details How Activision Blizzard Deal Can Benefit Everyone
As investigations into how it will impact the industry continue, Xbox has attempted to ease worries about its Activision Blizzard acquisition by dedicating a corner of its website to the deal. The new page includes quotes from Microsoft higher-ups and a chart that explains why Xbox believes the deal going through can benefit multiple parties.
The new page dedicated to the acquisition popped up this week in light of various roadblocks holding up the $70 billion deal. One of those roadblocks takes the form of the UK's Competition and Markets Authority conducting an investigation into the merger that will conclude on March 1, 2023. The European Commission also continues to look into the deal and will confirm whether it needs more time to determine its impact next month.
The chart Xbox has provided has been split into three sections. One details how the deal will benefit players, the second is for creators, and the third is for the industry as a whole. The points are kept short, but some stand out over others. The first benefit for players, for example, points to more opportunities for people to play more games on more platforms if the deal goes through, mentioning PlayStation by name.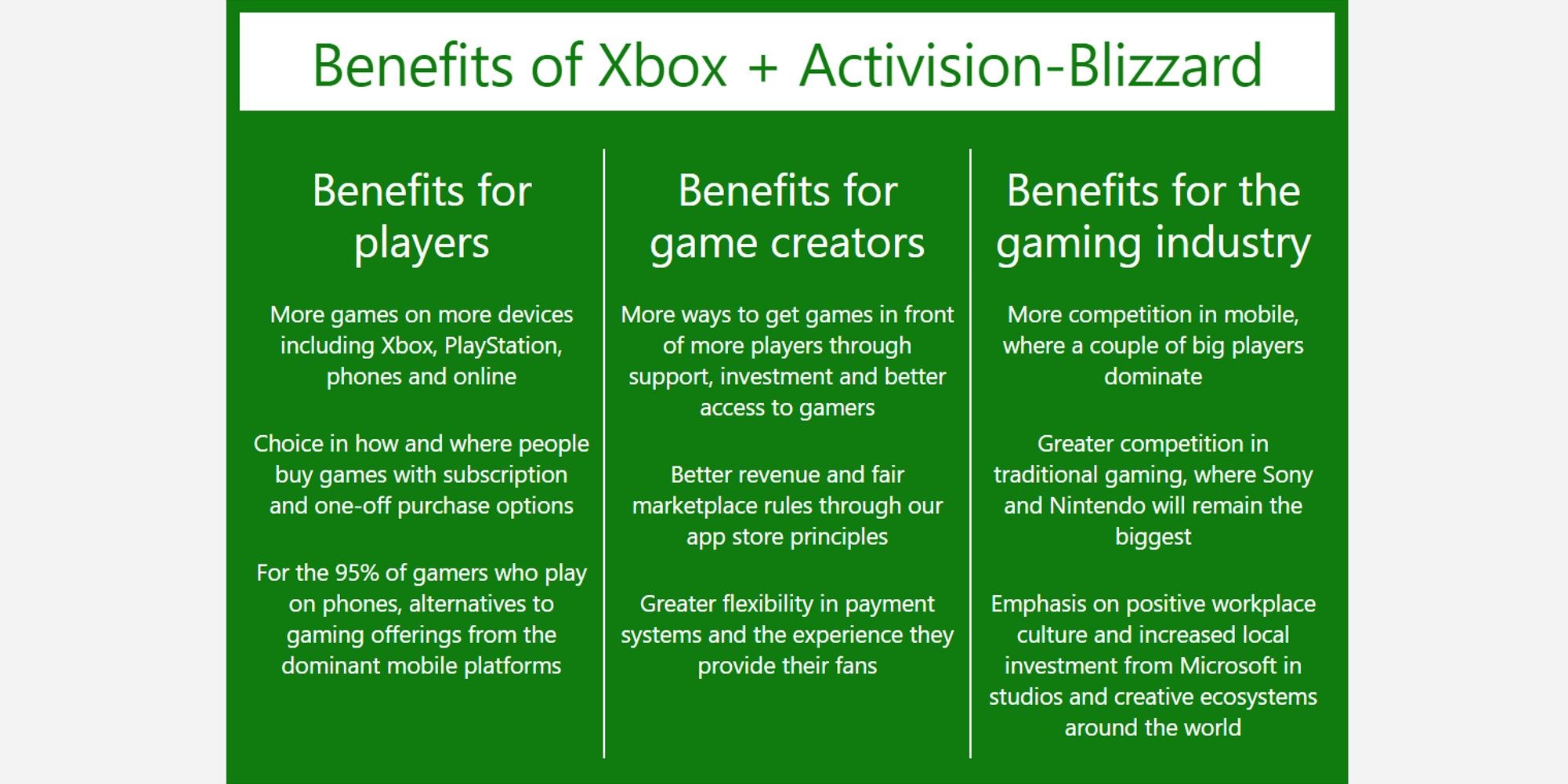 Under the benefits for the gaming industry section, it notes that even with Activision Blizzard under the Xbox umbrella, Sony and Nintendo will remain the two biggest players. Further evidence that despite Sony's fears, Xbox doesn't intend on making some of the big IPs it will acquire console exclusives. PlayStation has voiced its concerns about Call Of Duty, in particular, being taken from its platform once the current deal comes to an end, possibly as soon as 2024.
Despite Xbox's insistence that won't happen, PlayStation appears to remain unconvinced. So much so that Jim Ryan felt the need to fly to Brussels and voice his concerns to the European Commission in person. It should also be noted that another benefit Xbox has listed details an emphasis on a positive workplace culture. There's not just a hope, but a need for Xbox to prove it will alter what has gone on behind the scenes at Activision Blizzard as investigations into its toxic work environment that began in 2021 are ongoing.
Source: Read Full Article