How Tomb Raider Inspired Röki And Beyond
Tomb Raider is one of the most influential games in the industry's history. After borrowing from Prince of Persia – and taking inspiration outside of games in the form of Indiana Jones, James Bond, and Tank Girl – Lara Croft laid the groundwork for future female heroes to follow. Though not the first female lead – Samus Aran notably pre-dates Lara – she feels like the first one to have broken the glass ceiling in a meaningful way. Not only that, Tomb Raider laid the foundations for an entirely new genre, with Assassin's Creed, Uncharted, and Horizon Zero Dawn all owing their existence, at least in part, to Lara Croft.
Of all the games you might expect to have taken inspiration from what Tomb Raider has done, Röki probably isn't on your list. But after speaking to Alex Kanaris-Sotiriou, co-founder of the Polygon Treehouse studio that makes Röki, it's clear that it owes a lot to the early Lara Croft adventures.
Related: Mass Effect, Halo, And Animal Crossing: Tomb Raider Devs Talk Dream Lara Croft Crossovers"The original Tomb Raider made a big impression on me back in the '90s," he tells me. "I was just finishing secondary school and was trying to work out what I wanted to do with my life. Tomb Raider was one of the first 3D games I'd played and it made a real impact. Looking at it through today's lens, it's hard to imagine what a departure leveraging that extra dimension brought and the excitement it elicited in players. Tomb Raider made a massive impact around the world and the fact it was made in Derby, not a million miles away from where I grew up and went to art college, made it feel like working in video games might actually be achievable and not some impossible pipe dream. The seed was planted and I started dabbling with 3D graphics and animation and stepped onto the path that eventually led me to work at PlayStation before founding Polygon Treehouse."
Despite being very different on the surface, Kanaris-Sotiriou believes the two games share the same core tenet – the joy of exploration. "The overriding feelings I took from the original Tomb Raider games was freedom to explore, a sense of the unknown and the danger that comes with that," Kanaris-Sotiriou says. "I could take or leave the combat but discovering long-forgotten places hidden deep in the mountains was a wondrous thing and it doesn't take a great leap of imagination to see some of that 'mood DNA' transposed in Röki."
Of course, there are still major differences in the approach of both games. While Tomb Raider and Röki emphasise exploration, Lara's adventures often lead her into violent situations where she must fight her way out, gunning down enemies or cracking open their skulls with a pickaxe. Röki is considerably less violent, so if the two titles were ever to crossover, Kanaris-Sotiriou has some ideas as to what that would look like. "At Polygon Treehouse we focus on atmospheric non-violent narrative games so I quite fancy a lo-octane cosy Tomb Raider game," he says. "'Tomb Moocher' might be more appropriate! There'd be no gunplay, pilfering artefacts or animal carnage. Instead it'd focus on ballettic exploration, learning about different cultures and making friends in unlikely places, with some local snacks thrown in for good measure."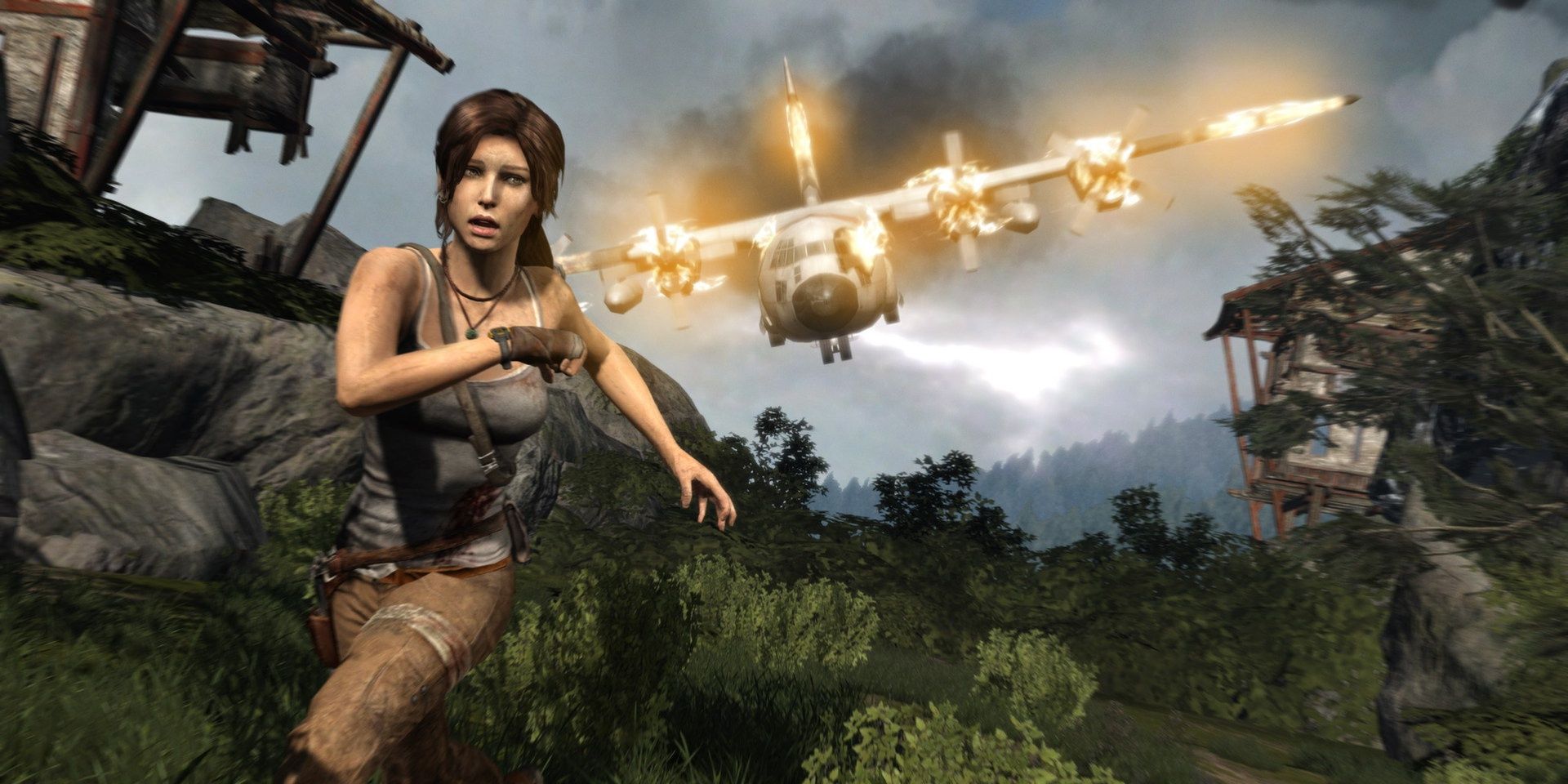 As for why Tomb Raider had such a profound impact on Röki and beyond, Kanaris-Sotiriou thinks it all comes down to the boundaries Lara broke. "I'm sure there were some [3D games] before, but Tomb Raider was definitely the first to make such waves in my world," he says. "Not only did the game itself feel like it was breaking new ground, but the wider cultural impact it made outside of 'games' is still pretty amazing even by today's standards. Lara Croft was a rock star, simple as that. However, for me it was the little touches in the game that made it really memorable, like holding down a button to gracefully exit a ledge climb via a handstand or locking the fusty butler in the walk-in freezer in Croft Manor."
Tomb Raider's inspirations have become cyclical – it borrowed heavily from Prince of Persia, then more modern iterations of the Prince borrowed from Lara. Likewise, Assassin's Creed, Horizon, and Uncharted have all been to the Tomb Raider well, but if the follow-up to Shadow of the Tomb Raider is to be a success, it will need to look at how these series, Horizon in particular, have modernised the formula. As for whether it'll take a leaf out of Röki's book and turn entirely non-violent? Never say never… but no, that's never going to happen. She's going to keep shooting people in the face.
Source: Read Full Article