Making A Past-And-Present Ultimate Team Makes FIFA Fun Again
FIFA Ultimate Team can be truly terrible to play. It's the only game that frustrates me to the point where I have to turn off my console and take a break. The worst offender is Weekend League, where players duke it out for the biggest rewards, and therefore play their sweatiest games. We're talking about passing it between the goalie and the centre backs for 80 minutes after scoring from a cut back or corner glitch – sweatier than a pig in a butcher's.
The other unbearable part of Weekend League is the teams you face: they're all practically identical. If you've played in even one this year, you know the score. The backline is always Donnarumma, Mendy, Kimpembe, Marquinhos, and Hakimi – although Mendy can occasionally make way for in-form Theo Hernandez. Up top depends on how much money they've spent in the game, but expect Benzema (Player of the Month or Flashback variants both acceptable), Road to the Final Fekir, and Vinicius Jr. If you're really unlucky, you face Mbappe, Neymar, and Messi.
There's so little variation to the teams you face that you may as well jump into career mode and replay the same cup final again and again like Everton fans and the 1995 FA Cup Final. Everton fans can be forgiven – they haven't had anything to cheer about in the 25 years since – but in FIFA, you lot can be more exciting, surely?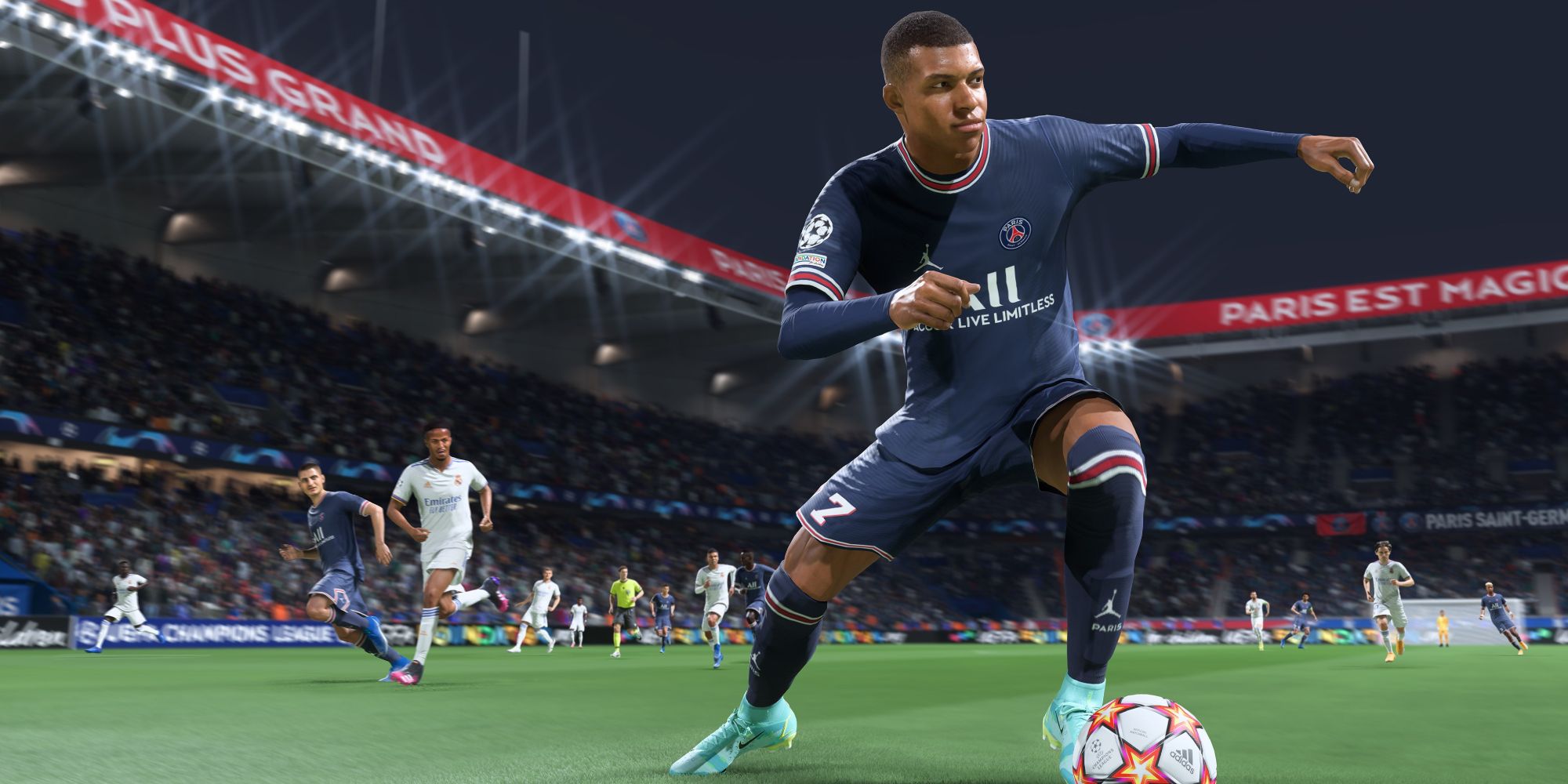 Don't get me wrong, I bought Kimpembe and Theo too. But now I've sold them. I saw the error in my ways, and realised I just wasn't having fun with FIFA any more and I decided to build a Liverpool team. So I sold the French crowd and used my millions (read: couple of thousands) to build a squad featuring the best Liverpool players to ever play for the club. Well, nearly.
The problem with past and present squads is that it's easy to just pick the current players and end up essentially doing career mode. So I made my own rule: at least half of the players need to be former Liverpool players who have since moved on. The second issue is chemistry: to get the best out of your players, you need them to link by club, league, or country. This can make it tricky to get the likes of Luis Suarez, Philippe Coutinho, or Joe Allen into a squad of mostly Premier League players. Liverpool has a few Icons – Legends of the game whose cards can link to any other players – which helps, but I'm still largely limited to the Premier League.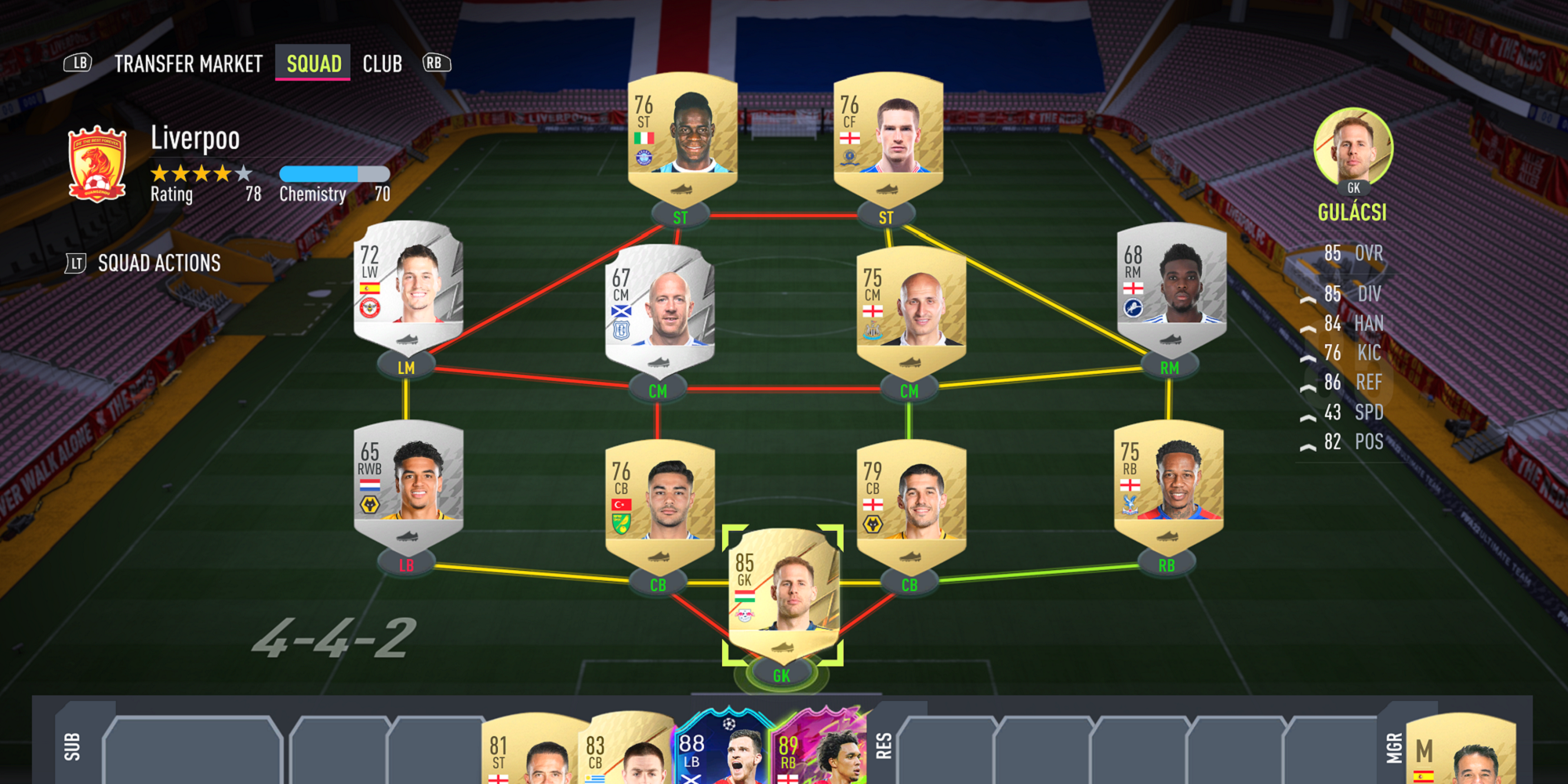 As you can see from the above image, my first attempt was pretty poor. Okay, okay, I made that team for a joke, but you get the picture. If I want to challenge in Weekend League and actually earn some rewards, I also need the squad to actually be good. I couldn't afford the best ex-Liverpool cards like Kenny Dalglish, Numbers Up Jota, or Rulebreakers Suarez if I wanted to build a balanced team, but some lucky pulls and mixed success in trading has given me a healthy budget to work with.
My final team looks good. Really good. I've got two cheap Icons in Barnes and Rush – Liverpool legends both – and I'd already completed Salah's Player of the Month SBC out of pure fandom. When else would I get to use this card, even if it'll be outclassed by an upgrade by the time Team of the Year comes around? Trent's card is good, Fabinho is solid as a rock, and only the silkiest of skill moves can get past Big Virgil. Any that do, Jerzy Dudek sweeps up with his strong arms and wobbly legs.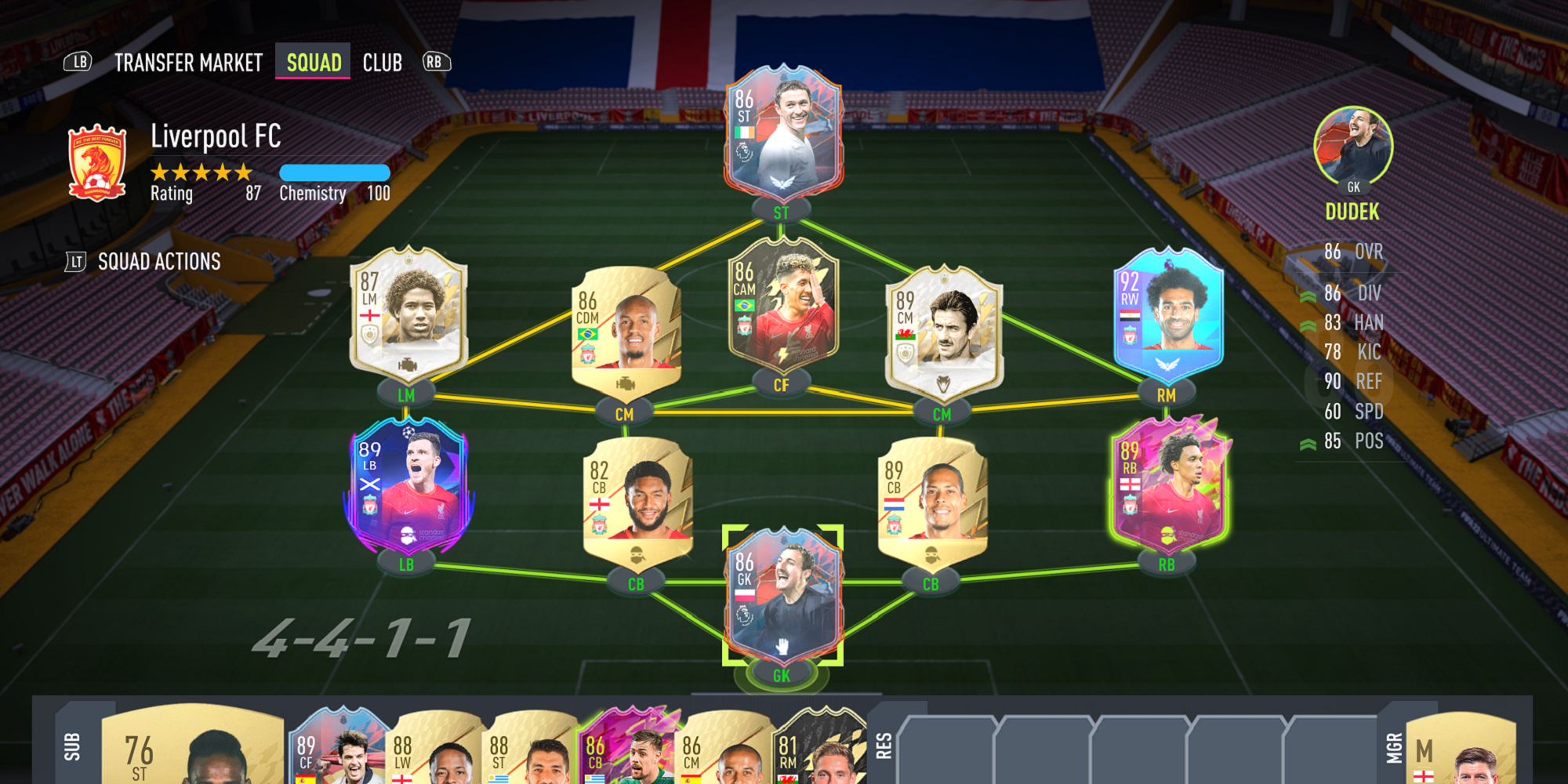 I broke my own rule: I've got seven current players. But a team I had that swapped out Keane and Firmino for Suarez and Morientes just didn't have the pace to counterattack quickly or the passing to play out effectively. But that's fine. I wouldn't say any of my players are meta choices, and that's making my time in FIFA so much more fun. Maybe I'd win more often with a meta team, but that's not really the point, is it?
Ian Rush has golden feet. And a golden head, come to think of it. In fact, he's got everything that makes a striker good in FIFA. He's got the Finesse Shot and Outside Foot Shot traits (as well as Power Header for that last-minute hail mary), quality dribbling, enough strength to hold off your average centre back, and enough pace to nip in behind. He's a joy to play, but because Ousmane Dembele has more pace and five star skills, most players wouldn't even think of using Rush. Maybe I'm wrong, maybe it's the moustache that puts them off, but somehow I doubt it.
The only player who ever feels like they need an upgrade is poor Joe Gomez, which brings me to my biggest qualm with Ultimate Team's Icons – and Liverpool's in particular. I get that attacking players are more exciting and often more memorable, but of the six Icons who played for Liverpool all are attackers (Gerrard was a CAM for most of his career, don't @ me). That just leads me to ask, where the fuck is Alan Hansen?
Source: Read Full Article